Products: Transmission
For over 20 years we have been doing transmission swaps into Volvos. At first it was into racecars in order to get a stronger transmission with closeratio gear sets. Then as the horsepower increased in street cars, with both supercharged and turbocharged engines producing more than double their origional power, there was as need to swap in stronger transmissions to replace the broken originals that were not designed to take the increased HP and torque. In 2003 we were contacted by members of Turbobricks who wanted to know if we could modifiy the adapter plates we were using on B20 engines so that the Ford Mustang T5 transmissions could be mated to B23 and B230 engines in 240s and 740s. Since then we have been stocking not only the transmissoin to bellhousing adapter plates, but also modified bellhousings, modified clutch forks, release bearings, pilot bearings, flyhweels, and clutches needed to complete these T5 transmission swaps.
Although the T5 has been our standard transmission swap, it is not a good fit for cars with smaller transmission tunnels. In order to facilitate transmission swaps into the smaller tunnel cars - the pre 1970 1800s, 122s and 544s - we have added Ford T9 transmission conversions. The T9, most commonly found in the Ford Sierra ( Merkur and XR4Ti in the US) fills the need for a small, readily available 5 speed that will fit into the transmission tunnels of the earlier Volvos and other small tunnel cars, while at the same time providing a true 5 speed experience with a high power handling capacity.
See below and in the driveline section for the products needed for both the T5 and T9 transmission swaps.
---
The T5 Transmission Swap into Volvos
A transmission swap that we originated, and still one of the most popular swaps uses the Borg Warner (now Tremec) T5 transmission. It is a lightweight (70 lbs.), 5-speed transmission that has been manufactured for over 30 years for various OEM applications and is found in Fords, Chevies, and various other cars and trucks. The transmission is of a modular design and can thus be found with various input shafts, tail shaft housings, shifter positions, etc. It is comparatively simple to modify and repair and parts are readily available at quite reasonable prices. It went through a process of upgrades over the first years of its manufacture, increasing its HP and torque ratings from 200 ft. lbs. to well over 300 ft. lbs. The uprated versions are commonly known as "World Class" T5s. Where higher than stock torque ratings are required uprated versions are available with stronger gear sets and custom gear ratios. ( See our T5 transmission section below. ) Fifth gear is an overdrive fifth, comparable in ratio in some models to the gearing in Volvo's overdrives, in others it has higher or lower overdrive ratios.
A rebuilt T5 with our adpater plate, a modified late syle 240/740 bellhousing, and Pro 5 shifter.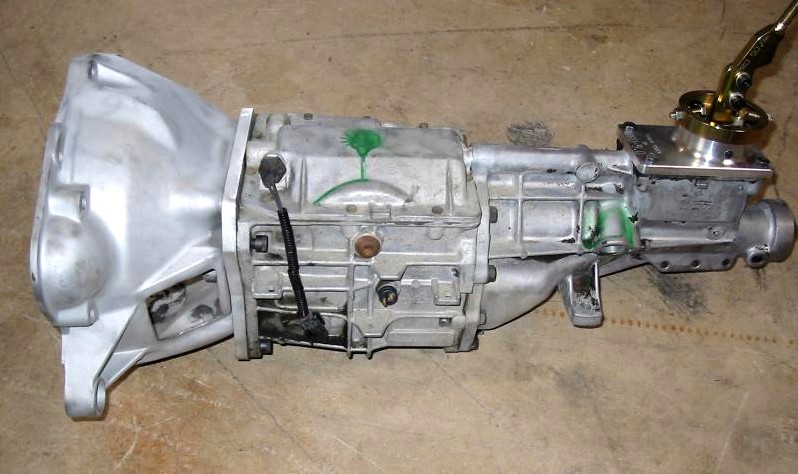 Our adapter plates, CNC machined from 6061 T6 aluminum, allow a T5 transmission with a "Ford bolt pattern" ( the T5s in some GM cars also have this bolt pattern ) -- usually from a '92 and earlier 5-liter Mustang or aftermarket Motorsports T5 -- to be mated to either a Volvo M40/41 or M45/46 bell housing and their associated engines. Using this adapter plate and a recommended transmission, the shifter will be in the stock location in an 1800E/ES, 140s with rearward shifter location, and the 240. On the 740 the shifter will be a lttle over an inch farther forward then stock. These cars all have transmission tunnels wide enough to easily accommodate the T5. The T5 needs a wider transmission tunnel than is normally found in the 544 and early 1800s and 122s -- 9 inches wide vs. 14 inches for later cars. ( Though we recently installed a T5 in a 122 race car without modifying the tunnel.) For these earlier cars the T9 swap is recommended. See the sections on the T5 and T9 swap below.
A chart showing the specs on various Ford type T5 transmissions can be found at the link below along with other T5 information: http://www.fordmuscle.com/archives/2000/09/t5swap/index.shtml. If the above link does not work for the chart. The same chart can be found at http://www.veryuseful.com/mustang/tech/engine/images/T5Identifier.gif ( ignore the yellow highlighting. )
Note when chosing a transmission that the 5th gear ratio should be in the .7 - .8 range, depending on tire size. The Ford Motorsports T5 offered new has a .63 5th which is too much of an overdrive for a 4 cylinder engine. Also, in order to work with our adapter plates, the input shaft should be 7.18 inches or close to that - the 7.4 inch input shafts can be easily shortened to that length. Longer shafts would require thicker adapter plates and would move the transmission and shifter farther back - too far for some applications.
Additional information on the types of T5s and how to tell them apart can be found at this website: http://lugnutz65chevystepside.weebly.com/t5-info-page.html
The parts required for the T5 swap into RWD Volvos are listed below:
T5 adapter plates for B18/B20 engined cars - $195 No modifications to the B20/B18 bellhousings are required

T5 adapter plates for 240/740 - a modified bell housing is required in order to eliminate the need to modify the transmission - Adapter plate with modified bell housing - $295. Core charge of $100 if we provide the bell housing. We usually have a good number of modified bell housings in stock. Send us your bell housing to eliminate the bell housing core charge.

Modifications to cable type clutch forks with dowel pins for use with Ford type release bearings - $20 Plus required spacers - $20
Modification of non - dowel pin cable fork $40. Core charge - $60 for used forks when available. We suggest that you supply a fork for modification.
Modifications to hydraulic type clutch forks for use with Ford release bearings - $40 + Core charge -
Ford release bearings - Steel high performance type - not plastic- $55
Special pilot bearings for use with the T5 from the 5.0 L Mustang $25
T5 Slider Yoke $110
go to top
|
how to order
---
T5Z Close Ratio Transmission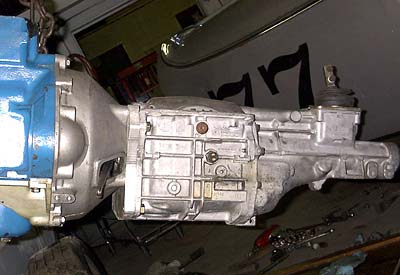 These transmissions are based on the Ford Motorsports T5Z aftermarket trans from Tremec, custom built to our specifications. The heavy duty T5Z has a cluster gear reinforcing plate and stronger fifth gear to meet the needs of customers whose street or track use requires a T5 with higher HP capacity and a close ratio fifth gear that can be used for acceleration rather than just highway economy cruising. The combination of both a 2.95 first and .80 overdrive 5th gear, a combination not normally available, make this a close ratio trans. Also available with .73 or .90 fifth gears. We now also offer an economy version which leaves out the reinforcing plate and uses a stock type .73 5th gear, saving $300 in the initial cost and giving better highway fuel economy in most applications.
HD T5Z with cluster gear reinforcing plate and stronger than stock .80 5th gear. With stock shifter $ 2195. With billet Slick Shift shifter $2395.
Economy version T5Z with 2.95 1st and .73 5th. With stock shifter - $1895. With Slick Shift shifter - $ 2095.
The Slick Shift shifter that allows the shifter position to be moved back several inches - ideal for the 700 and 900 series Volvos - . Email for details.
go to top
|
how to order
---
T9 5 Speed Transmission
The perfect replacement 5 speed transmission, expecially for those pre - 1970 Volvos or other cars with narrow trans tunnels. Sometimes known as the "German 5 speed" this is one of the most widely used 5 speeds in Europe. Most commonly in the Ford Sierra, it came to the US in the Merkur, XR4Ti, and some 4 cylinder Mustangs. It is the most widely used transmissions to upgrade to a true 5 speed trans in British sprots cars. While not a trans that I would use with a 300 + HP turbo motor, it's a vary good candidate for normally aspirated motors, is small enough to fit in most transmission tunnels without modification, and is quieter than the T5. In an 1800 the shifter comes out in the same location as the stock M41 shifter. For racing applictions there are both close ratio synchro and dog ring versions.
Below are the specifications and prices for rebuilt T9 transmissions that we previously offered. Due to problems in getting these from a builder in the US, there have been times when these have not been available. Supply may be better in 2018 but at prices higher than those listed below. Email for current details. Other options include finding a good used T9 in the US or purchasing from suppliers of rebuilt T9 transimissions in the UK.
Street, standard ratio version - ratios are 3.65 1st, 2.97 2nd, 1.37 3rd, 1.00 4th, .82 5th. - - Email for current availability and price.
Recommend semi-close ratio version - the ratios are closer to Volvo ratios - 3.36 1st, 1.81 2nd, 1.26 3rd, 1.00 4th, .825 5th - $1975. - Email to confirm current availability and price.
Transmission dimensions: 23.5" overall from transmission face to end of tail; 22" from transmission face to center of shifer; width 7"; height 10"; input shaft length 190 mm.
Three different input shaft lengths are available - ( Note that the short input shaft and Merkur versions work with our adapter plate for Volvo B18/B20 engines. The Merkur requires shortening of input shaft - a very easy modification. The short input may require a thicker than stock pilot bearing. ) Without modifications our adapter plate will not work T9s that have a external support, sometimes labeled as a stub, protruding from the case at the end of the lower shaft.
Short input = 177 mm = 6.97 inches
Merkur input = 194mm = 7.625
Scorpio input = 208mm = 8.19
.
T9 with adapter plate and Volvo B20 bell housing.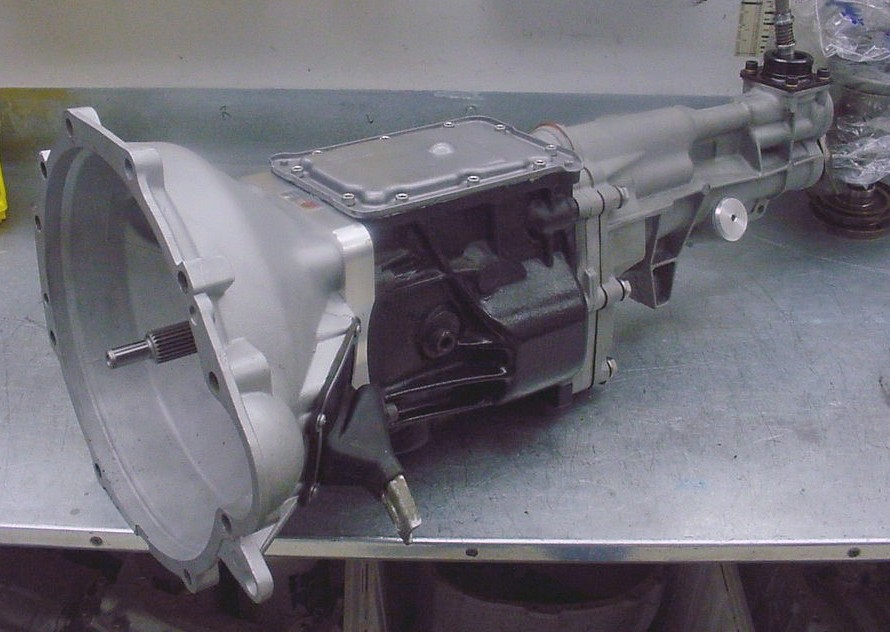 T9 Installed in a Volvo 1800 Vintage Race Car

| | |
| --- | --- |
| | |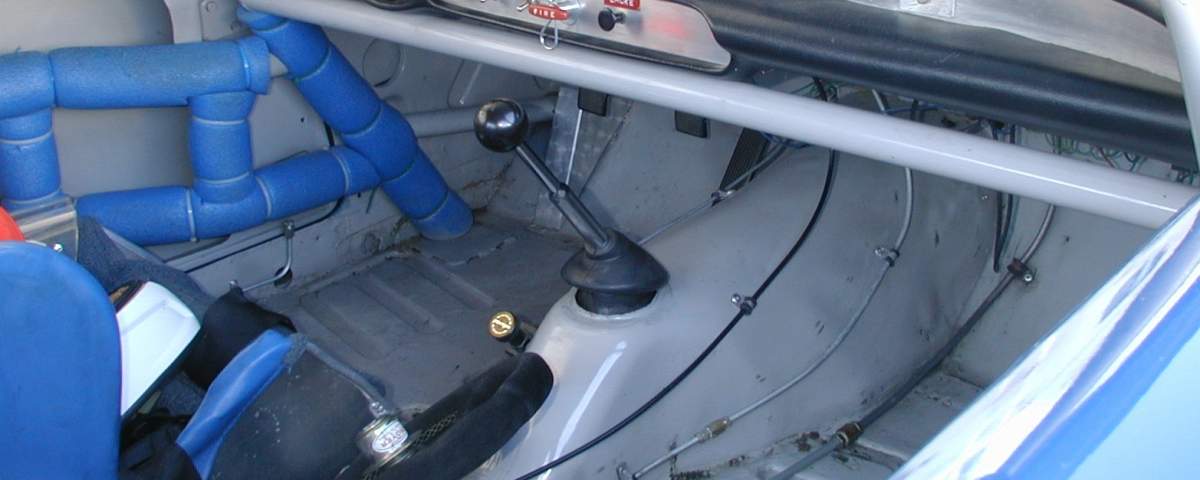 go to top
|
how to order
---
T9 5 Speed Transmission Swap
Unlike the T5 swap, the T9 Transmission swap into a Volvo 1800, 122, 140, or 544 uses the stock Volvo pilot bearing, release bearing and clutch fork. Modifications to the transmission input shaft sleeve, the Volvo bellhousing, the front section of the driveshaft, the transmission crossmember, and in some models its location, are required. The shifter location is approximately the same as the rear shifter location as in an 1800, or 123GT. ( Note that only the short input shaft version works with our adapter plate for Volvo B18/B20 engines without modificatoin. ) Parts that would normally be purchased are as follows:
T9 to B18/B20 bellhousing adapter plate - $195
T9 adapter plate with modified bell housing - allows the transmission to be installed or removed with the bell housing attached to the engine - $295 + $100 bell housing core charge if one is not provided
Clutch disc with correct splines for the T9 - Severe duty organic discs- $140 - High performance 8.5 " kevlar discs - $195
Slider Yoke - $110 Slider Yoke modified for a better fit in the trans tunnel - $ 160 ( required on most pre-1970 Volvos - parts cores may be needed )
| | |
| --- | --- |
| | |
Modifications to the transmission, bellhousing, transmission crossmember and driveshaft would normally be done at our shop or another shop where the car is located. The driveshaft modification - attaching the slider yoke and rebalancing - should be done by a specialty driveline shop. In order to use the Volvo release bearing, the transmission input shaft sleeve is slightly reduced in diameter by turning on a lathe. The bellhousing modification is simply drilling additional holes for bolts to attach the adapter plate to the bellhousing as shown in the photos below. As the assembly process involves bolting the adpater plate to the transmission, and then bolting the bell housing to the adpater plate from inside the bellhousing, the transmission and bellhousing have to be installed as a unit. However, a new version of the adapter plate, with modified bellhousing, allows the transmission and adapter plate to be bolted to the bellhousing from the transmission side, allowing the transmission to be installed or removed with the bellhousing still attached to the engine.
Volvo B20 Bell Housing Mounted to Adpater Plate and T9 Transmission

| | |
| --- | --- |
| | |
T9 transmission installation notes:
1) use a stock T9 gasket or other sealing method to seal the transmission to the adapter plate. around the reverse shaft above the input shaft and the layshaft under the input shaft. There is a clearance hole in the top of the adapter plate that is needs to be sealed to the transmission and bell housing.
2) Fit the bell housing to the adapter plate in order to mark the holes that have to be drilled in the bell housing for the bottom two bolts. Then remove the adapter plate from the bell housing and bolt it to transmission using the stock transmission gasket to be sure of a seal between the adapter plate and the transmission. ( The front of the transmission is not itself sealed and will leak transmission oil around the top shaft which moves in and out when shifting. ) The bell housing is then bolted to the adapter plate and the transmission, adapter plate and bell housing have to be installed as a unit. If using a modified bell housing, the transmission and bell housing can be installed separately, which requires less clearance.
3) The T9 with the short input shaft 6.97 is just long enough to get sufficient contact with the stock pilot bearing. As exact dimensions may differ slightly from one motor to another, you should check to be sure there is sufficient bearing contact. Where there is an isssue of sufficient contact we have used a thicker pilot bearing which is .625 instead of the stock .400 inches thick. Its too long to be used with the retaining clip so you need to make sure that its securely in place and should use loctite to secure.
4) The next longer input shaft 7.625" is too long to be used with our 1" adapter plate, unless it is shortened which is a quick process. It is important that it does not bottom out in the crank, as any pressure on the crank will quickly wear out the crank thrust bearing.
5) You can convert the Volvo speedo cable to work with the T9 by using an end off of a Merkur cable.
6) reverse switch - depending on the model year of car the trans might not fit in the tunnel with the reverse switch installed. Do a trial fit to determine where the reverse switch is going to be lined up and cut a hole in the side of the tunnel that can be used to install the switch through. Make a small plate to cove the hole and put a bulge in the plate to allow enough room for the connector that goes on the switch. When purchasing the transmission get the connector with the transmission.
7) slider yoke - on early cars - most pre 1970, there will not be enough room in the tunnel for the standard T9 slider yoke. Rather than modify the tunnel we can provide a modified yoke with a smaller universal joint that will clear. Parts from a stock Volvo driveshaft are required for this conversion.
go to top
|
how to order
---
Custom Shift Knobs
| | |
| --- | --- |
| | A customer needed a shift knob for his T5 conversion and there was no time to order one, so I made one out of some aluminum that was on hand. It came out so nice that I made a few more and can now offer them for the M40/41, T5 and T9 and many other transmissions. It adds a really nice solid feel and unique custom look to your shifter. Several different custom styles are available, or just tell us what you want it to look like - makes a great gift - $50 |
go to top
|
how to order
---
>>

Questions - Order Process - Payments

Questions -Email correspondence strongly preferred. Email with questions on your particular needs as we have many other parts and services available. If we don't have it we can usually get it or make it. If you need to call, the best time and number is usually 315 478 1229 mornings 10:00 AM - 1:00 P.M. eastern US time. Leave a message if there is no answer as we may be in the shop and cannot get to the phone. If we do not answer or call back try cell # 315 440 6560 and leave a message. There are often periods of 3 - 5 days, especially during the summer, when we are away due to other commitments and the office is closed, though shipping and engine work is continuing at other locations. Although I try to return calls and emails even when out of town, some are replied to when we return.

Orders - The easiest way to order is to send an email listing your parts order along with your address and we will reply with information on parts availability and a total price with shipping. Please include information indicating the car model & year with each email, and indicate under "subject " the make of the vehicle and type of part you would like to order. This will keep it from being filtered out as spam.

Payments - Payments are normally made by check, credit card, or through Paypal (www.paypal .com) Payments made by Paypal should be made to the account under our email address: jparker3@twcny.rr.com, or we can send you a paypal invoice. We also accept bank wires for larger amounts.

go to top