Products: Engines
Our current Volvo B18/B20 engine designs are the result of over 30 years of dyno, track and road testing.
Unfortunately, we have had to increase prices for 2022 due to increased costs and these increases - mostly about 10% - are not yetreflected in the prices listed below
If you would like to order an engine, fall is usually the best time, but we are still taking orders this spring for summer or fall delivery dependin on the type of engine ordered. And can only hope that supply chain problems will not hold us up waiting for parts as has happened off and on over the last two years. So let us know ASAP if you would a street or racing engine for this year - before we have too many orders and too little time left.
Shown below are some of our chassis dyno - rolling road - test sessions.
In the last 10 years one of the biggest changes here at VPD has been the increased power available from our normally aspirated engines. When we started 140 - 150 HP was typical for a modified Volvo B20 street engine and the only way to get close to 200 HP was in a high compression, high rpm race engine. Then our supercharger kit made it possible to have over 150 HP on an otherwised stock engine and well over 200 HP on the street with a modified B20. This allowed us to offer a street car package for an 1800, 122, 544 or 140 that would give them performance similar to our vintage racecars.
Now, after years of development, we have normally aspirated, large displacement B20 street engines with similar HP and torque as compared to the race and supercharged engines we started with. This gives you the option of having a street engine that looks stock with 170 - 200 HP, more than we used to get supercharging stock engines. On race engines, the larger displacement will produce well over 200 HP, though, as I continually emphasize, a broad power band is more important in any application than peak HP.
As in the past, we continue to provide an engine building service to meet your street, rally and race needs based on over 25 years of experience in these areas. We can rebuild your engine to your custom specifications or supply one based on one of the engine packages outlined below. Engines are available from stock rebuilds to full-out , 8,000 RPM race engines. Check the price list for most recent prices and options. E-mail for additional details. Engines can usually be shipped throughout the US for less than $300 and for less than $600 - $800 to many other countries. Recent engine orders have been from Australia, Germany, Greece, Norway and the UK.
Individual parts can be supplied to assist you in building your own engine, but we are not a parts house and prefer to supply complete systems for best results. We believe in a matched systems approach where the selection of each part in the system depends on the others, and a good match is the key to satisfying performance. This approach is reflected in all of our engines, component kits and our Street Performance Tuning Kit - systems of components designed and matched in such a way that the individual results far exceed what could be achieved throug a seemingly similar combination of individual parts selected by a car owner without the benefit of extensive systematic testing.


Be sure to read " How our engines are different " at the end of the engine section.
Quick Recommendation:

For normal street driving in a Volvo 1800, 122, 544, or 140, our Streeet Performance Engine will meet most needs. For those who want something more, the 2.3 L is the most popular option. It incorporates a significant increase in displacement with a race quality bottom end, tuned as a street engine for torque and a broad power band. See details on all of our engines below.

---
Volvo B18 - B20 Street Engines
The main design criteria for our Street Performance Engines is to increase power without any sacrifice in the areas of driveability, reliability and fuel economy. The goal is to supply engines that meet the requirements of both those who drive their Volvos on a daily basis and just for fun on the weekends. Engines that will meet the requirements of a daily trip to work, but which also have enough power for modern performance on the highway, fun on a twisty country road, or a weekend autocross or track day. Our SP engines are not "racy" engines, unless you want them to be. Power bands are similar to stock engines in terms of where the power is in the RPM range. There is just a lot more of it. Good low and midrange power and torque, with immediate throttle response, are our primary goals in a street engine, not high RPM power. For street driving a broad power band and good throttle response are much more important than peak power. In any type of normal use, including on a road course, an engine with a higher HP average over a 3,000 - 4,000 rpm range will beat one with a higher peak HP number but lower average every time.
Power increases of as much as 40 - 80% with normally aspirated B20 engines of various displacements with no loss of low end power and torque are a result of good design. Customers are always suprised that we can do this while at the same time improving fuel economy. With proper tuning and exhaust modifications, at least 150 HP at the crank, 120 HP at the wheels, can be expected from our typical 2 liter street performance engines. See the dyno test section of this website for dyno charts covering some of our engines. ( click on "More Info" at the top of any page and then "Technical Ariticles" to find it .) With our stroked, large displacement B20 engines power in the 180 to 210 HP range can be expected. Some engines are now available as component kits for assembly at your location, though we recommend extreme care in selecting local shops as many are simply not up to our standard of care and precision.



Unique Components
While others are still building Volvo engines using the same stock components that have been used for over 40 years, many of our engines are completely redesigned internally. The cranks are either replaced or custom ground to our specifications with modified rod bearing sizes. Longer, lighter, stronger rods with smaller, lighter pins are used. We use custom made forged pistons in many or our engines, lighter and stronger than the stock pistons. Lighter components reduce rotating mass and reduce engine vibrations, resulting in quicker acceleration, smoother operation and more power. Stock B20 engines are oversquare with an 89 mm bore and 80 mm stroke. Many of our redesigned engines use a longer stroke and a closer to square bore to stroke ratio, which helps to produce more low end torque and broader power bands. Add these changes to our ported heads and custom cams and you basically have an engine of completely new design.
Engine prices will be adjusted as our parts costs increase. The most recent adjustments may not be posted below.

The Stock Rebuild
A completely rebuilt street engine, built to basically stock specifications with some upgrades, C or D cam, starting at $4000* ( $3250 for the bottom end - $750 for a rebuilt head with hardened ext.seats and other enhancements ) The addition of upgrades such as balancing and block decking are recommended. The stock rebuild is our least popular engine ( I can't recall doing one ) as most customers who are going to go through the effort of a complete rebuild choose one of the enhanced rebuild levels represented by the engines described below.
The Street Performance Engine
Balanced, with our Type II performance ported head, our Street Performance cam, stock type cast pistons ( .030 - or .040 over ) and reconditioned rods. This is our standard B20 2 liter performance engine, designed to replace stock engines in all applications where more power, reliability and efficiency are desired. It retains the long term reliability and broad power band you are used to, but with approx. 50% more power. As compared to the stock rebuild, this engine adds a Street Performance Head and Cam, align bored mains, ARP rod bolts and head studs as well as block decking to assure the proper deck height and optimal piston to head squish area distance. With proper exhaust and intake, expect power in the 150 - 160 HP range.
With the Type II head - $4950*
With the Type I head - $4700*
The Severe Duty Street Performance Engines
An upgrade from the Street Performance Engine described above, this is our recommended high performance engine designed to take the higher stresses of supercharged, turbocharged, track day, or high RPM applications - with forged pistons specific to each application, ARP rod bolts and head studs, align bored, decked, balanced, custom ground Street Performance, Supercharger or Targa cam. Available in an enhanced version with custom sized Crower rods that makes it into a true high performance engine, perfect for rally use. In addition to providing a stronger rod capable of higher sustained rpm use, using a custom rod gives us the advantage of being able to set our own rod and piston dimensions. Utilizing this option the Crower rod based assembly has longer rods, shorter ligther pistons, smaller rod journal and pin sizes for a ligther rotating assembly. The result is a more efficient, race strength engine designed for street use. Bore sizes of .030, .040 and .060 over are available.
With Stock Rods and Type II performance head, - $5275*
With Stock Rods and Type III head - $5675*
Add $1125 to either of the above prices for the Crower Rod based, race quality, rotating assembly and crank machining.

2130 cc Severe Duty Street Performance Engine
Basically the same as the Severe Duty engine above but with 92 mm bore for a larger displacement and more power. Blocks used in this, and all of our 92 mm bore engines are selected for their thicker walls to assure sufficient strength after the overbore. Available in an enhanced version with custom sized Crower rods that makes it into a true high performance engine, perfect for rally use. In addition to providing a stronger rod capable of higher sustained rpm use, using a custom rod gives us the advantage of being able to set our own rod and piston dimensions. Utilizing this option the Crower rod based assembly has longer rods, shorter ligther pistons, smaller rod journal and pin sizes for a ligther rotating assembly. The result is a more efficient, race strength engine designed for street use.
With Stock Rods and Type II head - $5495*.
With Stock Rods and Type III head - $5850*
Add $1125 to either of the above prices for the Crower Rod based, race quality, rotating assembly and crank machining.

The 2.3 Liter Stroked Engine
92 mm bore x 86 mm stroke. My personal favorite as an engine that can do it all. Similar to the 2.5 in concept, but using an offset ground stock crank with forged pistons and rods. This engine fills the gap between our 2 liter and 2.5 liter engines both in terms of price and performance with a very significant in increase in power and torque over the 2 L based on the increase in displacement and stroke. The amount of increase will depend on the compression ratio, induction system, cam and head choices which are available for this engine. The longer stroke adds considerable low end torque. One of our best all around engines, with a race quality bottom end, and is one of the best values for your performance dollar. Perfect for a daily driver or for street/track applications including rally, targa and Carrera Panamerica events. Can be used with the stock clutch and M40/41 transmission or with our T5 and T9 5 speed conversions. The engine can be matched to your application with different cam and head choices. As the race version is very similar except for the cam, head, compression ratio and designed rpm range, it can be easity converted into a race or rally engine.
With Type II head - $6950 *
With Type III head - $7350 *
See a few customer comments on this engine below:
"The engine works beautifully. Pulls strongly from low rpm. Clearly better than standard engine right from idle speed, very good from 1500-2000 rpm and all the way up 6000 rpm. So far the engine clearly is up to my expectations and I am very satisfied. My 122S is now a perfect street car, especially with the new engine combined with the electric powersteering I installed in connection with the engine swap." - Andreas - Norway.
"Happy Christmas, a happy new year and all that! I have such exciting news that I haven't yet shared.
I took the car back to Brands Hatch. Quite a shocking transformation ........I know the engine you have made for me is absolutely wonderful and still has much more to give. Amazing, well done." - Ben - UK

And what a kid in a Subaru WRX said to our New Mexico customer Mark Seredowych after a run in with his stock looking 122 - " Is that thing naturally aspirated?"
The 2.5 Liter Monster B20 Street Engine - based on a custom made billet stroker crank - this engine has been discontinued as a regular production product - one offs are still possible.

92mm bore x 92mm stroke. This is the answer for those who want great power with a stock look and without the complications of supercharging. All the best components - sonic tested blocks, steel billet custom made stroker cranks, H beam forged rods, forged pistons, type III head. Expensive, but well worth it for the performance. Street versions produce from 190 - 210 HP with side draft carbs ( Weber DCOE or Mikuni HSR), our Quad Mikuni Kit, or programable FI, with the exact HP and power curve depending on several choices including cam and compression ratio. Capable of 300 + HP in supercharged configuration. The torque of these engines makes transmission upgrades advisable and clutch upgrades necessary. Orders are usually placed 6 months in advance to allow time for the custom crank to be produced. - $7950 - $8400 depending on rod choice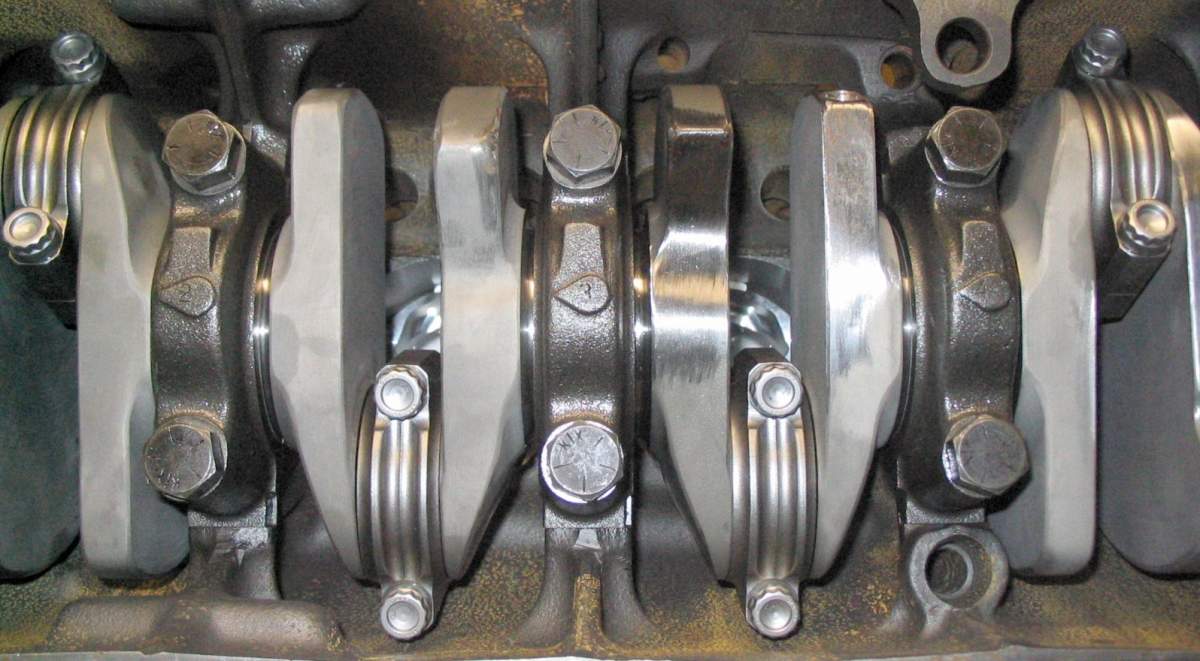 The heart of the 2.5 - the custom made stroker crank
All of our engines, unless otherwise specified, come with new water and oil pumps, late style neoprene front and rear seals, new pistons, rings and bearings. In engines using stock cranks and rods, these parts are magnafluxed and reconditioned. All blocks are sonic tested to ensure sufficient cylinder wall thickness. All engines are bored and honed with a deck plate. All performance engines are decked to assure the proper deck to piston height and piston to head clearance.
The engine prices listed above do not include intake or exhaust manifolds, carbs, fuel injection systems, superchargers, flywheels, clutches or distributors. These items can be added to any engine order at additional cost. Rocker assemblies are checked and reconditioned. Rocker assemblies modified for proper ratios are highly recommended and are available at additional cost. (See the rocker arm section for details ) Aluminum crank pulleys are highly recommended for any performance engine. Engines are pre-oiled then drained prior to shipping. Valve lash is set cold. Engine prices, unless otherwise specified, are for engines of stock displacement with overbores of .050" or less.. Add $125 to any engine price to add a baffled oil pan.
Be sure to read the details at the end of the " Engine " section on how our engines are different from those made by anyone else.
* Engine prices are based on a core exchange. Where an equivalent, useable core engine with head is not provided a core charge of $ 450 is normally added. For large bore engines up to 92 mm the core charge is $550. For cores which will accept boring to 93 or 94 mm the core charge is $650 when available. ( All of our blocks are sonic checked for cylinder wall thickness so we know how hard it is to find blocks that will reliably take various overbores. ) The above core prices are for orders placed on or after October 1, 2012.

* Engine prices normally do not include aluminum valve covers, aluminum crank pulleys, roller rockers, or modified stock rockers. See the appropriate engine parts sections for prices. These parts will be provided at additional cost on request.
* Engine prices are based on our most up to date information on parts costs at the time prices are posted. If our cost for parts not in stock increases significantly, even after the order date, these increases may have to be passed on to the customer.
Engine payments are normally based on the following schedule - One third of the total, + the core charge if a suitable engine core is not being provided, at the time of order as a deposit. One third of the total when the major parts are in stock and major machinig of the block has been completed. One third of the total, plus any shipping preparation and shipping or delivery charges when the engine has been finished and is ready for shipping.
Our Engines can be shipped anywhere in the US and the world. Recent international shipments have been to the UK, Norway, Germany, and Poland. Typical terminal to terminal truck shipping in the US is less that $300. Air shipping for airport pickup at major european airports is usually in the $500 - $600 range. Recent air shipment quotes - for pickup at Sydney Airport, Australia - $850. Door delivery to Manchester, UK, $750.

Please review the break-in procedures and oil recommendations in the articles on Oil and Break-in Procedures in our Tech Articles section.
go to top
|
how to order
---
Stroker Kits
Stroker component kits for assembly at your location.
The 2.5 liter engine components are available as a special order kit consisting of stroker crank, forged H - beam rods, rod bearings, and forged pistons - $3995.

The 2.3 liter component kit - forged pistons, Crower rods, rod bearings, offset ground crank - $2450.

The 2.3 liter component kit as above, but supplied without the offset ground crank - $1825.

Add $160 for precision balancing the crank, rods and pistons.

Add $85 for main bearings.

Add $100 crank core charge on the 2.3 Kit if we supply the crank core.
The above components are special order, custom made items and may take from 3 - 6 months for delivery if not in stock at time of order. Unless specified, balancing of individual components is not included but can be added.



go to top
|
how to order
---
Race Engines
Our standard Volvo B18/20 vintage race engines produce from 200 to 220 HP at 2 liters ( depending on exact specifications ) , with a broad power band - normally run on the track between 4,500 and 8,000 RPM. The design is one that we have developed based on 25 years of vintage racing and dyno testing experience, and is basically an evolution of the engine that I have used in my own vintage racecar since 1992. It features our race head with dual valve springs plus damper and a custom designed race cam. Since it is designed for vintage racing, reliability and flexibility are key objectives in its design, but it is a race engine designed for track use only. Though we can do custom versions with modified characteristics, our standard vintage race engine is a high compression engine ( 13 - 1 or higher CR ) designed to be used with high octane leaded race fuel only. Customers have been using and winning with these engines in vintage racing and in SCCA's Historic Series for many years. ( After 15 years my 1800 still holds an SCCA Historic Series track record at Watkins Glen.) We have also built similar engines for other types of racing and rallying which are now in use in the US and several other countries, including the UK, Germany, and Australia and can build engines to FIA specs upon request.
| | |
| --- | --- |
| | |
One of our race engines during dyno testing.
Due to customer demand we are now producing larger displacement race engines, in various bores and strokes, including a top of the line, 2.5 liter, bored and stroked maximum performance race engine. With these stroked engines power in the 230 - 250 HP range is possible , but the greater benefit is a broader power band and more torque. All of our race engines use components custom made to our specifications. Piston sizes, pin heights, pin size, rod lengths, and rod journal diameters are changed to maximize performance. Choices in specifications, parts brand, or parts price increases may affect the prices listed below. All race engine prices include a baffled oil pan. Dyno test results available on request.
B20, 2 liter vintage race engines with ported race head, custom race cam, forged pistons, Carillo or Crower rods, balanced and blueprinted, approx. $6895*, depending on exact configuration and parts included.

B20, 2130 cc race engine, stock stroke x 92 mm bore, $6995*, depending on exact configuration and parts included.

B20, 2.3 liter race engine, 92 mm bore x 86 mm stroke with offset ground crank - $ 7395*, depending on exact configuration and parts included.

2.5 liter B20 monster engine, 92mm bore - 92mm stroke with billet steel stroker crank, all the best components, the most powerful B20 Volvo race engine you can buy. Designed for higher rpm than the street version listed above, this pure race version uses lighter, longer rods, lighter pistons, and has a head and cam designed to facilitate high rpm - high compression use. - $ 8400 - $8800 + depending on rod and head choices.

ITB short block - blueprinted cam, align bored, balanced, rods resized and reconditioned with ARP rod bolts, custom deck height, bored and honed with a deck plate, with baffled oil pan - $ 3295 *
* Race engine prices are subject to change based on increases in our parts costs.
*The race engines above ( excluding the ITB short block ) come with aluminum crank pulleys, and now include modified stock rocker arms, and new aluminum valve covers needed to clear the large race valve springs. Prices have increased in order to include these additions.
*Additional core charges or exchange requirements may apply to all engine rebuilds. The typical B20 core charge for engine and head is $ 400. For large bore engines .060 over and up to 92 mm the core charge is $500. For cores which will accept boring to 93 or 94 mm the core charge is $650 when available. ( All of our blocks are sonic checked for cylinder wall thickness so we know how hard it is to find blocks that will reliably take various overbores. ) . For engines to be shipped there may be additional packing and handling charges for preparing the engine for shipping - usually $150 for shipping on a pallet.
go to top
|
how to order
---
Street Performance Tuning Kit
| | |
| --- | --- |
| | In 1966 Volvo offered a tuning kit for B18 engines designed to increase HP by close to 50% based on the same engine components they used to win the 1965 World Rally Championship. Now we have a tuning kit similar in general concept, but using components of modern design engineered for street rather than race performance |
Our Street Performance Engine Tuning Kit will increase power in a properly built B20 by 50% to the 150 - 170 HP ( at the crank ) range while remaining perfectly tractable for normal street driving. In part throttle operation it feels like a stock engine, only smoother. Larger displacement engines will benefit from additional increases in power based on the percentage of displacement increase. For those building their own engines, or seeking to add performance modifications to an engine that is still in basically good shape, this is the perfect package. The components are the same as those used in the engines we build in our shop but in a bolt on package that will take most of the guess work out of performance upgrades for the do-it-yourself enthusiast. The kit consists of our Type II Street Performance head, head gasket, custom ground SP cam, ARP head stud set, aluminum timing gear, performance lifters and pushrods, and ceramic coated exhaust header. Recommended for use with suitably tuned Mikuni, SU or Weber carbs, or programable fuel injection ( SDS, Megasquirt, etc.) replacing the stock D Jet control unit. SP kits for supercharged engines have a different cam and lower compression head. Free flowing exhaust required for appropriate results.
Kit Components:
Type II Street Performance Head
Street Performance Cam
ARP Head Stud Set
Head Gasket - (Specify engine bore - Add $60 if for 92 mm bore)
Aluminum Timing Gear
Performance Lifters and Pushrods
Ceramic Coated Exhaust Header
Street Performance Tuning Kit with above stated components - $2500. ( price changing due to increases in the cost of parts includeded - email for new price )

Street Performance Tuning Kit with Type III head - $2950 ( price changing - due to the cost of parts included - email for new price )

If not supplying a suitable head core add $150.

Add pistons, reconditioned rods, main and rod bearings, water and oil pumps, bottom end gasket set, and modified front and rear crank seal housings for a complete engine kit.
Add an aluminum or lighened stock flywheel, new OEM type clutch pressure plate, performance clutch disc, and performance exhaust with mandrel bent tubing and high capacity mufflers, and finish it off with Mikuni Carbs and a 123 Distributor to complete the system.
go to top
|
how to order
---
How Our Engines Are Different
Our engines are designed and built based on over 20 years of experience. building and modifying these engines. During that time we have been doing dyno, street and track testing to validate the results. This process has produced design changes that are unique to our engines and has dispelled a lot of old theories on how these engines should be built. On many engines crank throws, rod lengths, component weights and bearing sizes are different from stock and these improvements have evolved over the last 20 years.
You can have engines rebuilt for less money, but you can't have engines built for less that are built wth the same care, attention to detail and experience that we use in building them. We spend more time cleaning and preparing our blocks both before and after machining than a lot of shops spend doing an entire rebuild. Although some components and specifications may differ, the same basic steps and care go into building our street engines as go into our race engines. When you spend less on an engine its cheaper because less time was spent on it due to the steps that were left out - including design and testing time. If our engines are more expensive its because of the extra time, additional care, and a long list of additional steps that go into building them. Its also why our engines produce more power on the dyno and on the road, are more economical, and are more reliable.

12 engine rebuild procedures that you don't usually see in engine rebuilds done by others:

1) all blocks go through a several step cleaning process both before and after machining
2) all block soft plugs and oil gallery plugs are removed and replaced
3) blocks are sonic tested for sufficient wall thickness;
4) the cylinders are honed with a deck plate; do not trust a shop to do machine work that does not use one - see this video to learn how important this is - http://www.youtube.com/watch?v=6cLjdr2GSwU
5) the mains are align honed ,
6) blocks are decked for proper deck to piston height and piston to cylinder head clearance;
7) stock rods are magnafuxed, checked for straightness, resized, bead blasted, reconditioned, and usually supplied with high performance rod bolts, new pin end bushings, and balanced;
8) cranks are checked for proper indexing and straightness, magnafluxed to check for cracks, the journals are polished and/or ground, and finally the crank is balanced;
9) oil pans are completely cleaned and repainted;
10) Engines are pre-oiled and then drained prior to shipping.
11) Rocker arms and shafts are checked and reconditioned.
12) Valve lash is set cold, then reset hot after the head bolts are re-torqued on engines we install.

The list could go on..
Some design differences:
1) 20 years of building and racing these engines has allowed us to do a lot destructive testing, some of it unintentional, but every failure has had its benefits as they have given us an opportunity to learn what works, what needs to be changed and what does not. In the begining we went through a couple of engines a season, but my last race engine lasted 12 years until I pushed it too hard in a 4 hour enduro running against modern racecars.
2) "If it ain't broke don't fix it." " KISS - Keep it simple, stupid." Two of the most important design philosophies that we follow. Especially important when dealing with old engines where it is really easy change too much based on what is now available.
3) With similar cars on both the street and the track, we have been able to go through an evolution of trying design elements on the track and then adapting them to street applications. Take our current line of street heads for example. They are a direct evolution of a small port race head design that I introduced in 1998 on my racecar. It did not result in the most peak horsepower, but had a broader power band and better throttle response, elements that made it easier to drive hard - good enough to win the Volvo Grand Prix that year against Volvos from all over the US and Canada, and set a track record at Watkins Glen for the SCCA Historic Series that still stands. With recent modifications for a significant increase in power, that head is still in use.
4) We have not felt restrained to do " it " a certain way just because Volvo did it that way. It would just not make sense to ignore the advantages of modern materials and techniques in building our engines. If Volvo had known of better ways to build engines 40 years ago, they might have done it. On the other hand, when they did eventually make changes, to the OHC engines for example, the main criteria was an increase in manufacturing efficiency and decrease in cost rather than improved performance. With modern materials we can implement improvements that were not originally available. We can use smaller bearings which have less resistance, longer rods and lighter pistons for more power and efficiency.
5) With years of design changes behind us, some of our engines have about as much VPD design in them as they do Volvo - our bore, our stroke, our rod length, our bearing sizes, our piston pin diameter and height, our lifters, our pushrods, our cam designs, our head port shapes, our valves, our crank pulleys, our flywheels, our clutches, etc.
6) In the "articles" section of this website there are 2 articles on the original effort to put a small Ford V8 into an 1800 and convince Volvo to produce it. Our current 2.5 liter B20 now produces more power than that V8.
Some test differences:
I have a strong belief in the importance of scientific testing, and a background that allows me to know how it should be conducted. We test everything we make. When doing head porting, even though I have ported well over 100 Volvo heads, I still flow test each head during and after porting. Even though it " looks right " I frequently have to go back and touch up a port to make sure it is right.
When replacing or modifying an engine in a customer's car, whether its a race car or street car, we go to the extra trouble of dynoing it before we make any changes. This gives us a baseline and allows us to document exactly what was accomplished.
At this point we have records that go back for more than 20 years - flow tests, dyno tests, track times - that allow us to make comparisons when we make changes. A lot of these tests were done on the same machines and tracks that we run on now so that we can still make direct comparisons. There are even certain lightly traveled public roads, with convenient markers, where we have been doing testing for many years. Any opportunity to test is used, rather than just going by the seat of our pants.
We have also learned the hard way, that just getting a better test number on a machine does not mean that you will get the same performance on the road. One of my head experiments that produced really nice flow numbers was a real bust in terms of the power that it produced in the real world. So engine testing progresses from the bench, to the dyno ( and sometimes both engine and chassis dynos ) and then to the road and/or track.


go to top
|
how to order
---
Engine Shipping
We regularly ship engines all over the US and Europe, and can ship to most places in the world. Our shipping schedule for the first few months of 2011 has engines going to the UK, Norway, Germany, Poland and Greece.
Shipping in North America is normally by truck, takes 2 - 3 days to the Midwest and 4 - 5 days to the West Coast. Cost is normally in the $ 200 - $300 range for terminal to terminal shipping or to a business address with loading dock or fork lift. Additional fees normally apply to home delivery.
Shipping by air to Europe is surprisingly reasonable - $400 - $500 for 3 day air shipping for pickup at major airports.
Our Volvo B20 engines are normally shipped on a shipping pallet with an all up weight of 300 lbs. A charge of $150 is added for shipping preparation and delivery to a shipping terminal.
go to top
|
how to order
---
>>

Questions - Order Process - Payments

Questions -Email correspondence strongly preferred. Email with questions on your particular needs as we have many other parts and services available. If we don't have it we can usually get it or make it. If you need to call, the best time and number is usually 315 478 1229 mornings 10:00 AM - 1:00 P.M. eastern US time. Leave a message if there is no answer as we may be in the shop and cannot get to the phone. If we do not answer or call back try cell # 315 440 6560 and leave a message. There are often periods of 3 - 5 days, especially during the summer, when we are away due to other commitments and the office is closed, though shipping and engine work is continuing at other locations. Although I try to return calls and emails even when out of town, some are replied to when we return.

Orders - The easiest way to order is to send an email listing your parts order along with your address and we will reply with information on parts availability and a total price with shipping. Please include information indicating the car model & year with each email, and indicate under "subject " the make of the vehicle and type of part you would like to order. This will keep it from being filtered out as spam.

Payments - Payments are normally made by check, credit card, or through Paypal (www.paypal .com) Payments made by Paypal should be made to the account under our email address: jparker3@twcny.rr.com, or we can send you a paypal invoice. We also accept bank wires for larger amounts.

go to top