Products: Driveline
Clutch
High Performance Clutches
In addition to stock type clutch kits and parts, we offer high performance clutches designed to handling the more rigorous requirements of modified engines and uses that range from street performance to all out racing.
Testing has shown that the stock Volvo clutches cannot cope with power levels approaching or exceeding 200 HP, especially with drivers who like to show off their power with rapid starts and wheel spin. To solve this problem we are now stocking a line of upgraded clutch products including several different types of performance clutch discs and upgraded pressure plates.
The application of these parts is not limited to those cars equipped with turbos or superchargers. Within a range of products there are clutch discs and covers that are perfect for normally aspirated as well as turbo cars, including 240s and 740s. Disc choices include carbon fiber, kevlar, solid hub and button type discs. Clutch covers include those with ranging from stock to 100% additional holding power. Package deals are available with our aluminum flywheels for a true performance clutch and flywheel setup.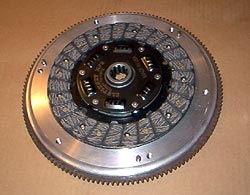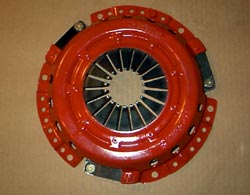 Applicable to Volvo M40/41, M45/46, and T5 and T9 transmissions, 8.5 " diameter unless otherwise stated, others by custom order
Stock Sachs Volvo 8.5 inch clutch kit - light weight 240 style pressure plate, disc and release bearing - available for either early ( 544/122/1800/140 ) or late ( 240/740 ) input shaft splines $ 235.00. This kit replaces earlier Sachs Clutches for these models and uses the pressure plate referred to below.
For a complete package add a modified stock type flywheel - resurfaced, lightened and balanced - $195 plus a $60 core charge if we provide the flywheel core. Sachs clutch kit + plus flywheel as above = $430 + $60 core charge = $490

Light weight OEM type pressure plate $195 - This is a Sachs 240 style. 8.5 inch pressure plate. Recommended as an upgrade for use on earlier cars as it is lighter and stronger than the earlier style clutches used on the 544/122/1800/140.

One of our most popular clutch package - the above pressure plate with our severe duty organic disc - $275

Clutches listed below may be no longer available - email for details

Dual spring pressure plate - $275 - This is our older style PP made for us by Clutchnet. Good holding power but not recommended for cable clutch cars. - no longer available new - 2 lightly used in stock.

2 New and improved designs include the following two clutch pressure plates.

Modified pressure plate and heavy duty clutch disc. Designed for street applications in the 200 - 250 HP range where a stock feel clutch is desired. This is a new product designed and tested in 2006 and is superior to those available previously - $400 with heavy duty organic disc. $455 with kevlar disc recommended where semi race use is expected.

Dual disc street, street/race, or pure race clutch designed for higher HP ( 250 + ) applications. Available with several different disc types depending on use. Adding a second 8.5" disc is the solution to having sufficient disc area and still fit in the stock bellhousing. Uses the stock 8.5 inch pressure plate bolt pattern. This clutch can do it all - handle high torque loads ( 350 ft.lbs + ) and abuse, but with a street clutch feel & normal clutch pedal pressure. The weight of 13 lbs with discs is less than a stock single disc clutch with disc. This is the clutch that we developed to use in our own supercharged cars and is well worth the price to do it right the first time. Price depends on the disc type and input shaft splines - $935 - $995 including discs.

Street performance clutch discs - several types available from $140 - $195

Severe duty organic discs- $140

High performance 8.5 " kevlar discs - $195 availalbe with solid or sprung hubs - the solution for street / track use.

Race type performance clutch discs - email for details

Race clutches - The best setup is our 7.25 Tilton modified for use with Kevlar discs. Far superior to Tilton's metalic disc. Eliminates wear issues. Complete clutch with disc for the single disc version - $675. Additional kevlar 7.25 race discs - $175 Email for further details.
Dual disc clutches - Tilton 7.25" race - top, Our VPD 8.5" street or race - bottom

| | |
| --- | --- |
| | |
| | |
go to top
|
how to order
---
Flywheels - Aluminum - Lightened Stock
Lightening the rotating mass is critical for high performance. The most significant weight reduction available is in the flywheel. This is a performance improvement that will help everytime the engine accelerates. Our aluminum flywheels are normally for RWD Volvos, but others can be provided on request. Street AL flywheels are usually less than half of the stock weight. Race AL flywheels less than 1/3 stock weight. For customers looking to retain a stock feel, but still gain a significant advantage, we also have lightened stock flywheels, with 3 - 4 lbs. of weight removed from the outer circumference where it will have a much greater effect than an overall weight reduction.
Lightened stock flywheels - resurfaced, lightened and balanced - $195. Add a $60 core charge if we provide the flywheel.

Street Aluminum Flywheels - 8.5 inches - 9 lbs. ( stock flywheels are 22 lbs. or more!) Can be used on all rear drive Volvos - Specify 6 bolt ( ' 73 and earlier ) or 8 bolt ( ' 74 and later ) crank - $455 Can also be used as a light duty race or rally flywheel with our single and dual disc 8.5 inch clutches. ( Sustained RPM should be limited to 6800 RPM. For severe race applications contact us regarding upgrades or order the race version below. )

Race Aluminum Flywheel for 7.25" Tilton clutch - 6 lbs. --- Versions for 5" and 8.5 " also available. Made from a different alloy than our street flywheels in order to handle the increased stress of race use. Currently out of stock and will be a limited production, special order item for 2013. Order by 12/1/12 for spring 2013 delivery. Email for price.
For precision balancing add $60. The flywheel should be balanced with the clutch pressure plate to be used. Aluminum flywheels, since they are thinner than stock flyhweels, often require a longer release bearing and/or clutch fork pivot modification. Email for details.
Six and eight bolt street aluminum flywheels for 8.5" clutch - 9 lbs.

| | | |
| --- | --- | --- |
| | | |
Race flywheels for 7.25" and 5" clutches.

| | | |
| --- | --- | --- |
| | | |
go to top
|
how to order
---
Rear End Gear Sets
Increase your rearend ratio for race or rally. Decrease the ratio for highway cruising. 3.73, 3.90, 4.1, 4.56, & 4.88 ratios available for the Dana 30 - $220
go to top
|
how to order
---
Limited Slip Differentials
For Dana 30 rear ends - 27 spline - all disc brake 1800s, 140s, 240s, etc. we recommend the Truetrac® Limited Slip. The Truetrac® is Tractech's limited slip differential . This is an all gear driven differential that automatically provides smooth torque transfer for traction on demand. The Truetrac® provides durable and dependable performance with no loss in power and no clutch plates to wear out. We use and recommend for both our street and racecars - $540. There is also an installation kit with includes shims, etc. - $50 .
The original equipment disc type Dana "Powr-Lok" is not currently available.
go to top
|
how to order
---
Rearend Conversions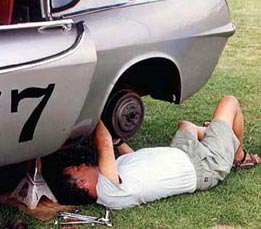 The most common conversions address the safety problems associated with the rear drum brake cars. Unfortunately, breaking of the rear axles on drum brake cars has been a continuous problem in Volvo performance applications since the '50s. As the power and handling of these cars have improved, the stresses on this comparatively weak component has increased the rate of breakage. In vintage racing, most cars raced for more than a season with the original axles have suffered breakage and serious consequences. Options involve either the replacement of the rear end with a Volvo disc brake housing, or modifying the original housing to use Ford axles and drum brakes as was done on my race car almost 20 years ago. ( It still out-brakes the disc brake rear cars.) As most vintage race clubs now allow the conversion to rear disc brakes as a safety upgrade, we no longer offer the Ford drum conversion kit. For 67 - 69 1800s and 122s the disc brake rearends from 70 - 73 1800s will bolt right in, though some extra work is needed to hook up the brakes and convert to the same bolt pattern as in the front. If you need help with this, sourcing a rearend, or converting the bolt pattern, let us know..
go to top
|
how to order
---
>>

Questions - Order Process - Payments

Questions -Email correspondence strongly preferred. Email with questions on your particular needs as we have many other parts and services available. If we don't have it we can usually get it or make it. If you need to call, the best time and number is usually 315 478 1229 mornings 10:00 AM - 1:00 P.M. eastern US time. Leave a message if there is no answer as we may be in the shop and cannot get to the phone. If we do not answer or call back try cell # 315 440 6560 and leave a message. There are often periods of 3 - 5 days, especially during the summer, when we are away due to other commitments and the office is closed, though shipping and engine work is continuing at other locations. Although I try to return calls and emails even when out of town, some are replied to when we return.

Orders - The easiest way to order is to send an email listing your parts order along with your address and we will reply with information on parts availability and a total price with shipping. Please include information indicating the car model & year with each email, and indicate under "subject " the make of the vehicle and type of part you would like to order. This will keep it from being filtered out as spam.

Payments - Payments are normally made by check, credit card, or through Paypal (www.paypal .com) Payments made by Paypal should be made to the account under our email address: jparker3@twcny.rr.com, or we can send you a paypal invoice. We also accept bank wires for larger amounts.

go to top