Products: Suspension
2023 marks the 25th year of our work on Volvo street suspensions. During that time our development and testing produced significant advances in the suspension components available for old Volvos - including a range of custom progressive rate lowering springs and shocks from Bilstein valved to our specifications where required. The only way to "get it right " was to have springs and shocks designed and built to our specifications. Used together, these shocks and springs became the standard options for upgrading the ride and handling of vintage Volvos, with versions designed for use on the street, track, or both.
| | |
| --- | --- |
| | After working on race car springs for a while, this was one of the first street cars that we provided a suspension for -in 1998 - based on our progressive rate lowering front springs, which allowed us to provide more control and much better handing, without hurting the ride. |
February 2023 UPDATE - We have some progressive front springs left from prior batches and are looking forward to receiving more with an upgraded specificaiton later in the year. If you need springs, what we have in stock are better than any others currently availalbe. We also have single rate spring sets in stock and rears to go with the front progressives.

The last few years have brought changes in our spring supply and production as he Covid years have to the rest of the inducstry. The company that had been supplying our springs from the begining was reorganized, and then purchased by another company, and no longer able to reliably meet our spring needs. This caused a disruption in supply, and we had to turn to another spring maker to suppliment our supply, and eventually make a new line of springs for us. Unfortunately, rolling out springs with new suppliers has taken much longer than anticipated as it included a period of re- design and pre- production testing of sample springs and then a further disruption caused by Covid. This process is slowly moving forward and we look forward to receiving more of the progressive front springs with an updated specification later in 2023.
While waiting for new springs to become available, we still have plenty of rears and a smaller number ofprogress front springs in stock from previous production runs.

----------------------------------------------------------------------------------------------------------------------------------------------------------------------------------------
Why you should upgrade your springs and the rest of the suspension as a first step restoring your old Volvo.
If you plan to really use your older Volvo changes to the suspension are needed. Volvo was slow to make the transition to modern handling. Reviewers of Volvos 1960's era cars - from Road and Track, Sports Car Graphic, Car and Driver magazines - agreed that they were typically too high off the ground and had excessive roll in corners - and those were contemporary reviews comparing Volvos to other cars of the same era. These were characteristics that were fine for rough winter roads in Sweden, but not the most appropriate for driving conditions in the US. Today, with faster traffic speeds, improving the suspension is an even more important safety issue. Our suspension components are designed to bring modern handling to older Volvos and are a necessary part of any performance package. Progressive rate suspension springs are a significant advancement over other spring sets offered. Combined with appropriate lowering of the vehicle, attention to suspension bushings, shock absorbers, and sway bars where necessary, the handling of an older Volvo can truly be transformed.
Quick recommendation:
To solve your handling and ride problems - Progressive Rate Lowering Spring Sets, Bilstein Shocks (with custom valving where needed) , and Polyurethane Suspension Bushings
Blue was the standard color for our springs in the past. The newer springs are black as in the photo below of a set.
The photo shows one of our progressive spring sets, progressive fronts in the middle, single rate rears to the outside. This is one of our taller sets, shown in black. Brian Harris © 2011.
---
Suspension Springs
Springs are the heart of any suspension and have to be changed in order to achieve significant improvements.
Just adding stiffer sway bars only addresses the cornering roll part of the problem and creates others.
Lowering the car is an important element in improving the handling as once the center of mass is lowered the suspenision does not have to be as stiff in order to control body roll.
Progressive rate springs offer a combination of handling and ride comfort that cannot be duplicated by single rate springs.
Our standard spring package for street or sport for the 122/1800/140 is a lowering spring set with progressive rate fronts and single rate rears designed to lower the car 1 - 1.5 inches from original stock. 122/1800 - $315 140 - $330
Springs offering lowering greater than 1.5 inches usually available.

Traditionallly most aftermarket suppliers of Volvo springs have only offered one replacement sport spring set for the Volvo 1800/122/140, usually 20% - 30% stiffer than stock and designed for a 1 to 1 1/2 inch lower ride height than stock. These same springs have been offered for over 30 years, and they still have the same problem they have had since the beginning. A stiffer single rate spring improves cornering ability by limiting roll, but the ride quality is adversely affected. In order to keep the ride quality at least tolerable they cannot be stiff enough to improve cornering as much as is desired, but are still stiff enough to give a harsh ride on the street. Quoting Volvo's own R-Sport Performance Parts Catalog, "The shorter and more stiff the spring, the worse the ride becomes." Volvo recognized that the problem could be solved with progressive rate springs, recommended them for all applications where stiffer than stock spring rates were desired, and included them in their suspension upgrade kits. We do the same, and now have a wider choice of ride heights.
Following our lead, other companies are now offering progressive spring sets, but due to their lack of development and testing time have missed the mark in terms of actual performance. If they cannot describe to you their testing and development process and do not know the individual spring rates, then the conclusion as to their quality should be obvious. The specs on our progressive springs are set forth below.
In addition to our progressive rate spring line we still offer traditional single rate street and race performance springs, including a range of springs in different heights and rates to fit individual needs. This allows you to tailor the handling to your driving style and intended use of the vehicle. But unless your use is pure track racing, the progressives are the way to go.
See the customer comments at the end of the suspension section.
Progressive Rate Springs
Soft enough for your daily driver - stiff enough to win the Carrera Panamericana Race - 2009 Historic Class A

Progressive 4 spring set for 122 sedan or wagon and 1800 ( progressive fronts - matching single rate rears ). Available in a choice of ride heights. $315

Progressive 4 spring set for the 140 and 164 models ( progressive fronts - matching single rate rears ) $330

Progressive rate front street springs per pair $170
Single rate springs were the only choice for vintage Volvos before we developed our progressive rate spring sets. Progressive rate springs solve the single rate spring ride quality problem. With progressive springs, to quote the Volvo R-Sport Catalog, "...the rate or stiffness of the spring progressively increases as the spring is compressed... This results in a relatively comfortable ride during normal driving but provides the necessary stiffness for large bumps and hard cornering." For this reason most of the springs offered in Volvo's R-Sport Catalog were progressive rate springs.
The following specifications illustrate how progressive springs are different. Most stock front springs for the 122/1800/140 are in a range close to 250 lbs. to 270 lbs. per inch. Most aftermarket single rate "sport springs" that are offered are in the 320 - 350 lbs. per inch range - not stiff enough for great handling, but stiff enough to hurt the ride. Our progressive rate front street springs are generally in the range of 230 - 250 lbs. per inch for the soft coils and 450 - 500 lbs. per inch for the stiff coils, with intermediate coils in between which progress in stiffness from the soft to the stiff coil range. It is this progression from coils softer than stock to coils that are much stiffer, and how abrupt or gradual the progression is, that allows the same spring to provide both a softer ride and better handling than a single rate sport spring.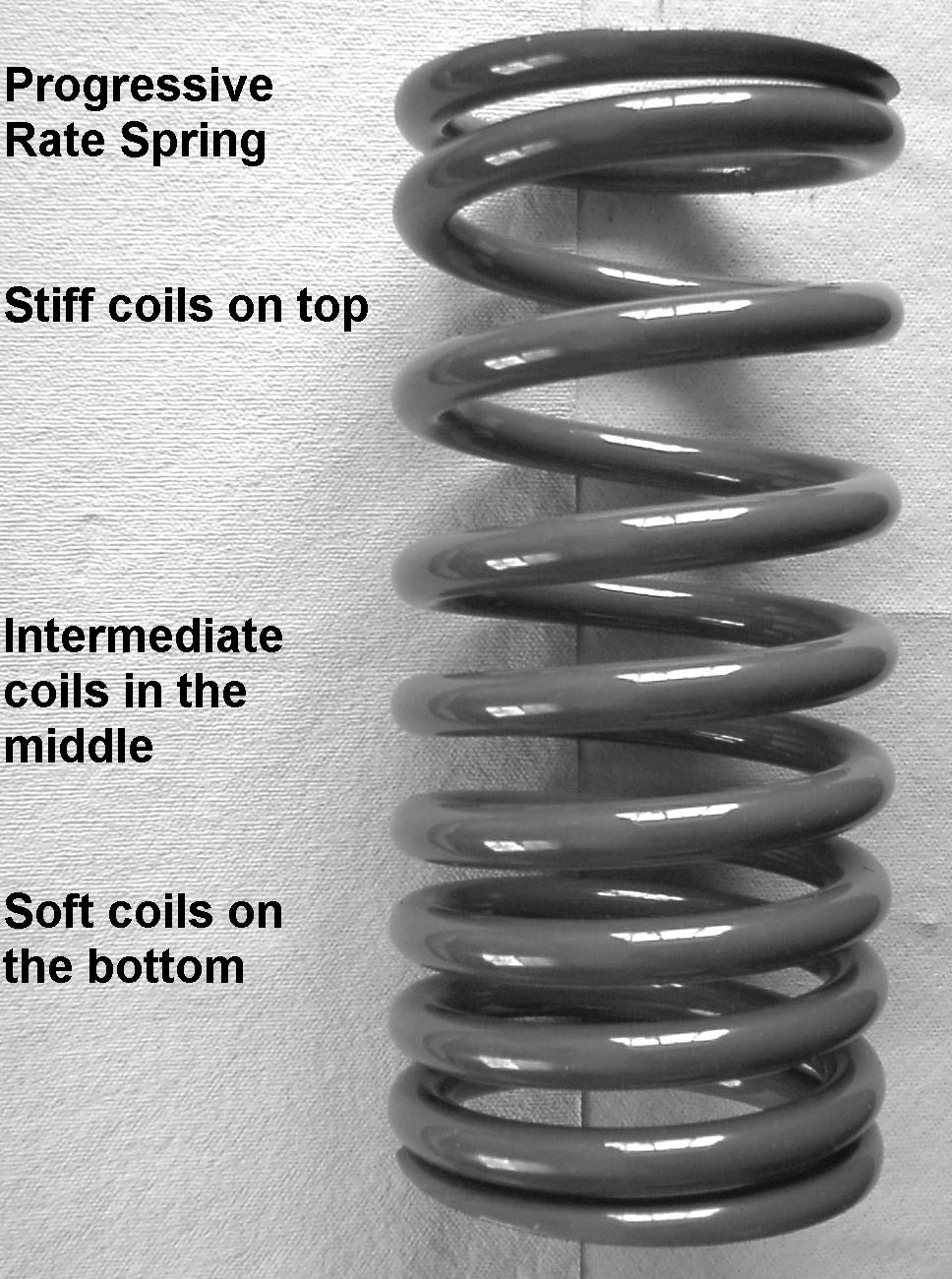 Feedback from the hundreds of customers who have tried our progressive springs has confirmed that they offer great handling with a better than stock ride. Most can't believe the improvement. But don't be fooled, all progressive rate springs are not the same. Due to the success of our springs several other suppliers have offered progressive rate springs in the last few years, with very mixed results. They are progressive in the strict sense, but the spring rates are not even close to ours. ( Ask them for specs on their spring rates. ) One set that we tried was so soft that the handling was worse than stock and the ride height was so low that the car constantly bottomed out on the bump stops. So yes, you can now purchase progressive rate springs for a few dollars less, but what is missing is the time spent in design, development and testing in order to "get it right". Our current springs are a 4th generation evolution of our initial design.
Our testing has shown that progressive rate springs are not necessary in the rear and can create other problems, so our 4-spring sets consist of progressive rate fronts matched with single rate rear springs.
We recommend installing our springs with the stock sway bar, and only going to a stiffer sway bar if additional roll control is needed. Sway bars add to the spring rate, and since their action is not progressive, stiff sway bars negate some of the advantages of progressive rate springs. Get it too stiff and the front wheels will loose road contact and tend to skip over small bumps and slide out in rough corners. Where additional cornering control is needed, we offer several choices in sway bar stiffness rather than the "one size fits all " approach of other suppliers. See the "sway bar section" below for details.
Although most "sport " spring sets will lower the ride height between 1 and 1-1/2 inches, we have developed several different progressive spring set combinations. These will accommodate different models, vehicle weights, and customer preferences as to ride heights and type of use. By the end of 2013 we will have added to our spring line progessive sets for the 1800/122 that are both lower ( 2.5 inches lower than stock ) and taller than our standard lowering sets. Combined with the use of spring spacers (shims), they will allow ride heights to be adjusted to a wider variety of individual tastes.
Our progressive rate spring sets have proved to be widely adaptable with uses ranging from street daily drivers, to weekend drives on back country roads, to autocross, trackday and even the Targa Newfoundland and Carrera Pan America Races. In 2009, Richard Bailey won the Historic A Class of the Carrera Panamericana using our progressive spring setup, exactly the same as we offer for street use, together with Bilstein shocks and our polyurethane suspension bushings.
For even more aggressive driving, whether on the street, in a Targa or Carrera race, or in autocross, we can now offer on a custom basis a line of stiffer progressives, specifically designed to be stiff enough to emphasize cornering control, while still having the minimum in soft coils necessary to be tolerable on the street and maintain road contact on corners that are not all racetrack smooth. These springs are for situations where improved cornering performance is more important than a soft ride.
Progressive rate springs are slightly more expensive than single rate springs, approx. $20 more per pair, but are well worth the difference. Most of ourr springs are blue powder coated. Full sets for the 140 and 164 are now available (pictured above). Call, write, or e-mail for details on the appropriate spring set for your application.
Single Rate Street Springs
Where our progressive rate spring sets will not meet a particular need we offer single rate springs that are stiffer and shorter than stock for the front and rear. Street performance sport springs are usually selected to lower the car from one to two inches. (How much the car can or should be lowered is dependent on the wheel and tire combination used, the ground clearance necessary, and the need for sufficient suspension travel.) They significantly reduce body roll and give a stiffer ride. Some spring combinations may require modified mounts. A selection of heights and rates may be available for your model. Contact us for additional details.
Single rate street springs per pair 122 and 1800 $150

Rear spring pairs for 140, 164, and 240 models $165

Rear spring pairs for 122 wagon - several spring rates available - $150
Competition and Race Springs
Race Springs for Volvo 122 - 1800 & 140 front - $150 per pair for single rate springs
New front progressive competition springs $160 per pair
Call or email for prices on other race spring aplications
Offered in custom heights, rates for competition use normally start at 700 lb front, 180 lb rear and go up from there. Most road racers use 800-1000 lb front and 175-225 lb rear in the 1800. Call or email for heights and rates available.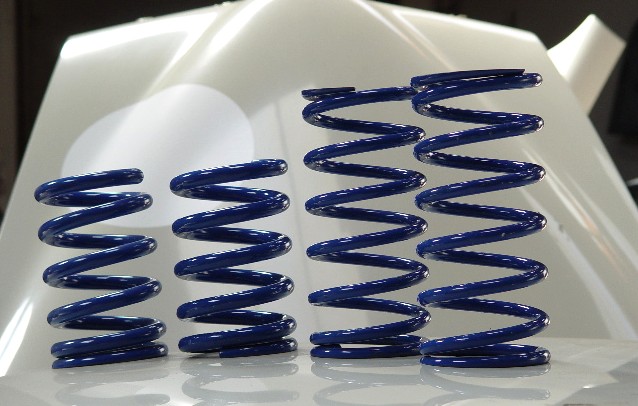 The above photo shows a set of typical Volvo 122/1800 vintage race springs.
The most important thing to note here is that the minimum front spring rate for track use is 3 times the stiffness of a stock front spring, while the rear rate is almost double stock. Race springs also produce a ride height that is usually at least an inch lower than the minimum needed for street use. This means that you really cannot use a competition track spring on the street, or a street spring on the track and expect to be competitive. Several competitors in the Targa Newoundland and Carrera Pan America have used our progressive rate street springs and found that they offer a good compromise where good handling is required but rough roads would rule out the use of a high rate single rate spring. We now offer progressive rate competition front springs.
Some rear springs require modified spring perches or spacers. Adjustable height spring perches are also available. E-mail your individual requirements and I will try to make a recommendation as to which springs would be best for your car.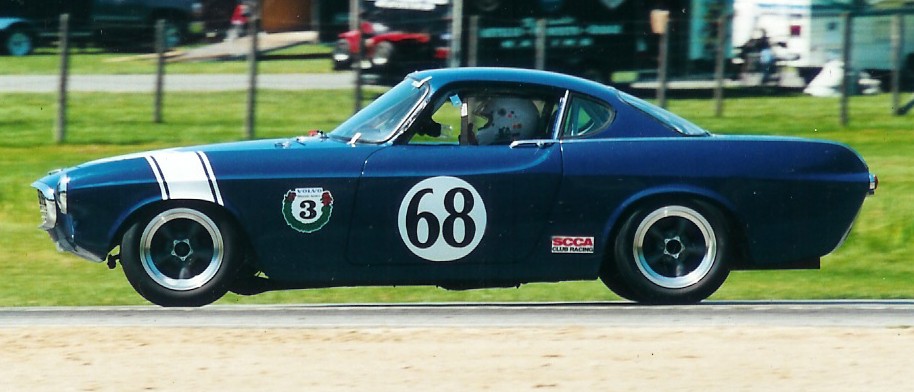 Typical race car ride hieght is shown above. The ground clearance is less than 4 inches.
Ride Height
How much will our springs lower your car? The answer depends on several factors.
All of our springs are tested with a load. This allows us to create matching pairs and determine which will be a little taller or shorter within a certain range. Determining the affect that new springs will have on your car's ride height is complicated by the fact that on a street car you will most likely be replacing 30 - 40 year old springs that have sagged or settled over the years, depending on the car's use, or lack of use. There were also some variations in spring rates based on model years, and some custom fitting and shimming when the cars were built. Some customers think they have original springs when they were actually replaced by a previous owner at some point. So when we say that our springs are designed to lower a car 1" to 1 1/2", that's an estimate based the original stock ride height and comparing our springs specifications to those of the original springs.
Most important is that the springs are designed to give your car a ride height that will improve its looks and handling while still providing sufficient ground clearance for normal use. For special circumstances we can provide various types of spring spacers in order to customize the ride height.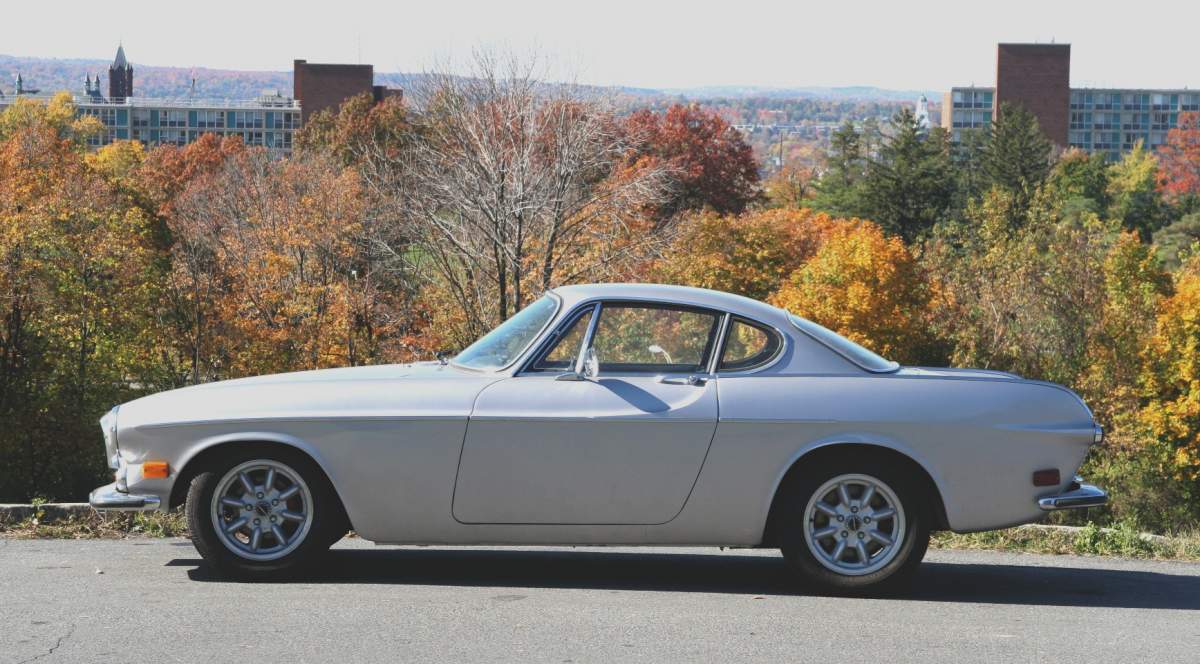 The photo above shows the ride height with a typical progressive sport spring installation. The ride height is lower in the front than in the rear with the car unloaded, but evens out when loaded. We also offer taller front springsthan on this 1800. Note that the ride height is over an inch taller than on the 1800 race car in the photo above this one.

Greg Pederson's 122 has taller front progressive springs than the 1800 above, 15 x7 Torque Thrust wheels, and 205/60 tires.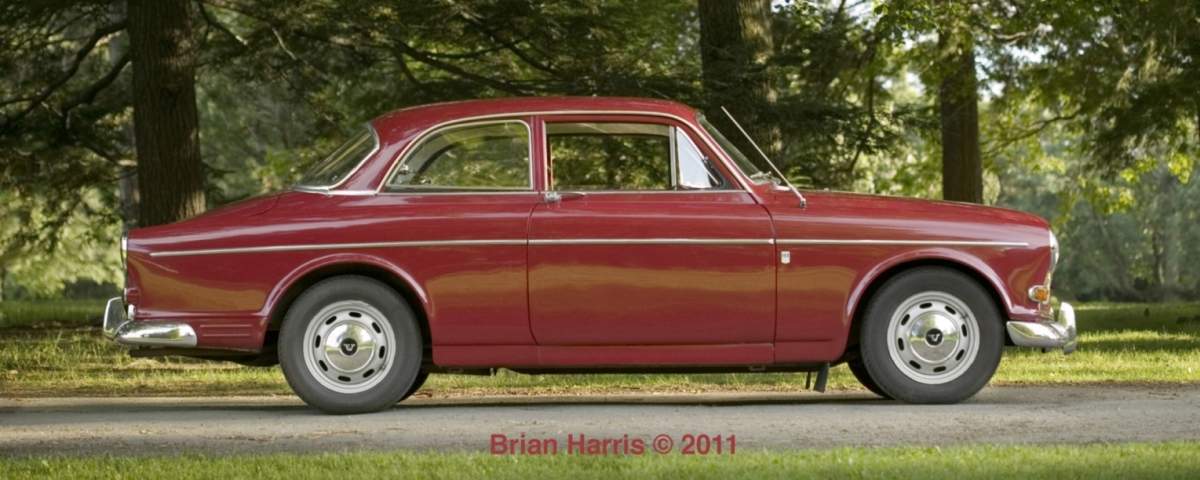 Brian Harris's car shows the ride height of our standard lowering springs with stock size wheels and tires.
And for those who have questions about whether our lowering springs are appropriate for a car used on city streets, here's a 122 in the Bronx. The owner says:

I purchased your progressive springs and poly bushings last summer and the car has handled amazingly. I've put about 20k miles on it from long highway trips to the terrible NYC roads locally. I've attached a picture of how the amazon is sitting with the new suspension.

Thanks, Julio
Matt Heckinger wanted to go lower than our standard lowering spring sets, so we provided a set with progressive fronts that gives a ride height approximately 2.5 inches lower than original stock height. His response was: " That's exactly what I was hoping for. Thanks! " We will have a small number of these spring sets by the end of 2013. Get your orders in now.
Hi John, here's a photo of my p1800 with your lowered springs and 195mm tires, wow what a better driving car! I got just a little over 1" lowering, looks perfect to me. I was concerned mostly about tire size and fender clearance but with 195mm tires there is no issue and the combination looks great. - Rick Volden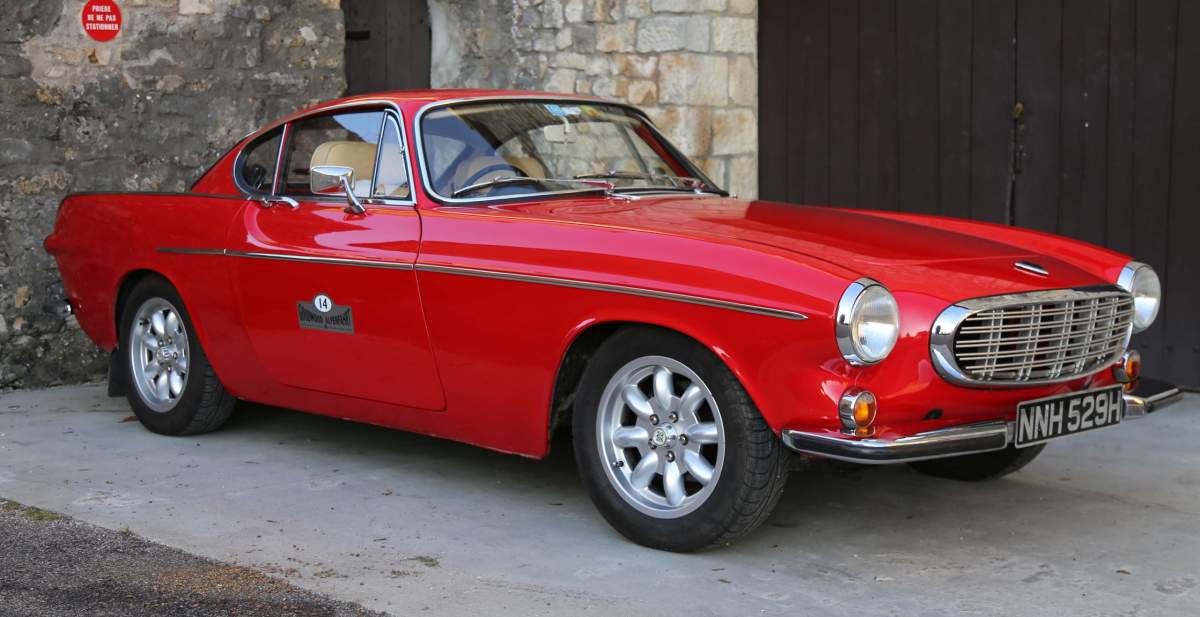 On 9/29/2015 10:36 AM, Rob Barker wrote - Just wanted to write and say thanks for my shocks and springs.
I've just completed a tour of Europe and driven 3000 miles in 10 days and the car was an absolute joy to drive. Your springs and shocks are truly amazing and my P1800's handling is transformed, but yet the ride is still so comfortable and the unbelievable handing is not at the expense of a harsh ride.
Spring Spacers
We offer disc type steel or aluminum spacers ( shims ) for the front of the 1800, 122, and 140, and the rear of the 140, in stock 1/2 and 1/4 inch sizes. Using spacers allow small adjustments in ride height to be made to suit your individual preference or to provide clearance for different tire and wheel combinations. In the front the ride height change will be double the spacer thickness. In the rear the change is the same as the thickness of the spacer. Additional spacers are available in custom sizes.
New - Aluminum spacers which center on the inside of the springs, front and rear - $22.50 each
Disc type steel spring spacers/shims - per pair - $ 20
Disc spacers available for 122, 1800, and 140 front and 140 rear
Replacement rubber spring spacer cups- front $24.50 each
The Photo below shows one of our disc type spring spacers on the rear of a 142.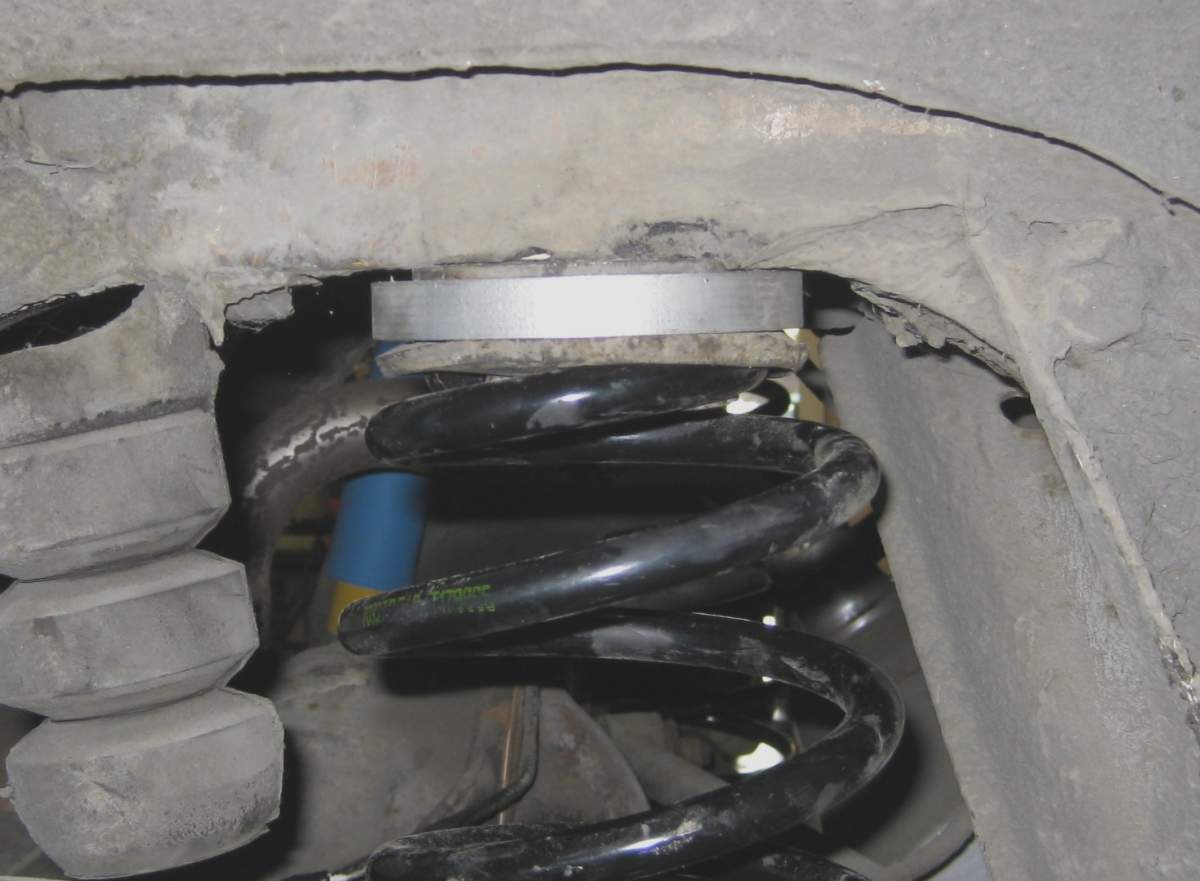 Adjustable Spring Height Adjusters
To meet advanced needs we have developed both front and rear spring height adjusters. Some simply slip in with the springs, others must be welded to the chassis. As there are a number of different types depending on the application, please e-mail for details.
Customer Comments on our Suspensions
On 8/18/2017 10:52 AM, Edward Senn wrote:
John,

One last thing, you are spot on when you say wait to buy a thicker anti sway bar. I just put Bilstein HD shocks up front and with the new sway bar bushings the stock bar is just fine. No more excessive lean.

Your springs coupled with Bilstein HD's make a great suspension package.

Edward.
On 5/30/2017 6:05 PM, Edward Senn wrote - ( regarding an installation of our new springs ) :
Hi John,
They ride great. Here's an after picture.
Thanks.
Edward.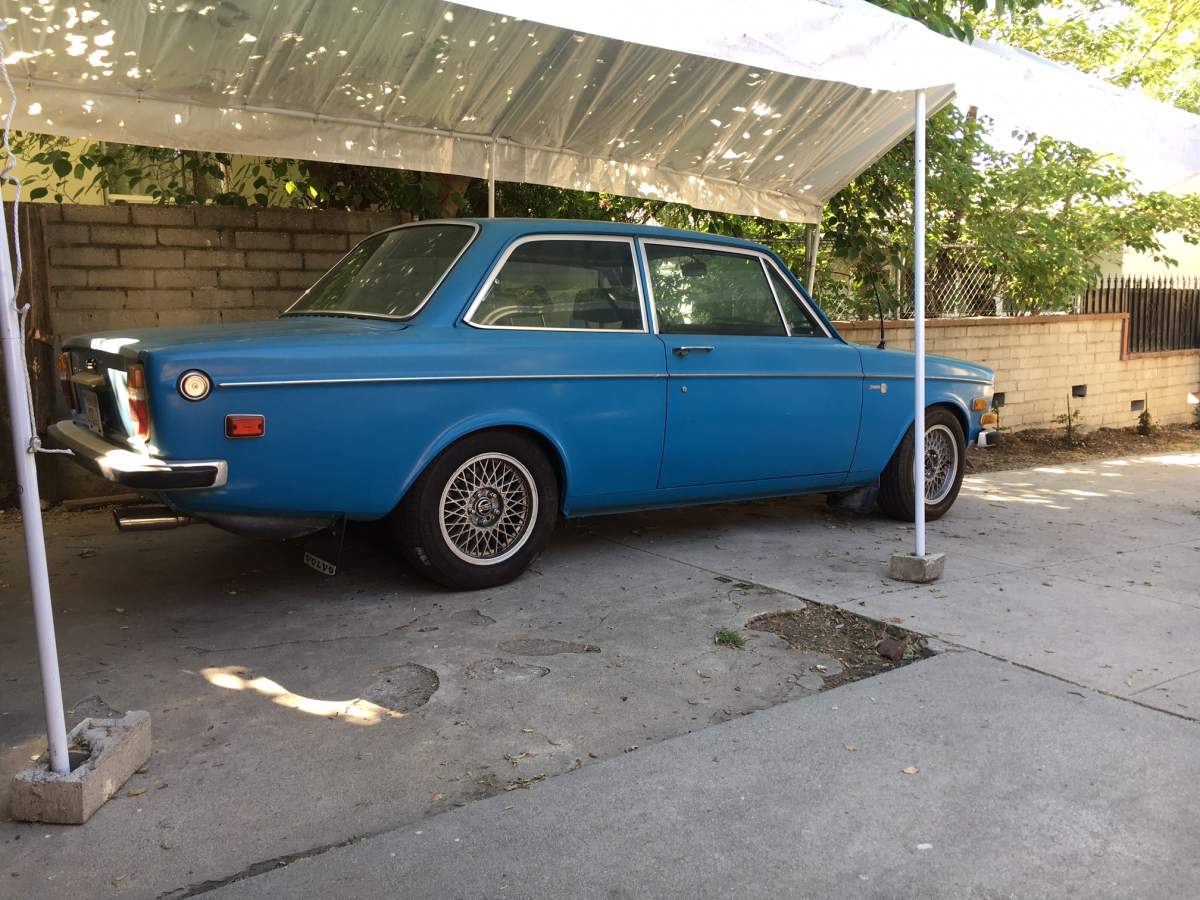 On 4/21/2017 10:46 PM, Douglas Milton wrote:
I put the front progressive lowering springs in and all new bushings and ball joints . I left the heavy sway bar in . The car handles great !! Better than I thought it could. With the bilstiens front and re- valved rears Thanks John I realy enjoy driving that 69 Volvo 1800S.
"On 11/24/2015 4:38 AM, Warren wrote:
I'm very pleased with the new ride height - no longer bottoming out on the exhaust, and the ride and cornering is an amazing difference from the previous progressives that were fitted.
I have just completed my first long drive with the new setup - 900 Km from Melbourne to Sydney (560 miles) in a day, and the 1800 ran like a dream. The ride was secure and wonderfully comfortable.
Thanks again for the great springs, and for selecting a slightly taller set to suit.
Great work. Warren"
On 9/29/2015 10:36 AM, Rob Barker wrote:
Hi John,

Just wanted to write and say thanks for my shocks and springs.

I've just completed a tour of Europe and driven 3000 miles in 10 days and the car was an absolute joy to drive. Your springs and shocks are truly amazing and my P1800's handling is transformed, but yet the ride is still so comfortable and the unbelievable handing is not at the expense of a harsh ride.
On my holiday I was with a group of friends, one of which had a new 911 Turbo and two others who had new Ferrari's, a 456 Special and an FF. All three drivers couldn't believe how my little P1800 handled.
Thanks for selling just a great product and for pulling all the stops out to get them to me quickly.
Kind regards,
Rob
( The above was from the UK after participating in the Alpenfahrt Rally )
On 9/23/2014 7:58 AM, rvolden wrote:
Hi John, I've been wanting to tell you how pleased I am with your set of springs and how they have improved the looks and handling of my p1800e. In addition, custom wheels and wider tires seemed to put the whole car into better proportion; now I can't stay off the interstate cloverleaf, ha. Thanks, Rick V



1/24/13 8:42 PM

The springs you sold me work great. Much better ride. 
Rgds. Wilhelm
------------------------------------------------------------------------------------------------------

Sunday, August 19, 2012 11:45 PM
Hi John,
I just wanted to say thanks for sending the springs. I've fitted them with Bilsteins already and I am amazed and impressed at the transformation in handling. The combination of 2inch lower at the front and 1inch lower at the rear is perfect, the car sits level and is only fractionally lower than it was previously with the original 50 year old sagged springs.
Next on the agenda are some power improvements now that the car handles nicely. I'll have to do some more reading on your site and work out what I can do.
Thanks again John, much appreciated.
Best regards,
Ross
-----------------------------------------------------------------------------------------------------------------------------------------------------------------------------------
Wed 6/27 Re: '65 122s progressive rate springs
Thanks for checking up on me. They went in super easy. The directions that you sent were extremely helpful. So far I've got about an hour on them and I can definitely tell a huge difference (It doesn't feel like I'm riding on top of a bobble head any more). I'll give them a few more weeks to settle, but right now it looks like they are about a 1 1/4" lower than it was before. I can see why everywhere I checked said to go with your springs. I'm very happy with them and I know that I will check with you for all my future upgrades/repairs.
Thanks,
Travis
-----------------------------------------------------------------------------------------------------------------------------------------------------------------------------------
Saturday, June 25, 2011 10:44 PM
Subject: Installed my Volvo 122 progressive springs!
John,
The installation was straight forward. Yes, I remembered to remove the
upper cups. I had new upper rubber cushions that I installed.
The new springs sat the car level and about an inch lower. The
progressive springs on the front gives a more compliant ride, especially
with the 1" swaybar. I like them a lot! The lower A-arm is now level
with the ground. Very well engineered.
One suggestion for the front installation instructions... With original
rubber lower A-arm bushings, I loosened the inner bolt to allow the
A-arm to fall freely. Then, with the the new spring in place, I jacked
up the A-arm untill the car was just coming off the jack and tightened
the lower bolt.
http://www.youtube.com/watch?v=OVGZWQ5pBqI&feature=youtu.be

Thanks again,
Gregg
-------------------------------------------------------------------------------------------------------------------------------------------------------------------------------------
Wednesday, May 04, 2011 9:00 PM
The 122S handled the Snowball Rally with aplomb. I cannot say enough how pleased I am with the suspension set-up I received from you. Car definitely ran out of power well before it ran of "stick." You may be getting calls from 1800, 1800ES and 142 drivers who commented on how well the 122 handled and "looked" doing it (very level, with little body roll whether in sweepers or tight corners – which the Sierra Nevada mountains have their share of both). Also there was a very rutted and rocky unpaved portion and the progressive springs worked very well and did not rattle out my fillings.
Thank you. Brad Sullivan

------------------------------------------------------------------------------------------------------------------------------------------------
Hi John, The springs are great! you're right about not needing bigger swaybars; it holds it's own around curves. I'm still trying plan for a supercharger/header combo... I'll just have to see over the next month or so. Mark Mark B. Johnson, Ph.D.
--------------------------------------------------------------------------------------------------------------------------------------------------------------------------------------
July 20, 2009
the progressive rate springs and poly bushings ROCK! I chased a 356
> all through the backroads of Norcal once i got them in... much to his
> surprise..!?! Morgan
-------------------------------------------------------------------------------------------------------------------------------------------------------------------------------------
From: sberry <growler@u...>
Date: Mon Nov 22, 2004 11:36 am
Subject: Re: [1800list] Re: go fast goodies was ipd engine stabilizer brace.

-VPD suspension makeover (progressive springs, bilsteins etc.). You can
make the car a very competitive handler for not much money. This recipe
is the best bang-for-your-buck in vintage volvoland IMHO. My 1800 now
handles better than any car I've ever owned.
----------------------------------------------------------------------------------------------------------------------------------------------------------------------------------------
The adjustments are made, the car rides and handles like a million bucks.
Thanks for everything. Your product and directions were fantastic.
Dick Sampson
Tucson, AZ

-------------------------------------------------------------------------------------------------------------------------------------------------------------------------------------------
To: 'John Parker'
Sent: Monday, December 07, 2009 12:28 PM
Subject: RE: springs
John
They were just perfect.
Happy Holidays
R/jonathan
------------------------------------------------------------------------------------------------------------------------------------------------------------------------------------------
I installed John Parker's progressive front springs, and the rear springs he
sells which are not progressive. I have Bilsteins, and stock sway bars, and
am very happy with the setup. Nice ride, and when pushed the progressive
fronts come into play. Highly recommended, but check John's site - I don't
think he recommends stiffer swaybars with his spring sets, and I don't know
how the stiffer swaybars would affect the setup.

Installing the springs was easy, takes an afternoon and some creaking for
the first 100 miles as they seat.

David Olson
Œ66 1800s
Œ63 p1800
-------------------------------------------------------------------------------------------------------------------------------------------------------------------------------------------
posted by RallyVolvo on Tue Jun 14 12:25 EST 2005

I highly recommend the springs you can get from Parker at V-performance. I've had them on my 71 142E for over a year now, and really like them. Plus they work great for my rallycross habit. :) I also have a 142 built for road racing that is VERY lowerd (as in the 3-4 inches you were talking about) and the front and rear tires are actually up inside the fender openings... And yeah, you would never want to drive that car on the street. Far too low, not to mention a very harsh ride. But it works good as a race car though!
---------------------------------------------------------------------------------------------------------------------------------------------------------------------------------------------posted by mike t on Tue Jan 30 02:29 UTC 2007


I am VERY happy with them! Actually we settled on the 175 lb/in. straight rates for the rear. they ride well, but are not a Cadillac ride. They are pretty sporty, but are very well behaved even on broken pvement. Combined with the progressive fronts It is a very nice balance. I can run it ( my 122 wagon ) much harder into corners than in my Skandix progressive equipped 122 coupe.

As you pointed out, the Skandix progressives don't have anywhere near enough spring rate. As soon as the road gets a bit rough, I am into the (already trimmed) front bump stops, which you will agree is a very dangerous business. Good "poser" springs... but not up to spirited driving, especially on "real" roads.

go to top
|
how to order
---
Shock Absorbers
We offer several different types of performance shock absorbers for street and racing use. Whatever brand of shock you choose, it is crucial that the shocks be compatible with the rest of your suspension. In general, a shock with stiffer valving is needed with stiffer springs.
Bilsteins
Bilsteins have been the shock of choice for vintage Volvos for many years and still deserve their excellent reputation. A sophisticated design allows them to provide outstanding handling performance and an exceptional ride. They seem to last forever. Not all shocks can be used on lowered cars, but this is no problem for Bilsteins. They are a good shock for use with a range of springs, and are the recommended shock for our progressive spring sets described above. They last virtually forever and will be last set of shocks you will ever need.
We have found and solved only one problem with the Bilsteins, and this is limited to their current shocks for the rear of the 1800 and 122 where the rebound valving and gas pressure rates are way too stiff - solved by having them revalved by Bilstein to our specs. Its more noticeable in the 1800 which is lighter in the rear than the 122, but still a real issue in either car. The result is a more expensive shock, but well worth the additional cost "to get it right" in a shock that you should have for a lifetime. ( I have over 250,000 miles on a set.) With the custom re-valved rears, there is no question that these are definitely the best shock choice.
We usually stock Bilsteins for 122s and 1800s, and can order them for 544s, 140s and 164s.
Stock Bilsteins for most street applications - $425 - $445 depending on application.

Bilsteins Custom Revalved to our Specifications for the 122/1800 - Highly Recommended - The rear shocks for these models currently come from Bilstein with valving ( especially the rebound valving ) and gas pressure that is much too stiff for a decent ride and also compromises the handling in all but the smoothest of corners, causing the rearend to skitter over bumps. This has been confirmed by shock dyno tests and comparative data from Bilstein. To solve this problem we went through a series of tests and worked with Bilstein's US Service Dept. to develop optimum valving. As a result, we now have the rear shocks rebuilt by Bilstein to our exclusive specifications. Expensive but worth the extra cost and the only way to "get it right" and have the best handling. They will easily last the life of your car and are the key to having both excellent handling and ride qualities. - $ 650 for a set of four shocks with re-valved rears. $ 430 per pair of re-valved rears.

Please order in advance if you want a set of these custom re-valved shocks. They are re-valved in small batches on a special order basis by Bilstein's US Service Dept. and are often not in stock.

Features of Bilstein HD monotube shocks:
The piston head design allows independent tuning of the compression and rebound damping forces to provide optimum ride comfort and performance without compromise. It features fewer parts than most conventional twin tube and so call "adjustable" shock designs. This simple, yet exceptional functional digressive design contributes to the extreme durability and long life of Bilstein Shock Absorbers.

Specific custom tuned valving.
The Ultimate in Comfort & Control.
Direct Bolt-In.
Works on lowered applications.
Mono Tube Design, means a much larger working piston diameter.
Seamless Tube by a special extrusion method.
Deflective Disc Valving.
Split compression and rebound valving, to soften the ride and control the bounce.
Hard Chromed Piston Rod
No springs or check valves to wear out
Mono Tube Design allows the excessive heat from the oil to dissipate more quickly.
Separated dividing piston holds pressure on the oil to prevent aeration (foaming) that leads to performance loss.
The last shock, you will ever have to buy.
Konis
Back in the 60's and 70's Koni hydraulic shocks were the standard. Several years ago Koni reintroduced these adjutstable hydraulic shocks as their classic shock line. Not as technically advanced as the Bilstein ( hydrualic vs. monotube gas shock with digressive valving), the idea was to bring back the original classic Koni for vintage cars, not update it. They have an advantage over most other shocks in being adjustable to meet your individual needs or compensate for eventual wear. They are long lasting and are an item that you keep and transfer from car to car as I have done on a couple of my street 1800s. ( The Bilsteins are technically superior, but the Konis are a good second choice. )
Koni adjustable shocks - Due to recent price increases we no longer stock these shocks - email for availability info.
Race Shocks
Race shocks - New shocks are being developed - Email for details
go to top
|
how to order
---
Polyurethane Suspension Bushings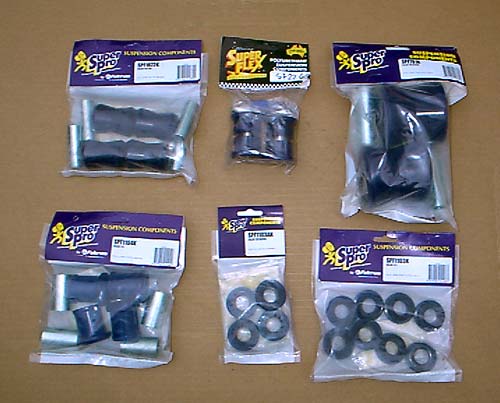 Our testing has shown that polyurethane bushings improve steering response, give a crisp feel to the handling, and reduce the feeling of wandering or floating encountered in high speed cornering with stock bushings. Polyurethane bushings are also not affected by the same causes of deterioration that affect rubber bushings. They are appropriate for both street and race applications.
Full sets are available for most Volvo models and are usually in stock for 1800s, 122s, 140s and 164s. Email for information on the availability for other models.
Pictured on the right is a set of bushings for 68 - 73 1800s and 122s.
Complete sets for all 1800s, 122s & 140s - All bushings in our sets are poly!

Note - Other supplier's sets are not all polyurethane, are not the same grade of polyurethane & do not include panhard & sway bar bushings

early 1800 ( thru '63 ) and early 122 - $ 255 ( same front upper and lower - incl. panhard bar - add $35 for sway bar bushings ) See the diagrams below to confirm which type you have.
mid 1800 and 122 - $ 265 ( later type front lower bushhings - early type rear suspension - includes PB add $35 for Sway Bar bushings )

122 wagon - later style front lower bushings, all rear in poly, but does not include the square rear trailing arm bush and one end of the panhard bar which are not available in Poly - $195 ( Add $35 for sway bar bushings )

67 1800 and 122 - $ 295 square rear bushings ( includes panhard bushings - add $35 for sway bar bushings )

68-73 1800 and 122 - complete set $ 295 ( includes panhard bar - add $35 for sway bar bushings ). If ordered separately: Front sway bar bushings - $35. Front upper and lower A arm bushings $97.50. Rear bushings including panhard - $ 205.

67-69 140 $ 365 ( includes panhard bar - add $35 for sway bar bushings)

70-74 140 $ 465 ( includes panhard bar - add $35 for sway bar bushings )

Complete and partial sets available for other models, including the 544, 200, 700, 900 - email for a detailed bushing price and availability information.
See the diagrams and photos below to determine which types of 122/1800 you should order.
Early type 1800/122 front suspension left, late type on the right. Note the different lower A arm inner bushing. The early type uses the same bushing top and bottom.

| | |
| --- | --- |
| | |
In the diagrams below the early type 122/1800 rear suspension is on the left, the later type is on the right. The lower photos illustrate the difference in the later type bushing shape - square type 67 bushings on the left - 68 and later "butterfly" shape bushings on the right.
go to top
|
how to order
---
SwayBars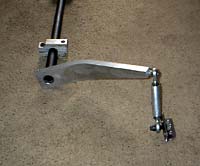 We offer sway bar kits, including IPD front and rear bars, as well as our own adjustable bars in several versions. Different diameters are available in the adjustable bars to be sure that one will be right for your use. Some bars are tubular for light weight and some come with separate bolt-on arms. Adjustable bars are highly recommended for competition use where being able to tune the suspension is necessary. For the discriminating street driver the ability to tune the suspension with sway bar adjustments can be just as important.
Front / Rear IPD Kit $350 - $375 depending on model

Front 1" bar, recommended for the 122/1800 for more aggressive cornering - $165

Custom made adjustable tubular bar kits with aluminum arms for race or street. For road race, autocross, or track day use adjustable bars are needed for suspension tuning. Call or email for details and prices.
go to top
|
how to order
---
>>

Questions - Order Process - Payments

Questions -Email correspondence strongly preferred. Email with questions on your particular needs as we have many other parts and services available. If we don't have it we can usually get it or make it. If you need to call, the best time and number is usually 315 478 1229 mornings 10:00 AM - 1:00 P.M. eastern US time. Leave a message if there is no answer as we may be in the shop and cannot get to the phone. If we do not answer or call back try cell # 315 440 6560 and leave a message. There are often periods of 3 - 5 days, especially during the summer, when we are away due to other commitments and the office is closed, though shipping and engine work is continuing at other locations. Although I try to return calls and emails even when out of town, some are replied to when we return.

Orders - The easiest way to order is to send an email listing your parts order along with your address and we will reply with information on parts availability and a total price with shipping. Please include information indicating the car model & year with each email, and indicate under "subject " the make of the vehicle and type of part you would like to order. This will keep it from being filtered out as spam.

Payments - Payments are normally made by check, credit card, or through Paypal (www.paypal .com) Payments made by Paypal should be made to the account under our email address: jparker3@twcny.rr.com, or we can send you a paypal invoice. We also accept bank wires for larger amounts.

go to top