About VPD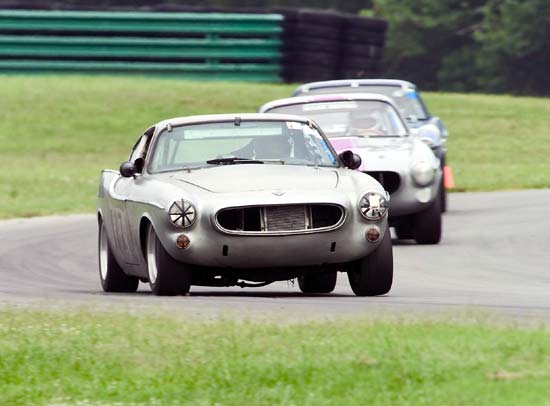 Leading the Vintage Volvos at Virginia International Raceway, '04
Photo: Victor Newman / vfnewman.com
Over 20 years ago I started Vintage Performance Developments to fill a need for performance parts for older Volvos. Our first products were racing parts based on those developed for my own racecar. This evolved into a line of street parts based on what was needed to improve the handling and power of Volvo 1800/122 street cars - now expanded to include parts for other vintage cars.
While our original goal had been to fulfill the performance needs of older Volvos, it was our innovative application of modern technology that allowed us to transform vintage Volvos into a cars that performed like modern sports cars. The results were exciting vintage cars which retained their original looks and character. Such innovations as our supercharger systems, 2.3 and 2.5 liter versions of the Volvo B18/B20 engines, flat slide Mikuni carb kits, transmission swaps, and suspension systems have made modern performance not only possible, but readily available at a reasonable cost. We are now expanding our mission to apply these innovations to other vintage sportscars and sports sedans and are really excited about those prospects.
Racing John Morely - Mosport, Canada - VARAC - 1990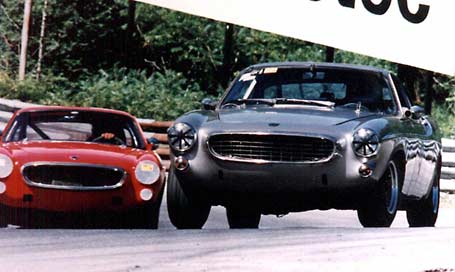 Many of you have seen my silver Volvo P1800, usually racing as #97 or #77, in Vintage Racing in the Eastern U.S. over the past 2 decades. It has proven that a properly prepared vintage Volvo can be competitive racing against Porsches, Jaguars, Alfas, Corvettes, and other cars of its era. Against this opposition it has been a consistent class winner. Against other Volvos it has been dominant. This car has been the test bed for developing many of our products. Through our racing experience we are able to offer our customers performance advances proven over years of racing and street use.
As has been said many times, "racing improves the breed." And in this instance it inspired us to be believe that if we could build cars that could compete successfully on the track, then we could also transform old Volvos into cars that could offer competitive performance on the street. The engine and suspension systems developed so that my street 1800 could perform like my racecar brought the level of available performance up to those of any vintage sports car, including the legendary Jags, Astons, Ferraris and small block Cobras of the period. Doubling the power and upgrading the handling just does wonders for an old sports car. Read more on this in the parts and engine sections of the website, as well as the series of articles on " Vintage Volvo Performance " in the articles section.
Customer Racers - Bailey at the Carrera Pan Amercia in Mexico - Reynolds in an Historic Rally in the UK

| | |
| --- | --- |
| | |
Customer Vintage Racers - Conklin at VIR in Virginia - Gray using our Dual Mikuni Carb Kit in Colorado


| | |
| --- | --- |
| | |
While our racing experience has allowed us to offer our customers performance advances and parts proven during years of racing, a more important benefit has been the ability to apply the technology and systematic testing techniques that go into producing a winning racecar to the development and testing of parts and systems for street use. Maintaining "race" quality throughout our engine building program has also been a key element in providing a superior product whether the engine is for the street or the track. But make no mistake - although they may be of race quality, our parts for street cars are designed specifically for street use.
Street Performance Engine Customers - Phelan - 2.5 L - Ungaro 2 L

| | |
| --- | --- |
| | |
In addition to parts, we provide services that range from building and installing engines, to performance conversions, to building complete vintage racecars. We have developed not only a nationwide but a worldwide presence, with both street and race car customers in Europe, South America, Africa, Australia and Asia as well as our core market in North America. Cars are brought to our shops from all over the US and Canada. We can ship almost anything to anyplace in the world, often at a quite reasonable cost. In the last few years we have shipped engines to Australia, Canada, Great Britain, Greece, Germany, Norway, and Poland, and in the US from Long Island NY, to California. We have several locations in the Syracuse, NY area where engines are built, and cars are stored and worked on. However, as most of our customers are located hundreds or thousands of miles away, and most of our products are shipped to them, we do not have a show room or shop which is regularly open to the public. So visits have to be on an advance appointment basis.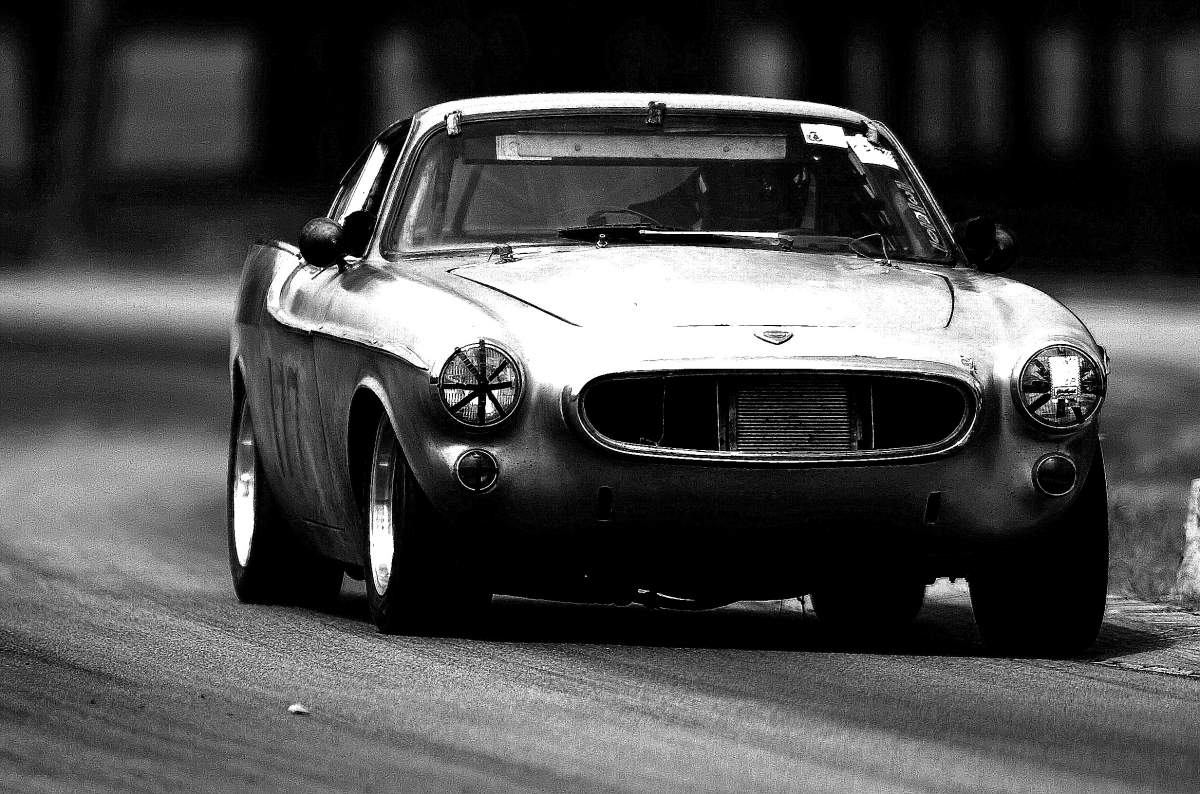 No longer pretty, but still fast - winning the vintage class at the Volvo Grand Prix at VIR in 2004. Edited Victor Newman Photo.

After a few years off from racing I got back into it in 2010 with races at Sears Point ( Infineon Raceway ) in California ( finishing 3rd in the Volvo/Alfa race in pouring rain ), Watkins Glen and New Jersey Motorsports Park. In 2011 my sole race was at the Volvo Vintage Grand Prix at Watkins Glen where I easily outran all of the other Volvos - 2 seconds a lap faster than the next fastest Volvo in dry conditions - and 15 years after winning the first Volvo Grand Prix against Volvos from all over North America at Black Hawk in Illinois. My only race in 2012 was again at Watkins Glen - an overall group win at the VRG race weekend. 2013 will mark 25 years since I first raced my 1800 and I hope to make it back to some of my favorite tracks.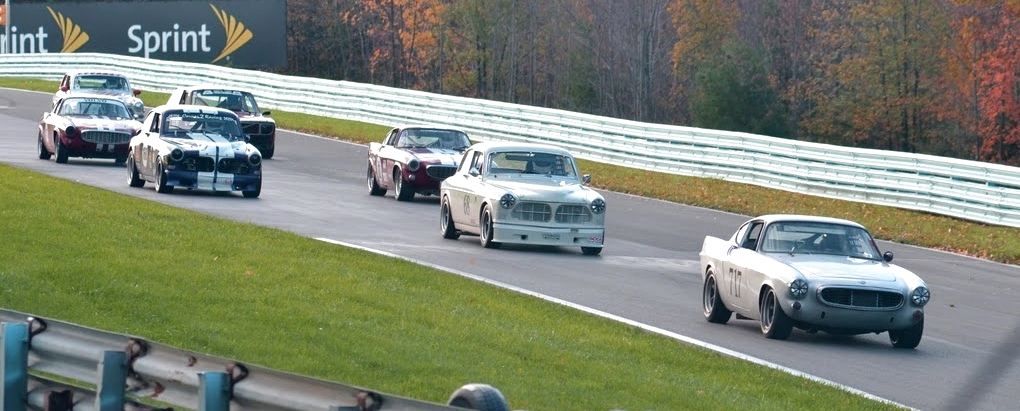 The main challenge now is keeping up with customer demand for our products, while continuing to work on further developments. And I hope to have a little time left to coninue to race my neglected 1800 race car a few times a year, which is how I got into all of this in the first place.

John Parker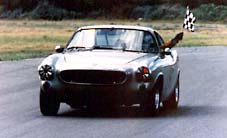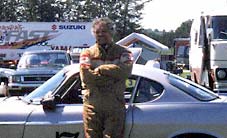 After an overall Vintage Race Group win at VARAC's Vintage Festival at Shannonville, Canada in 1992.