Products: Carburetion
Forget what you thought you knew about the best carbs for vintage cars.
Our Mikuni Carb Kits have changed Everything!!
We still use DCOE Webers for vintage and historic racing, but any car that came with SU or Z. Stromberg carbs will show significant improvements in all aspects of performance by simply changing to the Mikuni HSR carbs.
" yee gods what a difference ...to say it goes better would be something of an understatement." that's the comment from a customer in Scotland who recently installed our dual Mikuni carb kit to replace SU carbs on a Volvo Amazon.
See the new photos and more customer comments at the end of the Mikuni Carb Section below and the photo article on installing the Dual Kit in an MGB. http://www.v-performance.com/articles/mgb_-_dual_mikuni_installation_.html

In 2003 we needed improvements to the typical SU and Weber carb setups for use on our Volvo performance and supercharged engines. The result was a year of searching and testing that lead to the conclusion that the Mikuni HSR carbs were clearly the best option.
During that year of testing numerous carbs were evaluated both on the street and the dyno. The carbs tested included various versions and sizes of the traditional SU, ZS, Weber sidedraft, Weber downdraft, and a few less commonly used carbs like the Weber 45 MCHH which was offered as an SU replacement. The testing included both stock and modified versions of the carbs. Test criteria included cost, power, throttle response, fuel economy, ease of installation and tuning. After over a year of work, the carb that came out best in all categories for a wide variety of applications was clearly the Mikuni HSR series of carbs. Other carbs still have their place - where an original equipment look is required for shows or to meet competiton rules. But for street driving with a stock or modified engine, or racing where the rules allow a modern replacement carb, these are the carbs to use - especially if your car was originally equiped with one or more of the SU or Zenith Stromberg carbs the HSR Mikunis were specifically designed to replace.

Over the winter of 2010/11 we did a comparison of our Quad 45mm Mikuni HSR carbs vs sidedraft Webers. After running the Mikunis on one of our 2.5 L B20 engines, we installed the 45 DCOE carbs that are usually on my racecar. After finding the engine significantly down on power compared to dyno runs with the Mikunis, we stepped up to a pair of Weber 50 DCO race carbs, first with 42 mm chokes and then with 46 mm chokes. Even with the 46 mm chokes, the power output was lower than with the Mikunis, with higher brake specific fuel consumption, while loosing power at lower rpm. The result - the Mikunis were the clear winner.
Quad 45 Mikunis on the left vs Weber 50 DCO race carbs on a 2.5 L Volvo B20. The Mikunis were the clear winner in power, throttle response and fuel economy. While doing the testing, we developed a new emulsion tube system for the Mikunis.
In 2012 we dyno tested a stock MGB with SU carbs. We then removed the SUs, and installed a pair of 42 mm HSR Mikunis. With no other changes to the MGB, we were surprised to get a 20% increase in power, along with a degree of increased throttle reponse that had to be felt to be believed. Overall it completely transformed the driving experience.
The chassis dyno charts below show the comparison between the stock MGB with SU carbs and the same car with our Mikuni HSR carbs. The horsepower scale is on the left, recorded as corrected horsepower at the wheels. Vehicle speed is on the bottom. The tests were conducted in 4th gear. 50 mph is 3000 rpm. The red line is corrected wheel horsepower of the stock MGB with stock SU carbs.
After testing with the stock setup, we installed our Dual Mikuni Carb Kit with 42 mm HSR carbs. The black spacers, heat shield openings, and intake manifold openings were slightly enlarged to match the size of the 42 mm carbs, tapering from larger to smaller toward the engine. No other changes to the carb or engine were made. We were surprised by an increase of 13 HP, approx 22 %. What can't be shown is how much more fun to drive the car was, with instant throttle response that kicked the car forward when you hit the gas. Note that there is no loss of low end power.
The dyno chart below shows the same comparison as above with another test added. On this chart the green line is the stock engine with stock SU carbs. The red line is the same stock engine with dual Mikuni 42mm HSR carbs. The top blue line is from another test session. This was a dyno test , on the same chassis dyno under similar conditions, of a 1979 MGB with modified engine, header and high flow exhaust, ported head and "fast road cam", along with the same 42 mm Mikuni HSR carbs, showing the true potential of this setup. All figures are in corrected horsepower at the wheels.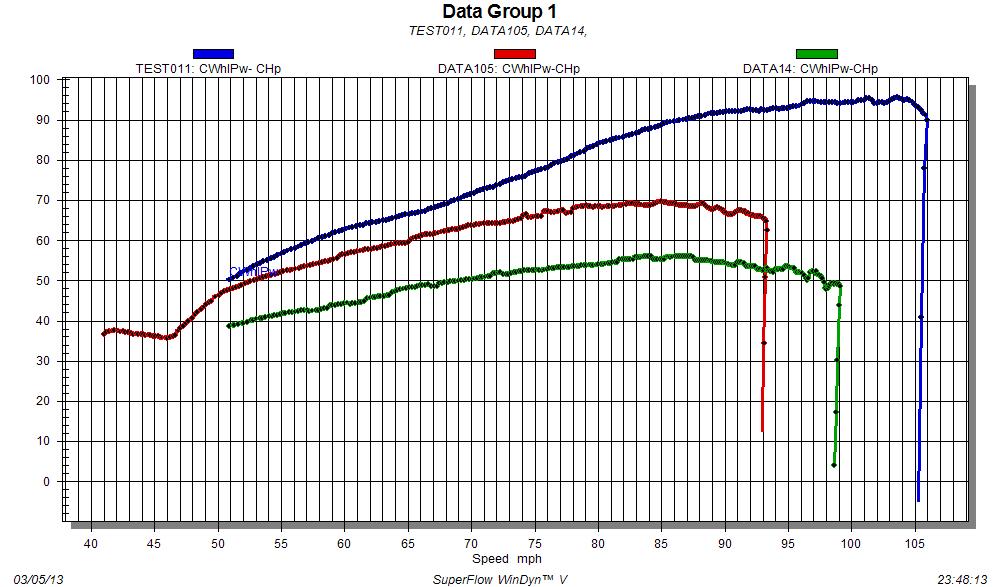 ---
Mikuni HSR Series Carbs
MGB, Sunbeam Alpine,Triumph TR6, and Lotus Elan Mikuni installations are shown in the photos above, as a few examples of the many types of different installations. More photos of MGB, TR6 and other installations can be found below and in the Tech Articles in the "More Info" section of this website.

After 13 years of testing and use, and hundreds of kits sold and installed in various cars all over the world, our Mikuni HSR carb kits have been a great success - proven with each installation to be superior in power, throttle response, fuel economy and reliability. Designed to replace SU and ZS carbs they are a simple replacement for those carbs and are one of the few easily bolted on upgrades that produce a signficant, surprising and easily documented, increase in performance with no other modifications.
Our customers praise and recommend them. A 2015 comment came from Scotland perhaps says it best: " yee gods what a difference ...to say it goes better would be something of an understatement." (see the full text of this email and other customer comments on their personal experiences with our Mikuni carb kits at the bottom of this section)
I strongly recommend them for a wide variety of applications including:
1) as a stock replacement or upgrade from SU, Zenith Stromberg, or Weber carbs.
2) for Volvo 544, 122, 1800, 140 ( and carbed 240s), MGA, MGB, MGC, Triumph TR3, TR4, TR6, TR7, Spitfire, GT6, Datsun, Mini, Jaguar, Lotus, SAAB, Sunbeam Alpine, Austen Healey, TVR, Daimler, Holden, etc.
3) in one, two, three, four, six or 8 carb applications.
4) for stock, street, modiified, supercharged, turbo, rally and racing engines.
5) shipped around the world including: Australia, New Zealand, South Africa, Canada, Great Britain, South America, Norway, Sweden, Poland, Germany, France, Belgium, The Netherlands, Spain, Finland, etc.
Technologically superior in design to the typical SU, Zenith Stromberg or Weber carbs that were originally designed more than 50 years ago, the Mikuni HSR flat slide is a modern carb, designed specifically as a bolt-on SU or ZS replacement that will do it all - more power, better fuel mileage and easy tuning in one package. These advances are made possible by several innovations, including the use of a flat throttle plate or "Flat Slide" derived fom racing fuel injection systems which allows for increased air flow and produces extremely high manifold vacuum, aiding in fuel atomization while increasing port velocity.
Above is an SU HIF 44 on the left compared to a Mikuni 45 HSR on the right. Note the size of the Mikuni's unabstructed flow area- the key to its higher flow capacity. The Mikuni is 45 mm all the way through without a smaller venturi area or throttle plate to restrict air flow.
Compared to SU carbs, a similarly sized Mikuni HSR will flow 30 - 40% more air. They will provide better throttle response, support more power - especially at higher rpms, and will equal or exceed the SU in fuel economy. In road and dyno testing dual Mikunis have equaled or exceeded Weber sidedrafts in power while getting 50% better fuel mileage - at less than 2/3 the cost, using the stock SU or ZS intake manifold. Customers are amazed by the degree of performance improvement as well as the ease of installation and tuning. If you are interested in improving your vintgage car's performance, including its reliability, there is no reason to stick with obsolete, leaky, hard to tune SU or ZS carbs or having to chose between a sidedraft Weber for power or a downdraft Weber for economy. The solution is an upgrade to the Mikuni HSR carbs.
| | |
| --- | --- |
| | |
All carbs in these kits have been modified for automotive use. Prices include the cost of parts and labor needed for the modifications and manifold adapters. Prices below reflect our fiirst price increases since May 2014, effective June 1st, 2017, due to increases in the cost of some parts used in the kits, especially the air filters. Since the original SU and ZS carbs that they are replacing are the same, regardless of the car make, the same basic kits can be used for installations on a variety of different cars with some changes in jetting and throttle linkage.

Price summary:
Single Carb Kits:
Single 42 or 45 mm Carb Kit, modified for automotive use, with smaller 2.3 float needle and seat and larger main jet installed, for cable throttle with manifold adapter, without an air filter - $395
Single 42 or 45 mm Carb Kit - Modified for Supercharger Applications - for cable throttle , without an air filter - $475
Add $55 for a carb modified with extended throttle shaft for lever type throttle linkage
Add $ 59.50 our standard 3" tall for black or chrome top, clamp on K&N filter.
Dual Carb Kits:
Replaces 2 SU or Zenith Stromberg carbs on a 4 or 6 cylinder motor - $ 920. With standard K & N black or chrome top air filters - $ 1039

Weber DCOE Sidedraft Replacement - two HSR carbs mounted as one dual barrel carb -$ 995 without air filters.
Triple Carb Kits:
Replaces 3 SU or ZS Carbs on a 6 cylinder motor - $1380 without air filters. $ 1558.50 with 3 standard black or chrome top K & N filters.
Quad Carb Kits:
Four carbs modified to mount in pairs on weber sidedraft type manifolds - includes manifold mounts and linkage adapters $1990
Six Carb Kits:
Six Carbs modified to mount in pairs on Weber sidedraft type manifolds - with manifold mounts and linkage adapters - $ 2985
MORE DETAILS
See a more detailed description of the Mikuni HSR Carbs, each kit, and installation and tuning parts below:
Originally designed and marketed as a performance replacement for SU carbs on Harley Davidson motorcycles, the size of the 45 mm Mikuni, essentially the same as the 1 3/4 inch bore or an HS6 SU, and incorporation of an accelerator pump jet makes it perfect for automotive applications. Carburetor development for automobiles stagnated more than 30 years ago when automotive manufacturers turned to fuel injection to meet emissions and fuel economy requirements, while at the same time, the evolution of carburetor design for motorcycles, snowmobiles and jet skis continued at a rapid pace. The Mikuni flat slide is the most advanced product of those years of continuing development which began with the traditional SU carb of the 1950s.The result is a carburetor that is superior both in power and fuel economy as well as being reliable and easy to tune and maintain. Parts are less expensive and fewer in number than in most automotive style carburetors.
For a flow rate comparison, measured at a pressure difference of 12 inches of water, Mikuni rates the carb flow as follows:
Mikuni HSR42: 213 CFM
Mikuni HSR45: 237 CFM
Mikuni HSR48: 270 CFM

Our Mikuni carb kits are designed to make the Mikunis an easy, bolt-on replacement for SU or ZS carbs, right on the stock SU or ZS manifold. They will fit in the same space as the original carbs, are the same length front to back with manifold adpater as an HS6 SU, measure 7.5 " from the manifold to the outer end of the most commonly used K & N filter, and in most applications will attach directly to the stock linkage. The dual kit includes two carbs, two carb to manifold adapters, a throttle shaft, linkage to adapt to the SU or ZS linkage, and two K & N air filters. Similar kits are available for single and triple carb applications. As with any carb swap, expect to do some tuning to match these carbs to your engine and get maximum performance and fuel economy. Tuning recommendations and jet kits are available.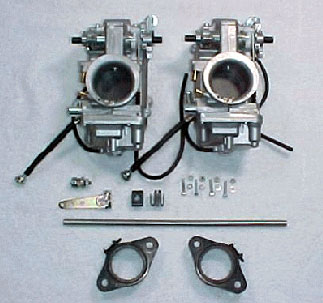 In the Mikuni specific jets meter fuel for various throttle openings. Compared to a sidedraft weber, tuning is much simpler, cheaper and more direct since there are no emulsion tubes, replaceable venturies or the need to guess as to what the result of a change will be. It is hard to describe how much of a pleasure tuning these carbs can be, as compared to SUs or Webers. You really have to experience it to fully comprehend the difference.
For additional details on these carbs, a complete tuning and parts manual is available online from Mikuni. Go to www.mikuni.com/fs-manuals.html and click on "HSR tuning manual."
Our installation and Tuning Instructions are in the "More Info / Tech Articles" section of this Website. Take a look at it even if you are just considering a purchase as it has much more detail on the carbs and their installation. There is also a photo spread detailing the installation on an MGB and another underway on the TR6 dual carb installation.
All of our carbs sold for automotive use are modified to accommodate the higher fuel pressures of automotive fuel systems as compared to the gravity feed systems used in motorcycles. They have also had the main jets that come with the carbs replaced with main jets more suited to the individual application. In multi-carb kits the stock throttle shafts have been replaced with longer, custom made throttle shafts which allow the shafts to be connected and the carbs easily synchronized. These modifications are built into the price of each kit. Additional jets to fine tune the carbs to your application are extra. See the recommended jet tuning kits which allow us to custom jet your carbs and include sets of jets richer and leaner than those installed. Add $25 per carb to the below prices for 48 mm carbs.
Order note - The carbs for the kits listed below are modified on a custom basis per application based on information that you give us about your car, engine. linkage, etc. This means that there is usually a delay between the time of order and date of shipping that could range from a couple of days to a couple of weeks depending on the degree of modification needed for the particular kit ordered, availability of the specific carbs and air filters ordered and the parts required to modify the carbs to match your application. Please ask about estimated shipping time before or at the time that you place your order.
Due to increases in our costs, the carb and kit prices below reflect price increases effective 6/1/17. These are our first increases in 3 years.

The Dual Mikuni Kit
Our most popular kit. The Dual Kit for SU or ZS type manifolds consists of 2 HSR 42mm or 45mm carbs modified with extended throttle shafts, smaller float bowl needle and seat, and larger main jets. The kit includes manifold adapters and linkage designed to connect to the stock rod or cable type throttle linkage- $ 920. With standard K & N black or chrome top air filters -$ 1039 . Add $ 50 to the above prices for the kit with HSR 48 mm carbs. Several sizes of air filters are available.
The included manifold adapters allow the carbs to fit on any manifold designed for similarly sized SU or Zenith Stromberg carbs. Minor differences in linkage are usually easy to adapt. Since it is replacing the same carbs whether on a Volvo, MG, Triumph, etc., the kit is the same for each of these applications except for differences in jetting.
Choke cables and/or choke cable adapters are not included as the car's original choke cables can normally be used with minor modifications. We have a selection of cable extenders, spitters and choke cable bracket systems in parts section below. Most commonly used is the splitter with extension cables - used with your original choke cable.
The Dual Kit includes one pair of larger main jets installed. Extra main jets - $ 7.00 a pair - are recommended . Smaller pilot jets and larger needle jets are also often needed depending on the applications. A tuning kit with jets selected for each application is recommended, which allows us to jet the carbs for your application and include a selection of richer and leanger jets for fine tuning. See our tuning kits in the parts section below for details.
Other parts frequently ordered along with the kit above include: Volvo SU aluminum intake manifold - silver ceramic coated $110. Used, uncoated $ 95.( New manifolds will soon be available. Extra main jets $ 7.00 per pair. Needle jets $12 each. Jet Tuning Kit recommended - $52 or $76 depending on the number of needle jets. Accelerator pump jets $8 per pair. Short idle adjust screws - $15.00 each.
Conversion from single carb to dual carbs - If you have a Volvo, MGB, Triumph Spitfire or other car model that came in both single and dual carb configurations we may be able to help you convert to two carbs by providing a dual carb manifold. Email for details.
Dual Mikuni - Single Weber DCOE Replacement Kit
This kit is essentially half of the Quad Kit described below. Two Mikuni HSR carbs are modified and ganged together to replace a single Weber Sidedraft carb on a single carb manifold. $ 995 without air filters. Weber style filters can be used with adapters.
The Mikuni Triple Kit
Similar to the dual kit, but designed to replace SU or ZS carbs on a six cylinder engine. The kit consists of 3 HSR 42mm or 45mm carbs modified with extended throttle shafts, smaller float bowl needle and seat, and larger main jets. Includes manifold adapters and linkage designed to connect to the stock throttle linkage. Aftermarket manifolds, not included in the kit, allow two carb setups like the Triumph TR6 to be converted to 3 carbs. $1380 for the kit without air filters. $1558.50 with 3 black or chrome top standard K & N filters. Several sizes of filters are available. Add $420 for polished carbs.
The Mikuni Single Mount Kit
The Mikuni Single Mount Kit is a perfect replacement for cars with a single SU or Zenith Stromberg carb. Available with a choice of HSR 42mm, 45mm or 48 mm carb, the basic kit includes one carb modified with a smaller needle and seat for higher fuel pressure, larger main jets, with a mounting flange adapter to adapt to your manifold. A throttle cable mounting bracket is also included. Throttle and choke cables are not included but can be provided on a custom basis.
Single 42 or 45 mm Carb Kit, modified for automotive use, for cable throttle with manifold adapter, without an air filter - $395
Single 42 or 45 mm Carb Kit for supercharger applications - for cable throttle with modified float bowl, accelerator pump and jetting modifications to meet the demands of supercharged operation, with manifold adapter, without an air filter - $475
Add $25 to change either of the above to a 48 mm carb
Add $50 for a carb modified with extended throttle shaft for lever type throttle linkage
Add $59.50 for standard black top K& N filter
Add $59.50 for standard chrome top K&N filter
| | |
| --- | --- |
| | For a more formal look, polished versions of each carb are available. To substitute polished carbs in any of the kits, add $140 to the listed price for each polished carb added. |
Single Mikuni HSR on a Mini

| | |
| --- | --- |
| | |
| | |
Single Mikuni on an MG Midget

Our Single Mikuni Kit on a Moss Motors Supercharger in an MGB

Upgrade your Supercharger Kit with a Mikuni.

The photos above and to the right show one of our modified HSR 45 Mikuni carbs replacing the SU carb that originally came on this Moss Motors MGB supercharger kit. When we first saw this kit we questioned why they would take a modern supercharger and put an ancient carb on it. We later found out that Moss had in fact experimented with using a stock Mikuni HSR carb, but had experienced problems with hesitation that they could not solve. Since we had learned how to eliminate this problem as part of the testing and development process when we switched from a Weber DCOE to a Mikuni HSR Carb on our Volvo supercharger systems, we knew how to make it work on the MG. The big change is that the carb float bowl has been modified to increase the capacity of the accelerator pump by approximately 50%. With this modification and proper tuning we can provide a Mikuni carb that is a tremendous upgrade for the Moss Motors kit or any other supercharger kit or turbo application that uses an SU or ZS carb.

The basic kit includes the carb with our standard modifications for automotive applications, with a modified float bowl and larger accelerator pump added, with two larger main jets, and a mounting adapter that allows it to be bolted on in place of an SU or ZS carb - $ 475. Air filters, additional jets and other parts can also be supplied. Purchase of a jet tuning kit, listed under Mikuni Parts ( below ), is recommended for tuning and will allow us to jet the carb for your application before shipping.
The Quad Mikuni Kit -- The Ultimate Performance Carb Kit
A unique and totally cool setup! 4 HSR Mikuni carbs, modified to mount as pairs on Weber DCOE or DCO type manifolds, using similar linkage, for large displacement and high HP racing and street 4 cyl. engines. Will easily outflow Weber carbs of similar sizes due to the much cleaner air flow path and better fuel atomization. Comparison dyno testing has shown that a set of 45 Mikunis will easily out perform a set of 50 DCO Webers with higher HP and torque from low to high RPM, while using less fuel. These sets are produced in our shop on a custom basis so allow time for machining and assembly. For air filters see the ITG filters in the filter section below.
Four carbs modified to mount in pairs on weber sidedraft type manifolds - includes manifold mounts and linkage adapters $1990
Four carbs modified to mount in pairs on weber sidedraft type manifolds - includes manifolds, manifold mounts & linkage adapters, for Volvo B20/21/23/230 including a Weber DCOE style intake manifold, and air filter adapters & air filters - $2425 -- Several type of air filters available.
Email for kit prices which include manifolds and air filters for non - Volvo applications
Six Carbs modified to mount in pairs on Weber sidedraft type manifolds - with manifold mounts and linkage adapters - $ 2985 Email for details.
Mikuni Parts
Volvo SU aluminum intake manifold - bead blasted and silver ceramic coated $155 . Used, uncoated $95. New - available soon.
Main jets $3.50 each - 2 sizes of larger than stock mains are recommended and supplied with each kit.
Accelerator pump jets $4 each.
Acceleratof pump jets modified for increased flow for SC and turbo applications - $8 each
Needle jets $12 each. Two sizes larger than stock are available.
Jet Needles $12 each - sizes richer and leaner than stock available
Re-profiled jet needles $32 per pair. ( may only be needed for supercharged and turbocharged applications )
Pilot jets - $ 4 each.
Short idle adjust screws - $15.00 each.
Float Bowl Needle and Seat sets - $ 19.50 each. Our Mikunis are supplied with the 2.3 needle and seat for automotive applications.
Holley fuel pressure regulator - 1 - 4 psi - $38.50
Adapter collars to allow the use of non clamp-on type air filters - $22.50 each.( They need to be drilled and tapped to match the bolt pattern of the air filter to be bolted on. )

Modified float bowl for supercharged and turbocharged applications - increases accelerator pump jet capacity in order to eliminate hesitation on acceleration. $ 98.50
HSR Carb Tuning Kits with recommended jet selection -
Purchasing a kit at the same time as a set of carbs allows us to custom jet the carbs for your application and include two extra complete sets of jets, usually one a step leaner and the other a step richer than those installed - often necessay for fine tuning.
Most applications will need larger than stock main and needle jets and smaller than stock pilot jets - included in the kits.

Dual Carb Jet Tuning Kit - $76 With two pairs of needle jets - $52 with one pair
4 main jets - one size larger, one size smaller - large throttle opening tuning
4 pilot jets - two sizes smaller than stock - low throttle opening tuning
4 needle jets - two sizes larger than stock - helps richen the midrange
Single Carb Jet Tuning Kit - $38 With two needle jets - $26 with one needl jet

2 main jets - one size larger, one size smaller - large throttle opening tuning
2 pilot jets - two sizes smaller than stock - low throttle opening tuning
2 needle jets - two sizes larger than stock - helps richen the midrange
Single Carb Jet Tuning Kit for supercharged and turbocharged applications
Adds 2 larger accelerator pump jets and two larger main jets to the $38 kit above - $60
Add a custom reprofiled jet needle - $16
Triple Carb Jet Tuning Kit - $114 With two sets of needle jets - $78 with one set

6 main jets - one size larger, one size smaller - large throttle opening tuning
6 pilot jets - two sizes smaller than stock - low throttle opening tuning
6 needle jets - two sizes larger than stock - helps richen the midrange
Quad Carb Jet Tuning Kit - $ 152 With two sets of needle jets - $104 with one set
8 main jets - one size larger, one size smaller - large throttle opening tuning
8 pilot jets - two sizes smaller than stock - low throttle opening tuning
8 needle jets - two sizes larger than stock - helps richen the midrange
New Choke Cable Bracket System

Introduded in March 2017, our new choke cable system has been very well received, to the point that it has been difficult to keep up with orders. Based on a custom system made for one of our TR6 customers, a bracket is attached to one carb and attached to the original choke cable and allows 1 or 2 additional carbs to be choked with short lengths of cable to each carb. A much cleaner setup than running multiple cables fom the dash or a cable splitter.

This system is recommmended for cars such as Triumphs, Jaguars and Volvos which have the carbs are on the right side of the engine. With the port for the choke cable facing the front of the car the choke cables normally having to be looped around the engine compartment to enter from the front, creating a messy look eliminated by this system.

Current pricing for 2018 is $98.50 for two carbs and $107.50 for three. The kit includes the custom made aluminum and stainless steel bracket assembly complete with accessory cables and ready to mount on your carb and attach to your choke cable.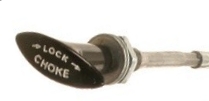 Choke Cables and Cable Splitter Parts

Universal and MGB Style Choke Cables - single cable $33.00
Cable Splitter $34.50
Cable Splitter with two end cables - designed $49.50
Kit with Choke Cable, Cable Splitter and End Cables to the carbs - $ 78.50
Choke extension cables - $ 9.25 each
choke cable splitter with choke cable and end cables

| | |
| --- | --- |
| | |
| | |
| --- | --- |
| | Closeup showing the choke cable attachment in the splitter |
Carb Conversion Parts
Parts required to convert 2 stock, motorcycle type, HSR carbs to extended throttle shafts with automotive type throttle linkage for mouning on SU or ZF dual carb manifolds :
Throttle shafts - $46.50 each, two needed.
Couplers - $22.5 each, two needed
Connecting shaft - $10.50 one needed
Lever arm - $6.50 one needed
Carb to manifold adapters for 42, 45, and 48 mm carbs - $30 - two needed

Float Bowl 2.3 Needle and Seat sets - $ 18.50 each - two needed to replace stock 4.0 size used for gravity feed applications
Total on parts needed to convert and adapt two carbs: $ $252
New
Emulsion tube conversion kit - Adds an air jet and modified needle jet to create an emulsion tube system - another Vintage Performance innovation $29.50 per carb. Email for details.

Dual Mikuni Kit on a Morgan
Triple Mikuni Kit on a Holden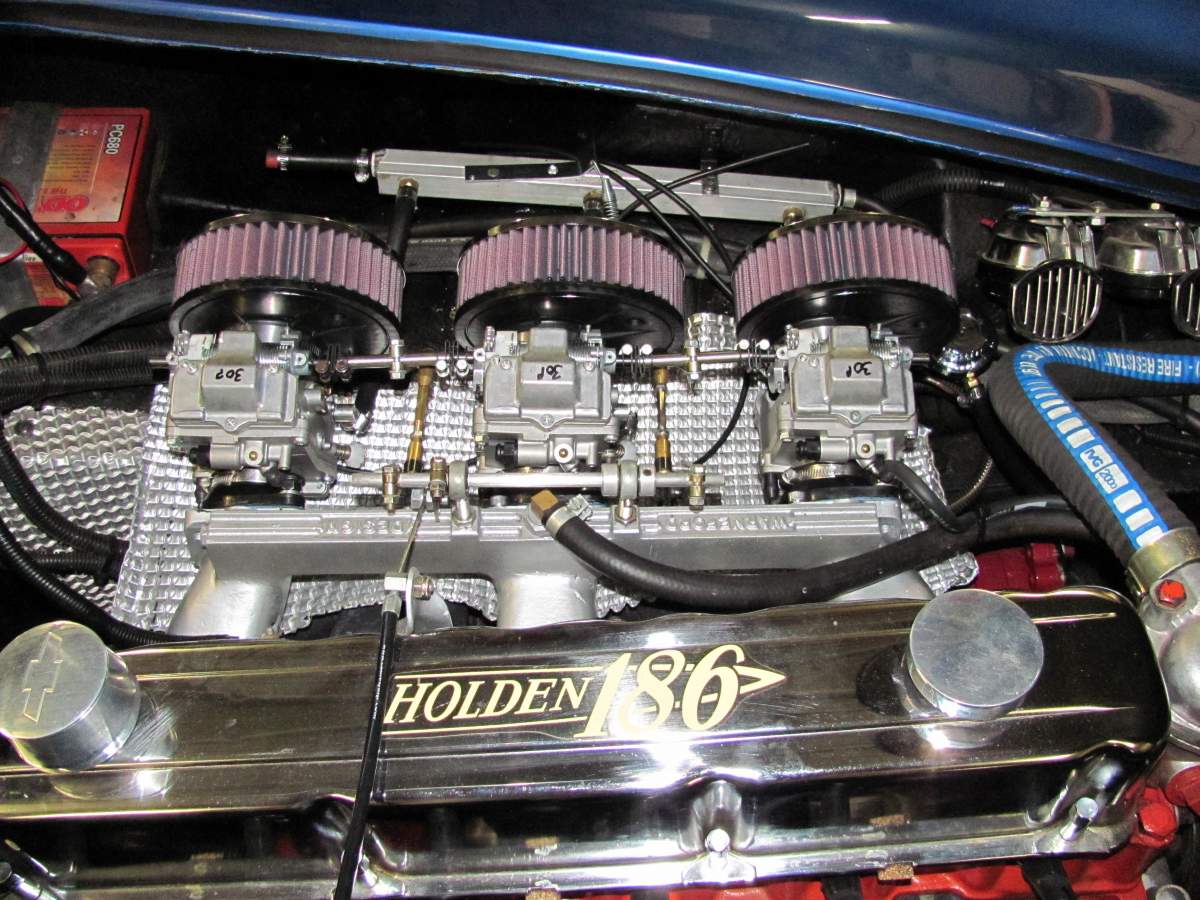 The Dual Mikuni Kit in a Datsun 510

| | | |
| --- | --- | --- |
| | | |
Several MGB Installations are Pictured Below.

See the more detailed series of MGB installation photos and comments in our Tech Articles Section found through the "More Info" tab at the top of the page. Note that the HS4 SU carb is a 1.5" or 38mm carb. We replace them with 42m Mikunis ( 1.65" ). This requires that the intake manifold opening, and/or spacer be enlarged slightly to match the larger carb size and considerably improves the air flow into the manifold. The result is an increase in power throughout the normal rev range including at low rpms.

| | |
| --- | --- |
| | |
| | |
| | |
| | |
| | |
| | |
| MGBGT | Aluminum Cross Flow Head with 45mm Mikunis |
TR4 Installations
Triumph GT6
Triumph TR6
Our TR6 system shown in the photos above uses the stock throttle linkage and choke cables with small modifications to both.
Triumph Spitfire - Vintage Racecar
See the story on this car and the Mikunis at: http://www.britishracecar.com/RichardBrown-Triumph-Spitfire.htm
And now a photo of a Jag E type installation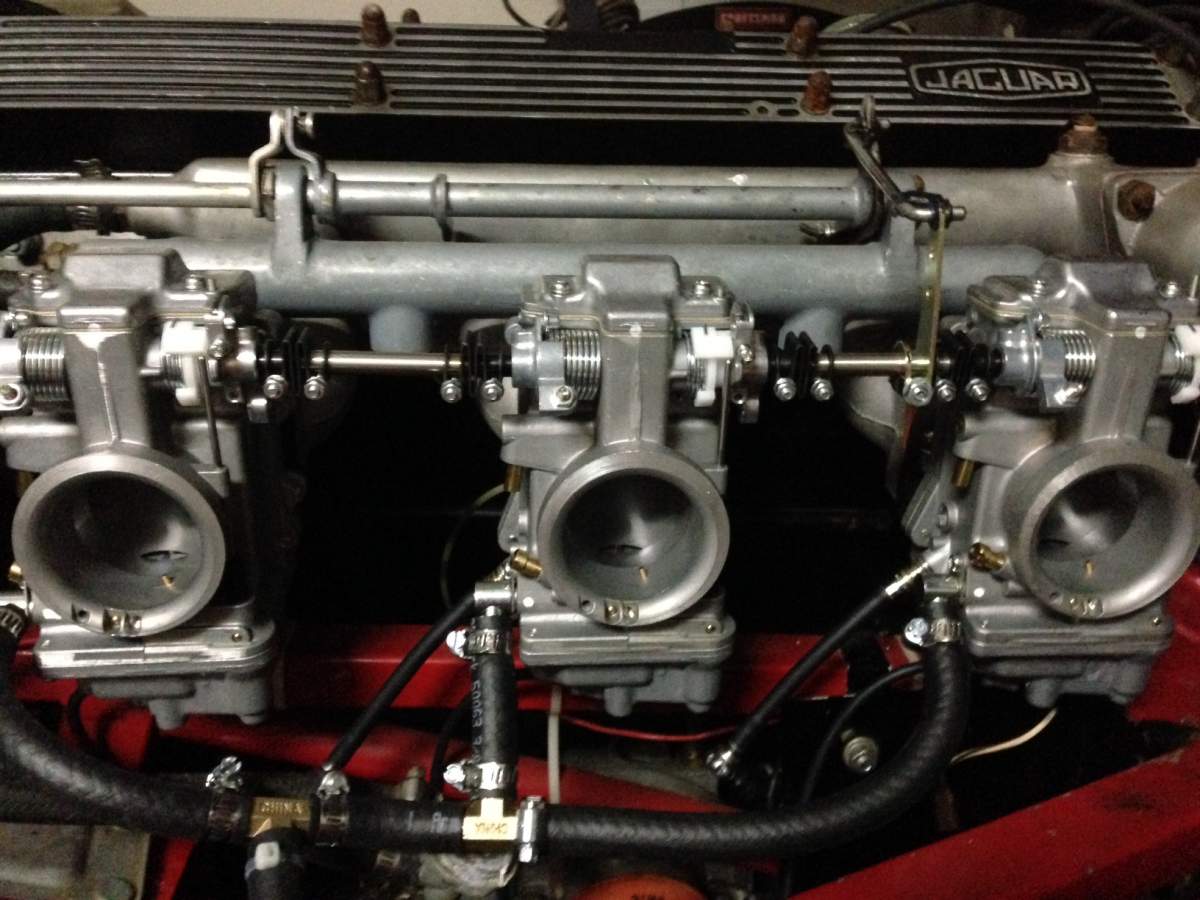 See the comments on this installation in the comments section below - 8/21 - James Woolbright
Installations on cars not listed as having documented Mikuni HSR Carb installations.
We are always looking to do installations on cars we have not done installations on yet. To encourage such installations we still offer free installation in our garage and/or extra technical assistance which could include extra jets, fabrication of brackets, thorttle linkage, and air filter adapters if needed. In exchange we hope to get photos and feedback from the purchaser that can be used on our website and that will help other customers. Where the car is near us, we will do the installation free in our shop. Just about any car from the 50's, 60's or 70's that came with SU or Zenith Stromberg carbs will benefit from a switch to Mikuni HSR carbs.

Comments on MIkuni Carb Installations
2/3/2018 2:27 AM, Stephen Wood wrote: ( from New Zealand )

Hi John
The conversion is now all complete and the MGB is going very well.
Early December we did a 4 day trip to Northlands and all went well.
The fuel economy worked out at 10lL per 100Km over the long trip, pretty happy with that.

I followed nearly all of the installation instructions and it all went well.
Once we got the timing correct tuning was really easy.
I've done about 2000km since and it's been a total joy to drive every km.

There was quite a lot of interest in the Auckland MG car club with comments like Why!! and where can I get a pair.
http://www.mgclub.org.nz/tools/gallery/photos.aspx?SECT=Far-North-2017

Regards,
Stephen Wood

--------------------------------------------------------------------------------------------------------------------------------

5/22/2017 1:41 PM, Fred Ford wrote about his triple 42 Mikuni on a TR6 ( we had been emailing back and forth about a midrange rpm miss and whether it was related to carb tuning or igniition):

Success! You were right, it was ignition, new coil and reset of the dwell and the miss is gone.  I couldn't be happier with the carbs and set up. I will let you know the final dyno numbers.  

I do want a choke bracket and set up for my triple Mikuni set up.  I will call with payment.  Thanks.  f

------------------------------------------------------------------------------------------------------------------------------
On 4/17/2017 5:10 PM, jerry derrick wrote about his 78 MGB installation:
Carbs installed. Runs great much better response then the SU carbs.

Air cleaner took some modifications .

Thanks for getting them to me so fast.

Jerry Derrick

--------------------------------------------------------------------------------------------------------------------------------------------------------------
4/9/2017 2:20 PM,Tom Butkovich wrote about his recent TR6 dual Mikuni installation:
John,
Just finished the install on the mikuni's and damn, what a difference. This car runs like it just grew another cylinder.
You had these things dialed in near perfect and the plugs are beautiful. Just some minor tweaking and I'm home. Thanks again for your help.
Tom
And on 4/13 Tom wrote:
All good on my end with the choke setup, just modified some cables and used a splitter and adjusters. I attached a few pics.
All works fine and the instant throttle response I get with these carbs is awesome. Looking forward to the distributor and I'll let you know how she works out.
Thanks again. Tom
----------------------------------------------------------------------------------------------------------------------------------------------------------------
A followup on the Jag E -type installation from 2014 shown in the photo above.
2/19/2017 10:16 AM, James Woolbright wrote:
Hey John,
Over a few years the Mikuni carbs have performed flawlessly. I never changed any jetting from what you set it up with. Keep in mind that the only changes to my engine are that it's bored 30 over. The cams were returned to stock a few years earlier. Cold starting is also much improved over the SU setup. I think your next customer will be pleased with the setup. If they want to contact me about my setup don't hesitate to pass my email along.
James
----------------------------------------------------------------------------------------------------------------------------------------------------------------
On 1/16/2017 3:43 PM, Andy Thomlinson wrote:
Hi John,
Well, we leave on the 2017 Monte Carlo Historique Rally on the 25th of January from Glasgow!
The car is almost there and i thought you might like a picture of the engine bay, complete with the Mikuni carbs you supplied.
The carbs were fairly straightforward to fit and are working well for us.
Here is a link to my Flickr site for more images as well:-
Kindest regards,
Andy Thomlinson
---------------------------------------------------------------------------------------------------------------------------------------------------------------------------------------------------
On 4/20/2016 4:05 PM, Dan Borg (TCI) wrote about his 1800 Mikuni installation:
Hi John,
Love the Mikuni's on the car!!!
Regards, Daniel C. Borg
----------------------------------------------------------------------------------------------------------------------------------------------------------
On 4/12/2016 11:13 PM, Jonny Wonderland wrote:
The carbs absolutely transformed the MGB.

Even did a bit of a video on installing them.

https://www.youtube.com/watch?v=30bXQr4oGmI

Cheers!
----------------------------------------------------------------------------------------------------------------------------------------------------------------------------------
On 4/5/2016 1:54 AM, Urs Umbricht wrote ( from Switzerland ) about his Sunbeam Alpine Dual Mikuni installation:
Hi John,

Thanks a lot for your e-mail and for asking how the Mikunis are working in the Sunbeam.Everything is top cool, the carbs work now perfectly and I love to hear'em breathing.
I first had some troubles installing them because my sunbeam had a different (straight) carburetor adaptor than the one you had in the pictures on your website and hence the Mikis did not fit at first. A club friend had a spare curved inlet adaptor ( MK V manifold ) and the rest of the installation was pretty easy as all parts fitted perfectly.
The car is now much quicker on the throttle, much faster action/reaction and much better acceleration, plus less gasoline consumption over all. All in all, super happy happy happy!
But the best is the sound! The Sunbeam - Guys where interested, but as always there are the originality fanatics and the cool boys who find such improvements great.
Cheerio & have a great day
Urs & Sidna Umbricht
On 2/24/2016 4:19 PM, Ron Miller wrote regarding his Spitfire 1500 single carb installation:
All in all I think the Mikuni is fantastic and a quantum leap from the Zenith Stromberg .
Ron
On 10/15/2015 6:41 PM, Mike Durkee wrote about his GT6 Mikuni setup:

John,  The mikunis have been on the GT6 for about a year now. Installation was straight forward with no problems. I did have to take the pilot jet, main jet, and needle one step leaner. Running it on 2.5 psi fuel press. Never starves and the bowls won't overflow when static with the pump on. It starts easy and runs out to 6500 RPM great.


Dual 42 Mikunis on Mike Durkee's GT6 
---------------------------------------------------------------------------------------------------

4/29/15 RHD MGB install
go to top
|
how to order
---
Weber Carbs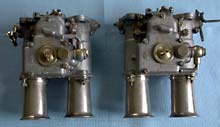 Dual side draft DCOE Weber carbs - the classic performance and racing carb for vintage sportscars. Available used and new, in 40, 42, 45 and 48 mm sizes and can be set up for specific applications and matched to manifolds, porting, cam, etc. Linkage and air filter kits also available. We are not a traditional "dealer" of these carbs and cannot match discount pricing - but with a purchase from us you get advice and help with setup and tuning that can be "pricless". Discount dealers send you the carbs in a box, with the same jetting no matter what the application is, usually with the cheapest manifolds and linkage available, and let you figure out how to make it work.
These carbs are still the standard for vintage racing, though the Mikunis described above are now a better choice for street use and racing where a period correct carb is not required. Production of Weber carbs has been intermittent in the last few years ( as has quality ) but they are now available again, including the newer type 152 - 45 DCOE - $835 a pair , and the classic and hard to find classic Type 9 - 45 DCOE - $935 a pair . Email for current pricing on other sizes.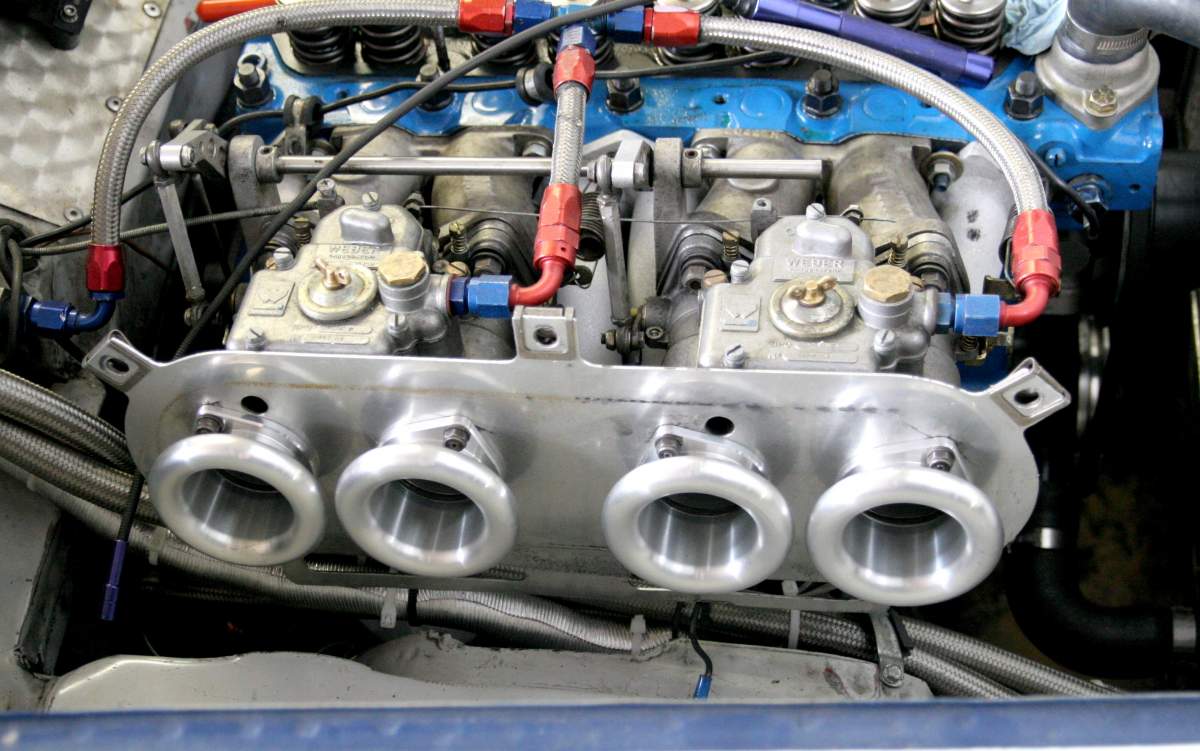 go to top
|
how to order
---
Intake Manifolds
Manifolds for sidedraft - DCOE type carbs
Available forVolvo B18, B20, B21, B23, B230 engines. These are copies of the original, no longer available, R- Sport manifold . They should not be confused with the cheap, shorty manifolds usually offered in Weber kits that have flow restrictions due to their short length and comparatively tight bends. In a recent dyno test we gained 12 HP by switching from the commonly sold "shorties" to our longer manifolds. With the longer manifolds and suitable air filters, the inner fender on certain models - 1800 & 122 - should be modified for clearnace. See installation photos for examples.
Recommended for all installations with Weber DCOE type carbs ( and similar sidedrafts ) and our Quad Mikuni System. Mandatory for racing, rallying and large displacement engines $355 - includes soft mounts. Modified for the type of linkage we prefer as shown in the photo in the Weber Carb section immediately above - $395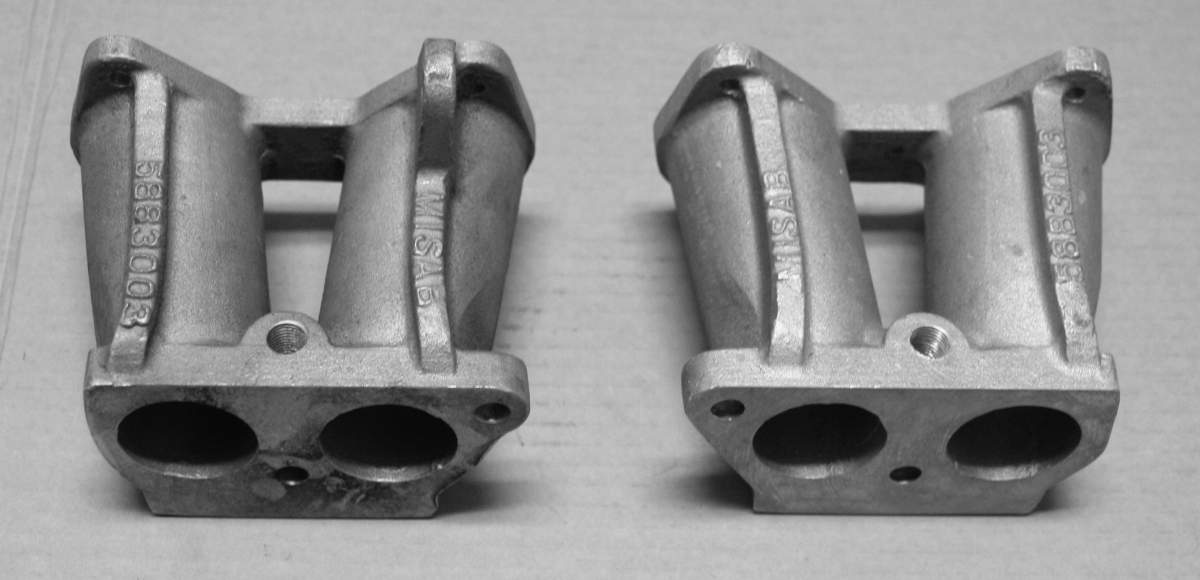 SU intake manifolds
These are the original aluminum intakes used on the early dual SU carbed Volvos. A significant improvement in performance applications over the later cast iron combination intake and exhaust manifolds. Shown on the left with linkage bracket and our Mikuni carburetor adapters. These are all used manifolds. Bead blasted and ceramic coated they look new. Getting hard to find so when stock is low we may have to limit sales of these to customers who are also purchasing carb kits.
Silver ceramic coated aluminum - $155
Uncoated in used condition - $95
New aluminum SU type Volvo b18/b20 intake manifolds now available -$125 . These are perfect for use with our Mikuni Carb Kits. They come as bare castings, as in the photo below, without linkage brackets and other fittings which are shown in the photos of the original manifolds below. Where needed, some cleanup of the ports is included.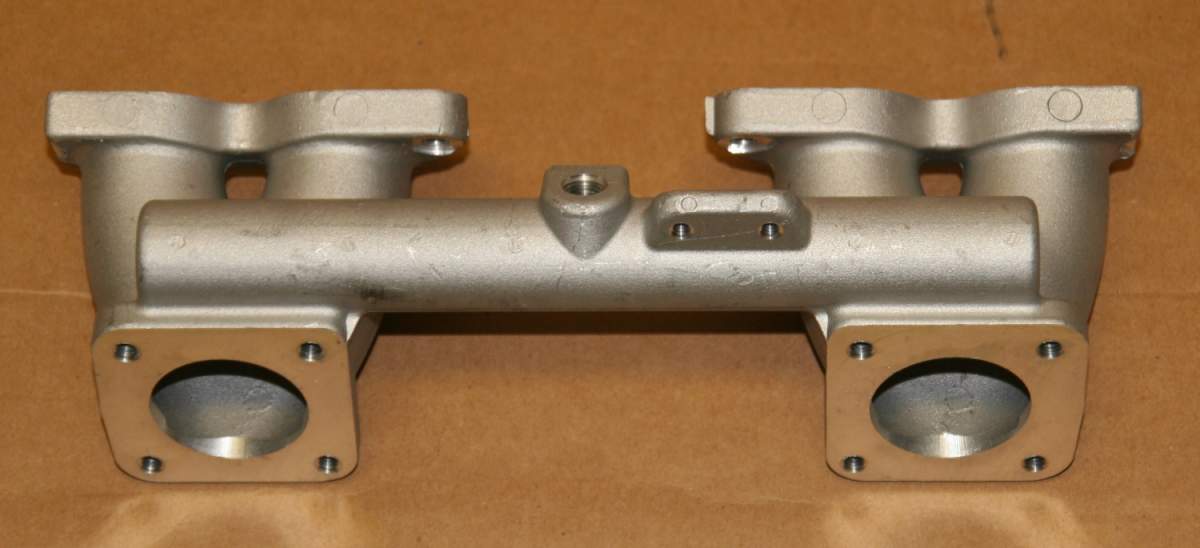 Shown below - original SU manifold, ceramic coated and setup for our Mikuni carbs.

| | |
| --- | --- |
| | |
go to top
|
how to order
---
Linkage
Throttle Linkage Lever Arms - Top quality, custom made, machined aluminum throttle linkage arms for Weber sidedraft and other similar carbs - $ 33 each. Email or call for prices and availability of other linkage components including custom made, braided stainless steel throttle cables.
go to top
|
how to order
---
Air Horns
Full radius aluminum air horns - in several lengths for Weber DCOE, DCO and similar type carbs. Lengths start at 35 mm and go up from there. Prices start at $ 62 for the short ones for 45 DCOE carbs and $78 for the short ones for DCO carbs. Prices go up a small amount for the longer ones.
The air horns shipped with Weber carbs are basically for decoration only. In dyno testing on Volvos we usually get better power with them removed. The full radius horns really work to improve flow and are available in several lengths to help with tuning. On our Volvo engines we usually find that the shorter horns work best as in the photo below.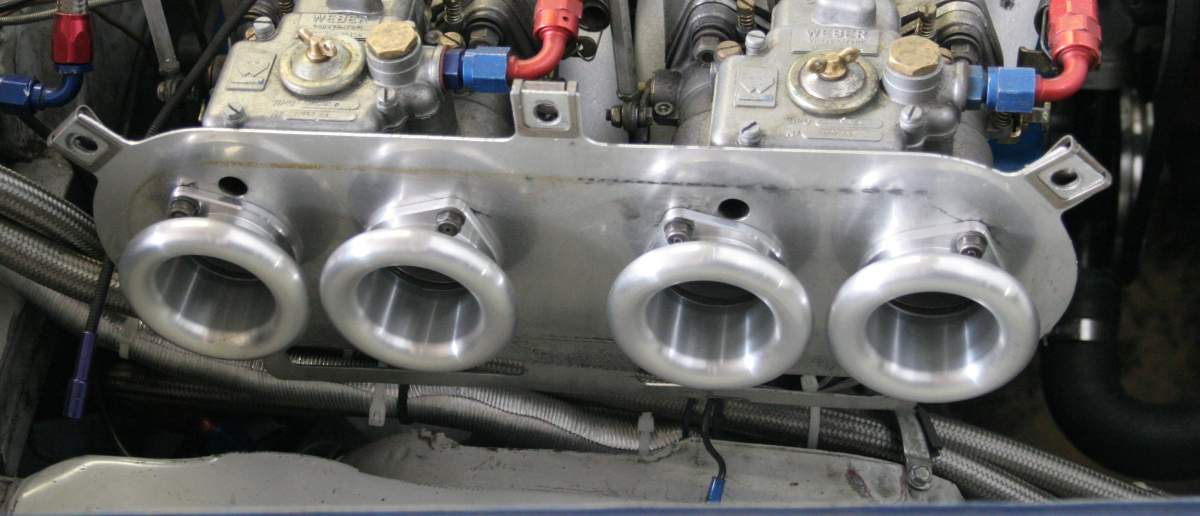 Below are Mikuni air horns with screen type filters - perfect for race applications - $36 for each horn - email for prices and availability of filter screens .
Mikuni air horns with screen filters on Jim Grey's TR4 vintage racer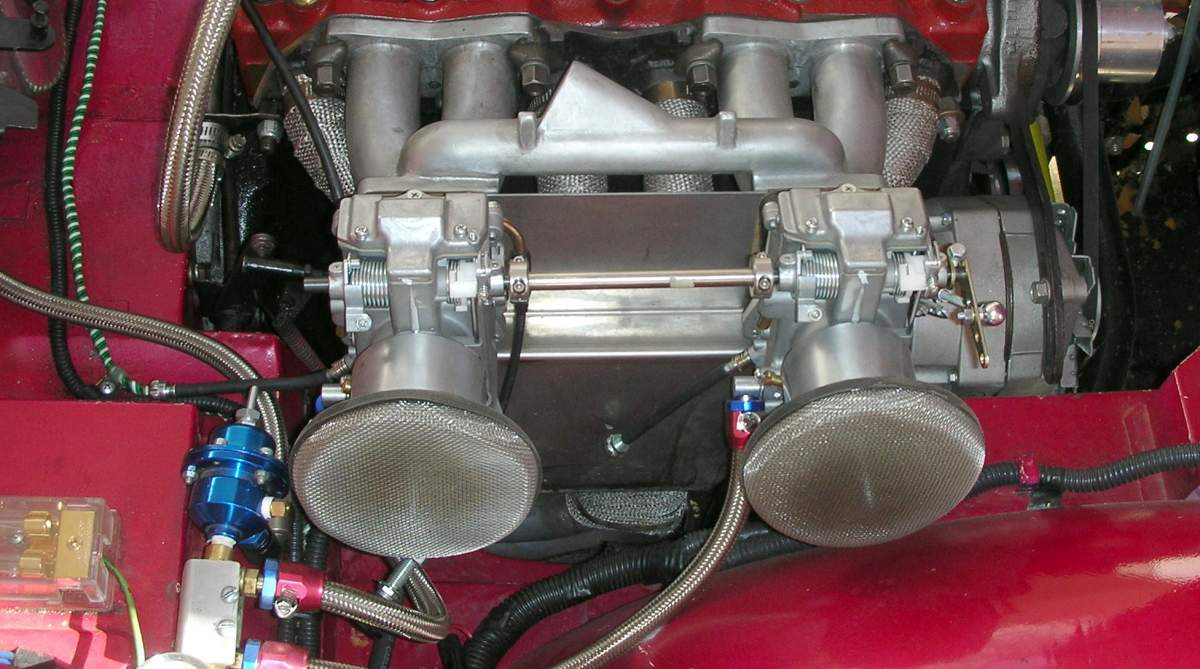 go to top
|
how to order
---
Filters
ITG Foam Air filters - Imported from England for sidedraft carbs - email for details and pricing.
Available in various sizes, the rounded shape allows them to fit where square filters will not.
Mandatory for use with Weber sidedraft carbs and the longer manifolds on the Volvo 1800.
go to top
|
how to order
---
Accessories
Mikuni HSR jets - main jets - $5.50 per pair. Accelerator pump jets $8 per pair. Re-profiled jet needles $15 per pair.
Soft mounts and spacers for SU and other carbs in performance applications - email for details.
Weber DCOE Jets and Accessories Main jets $6. Air correction jets $6. Idle jets $7. Email for prices on other jets and accessories.
Used Weber Sidedraft carbs We usually have used Weber DCOE carbs in stock. Email for availability and pricing.
Holley fuel pressure regulator - 1 - 4 PSI - $36.50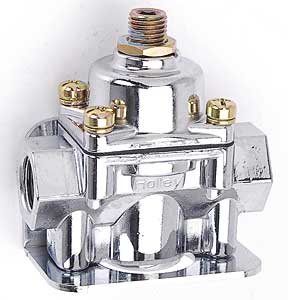 go to top
|
how to order
---
>>

Questions - Order Process - Payments

Questions -Email correspondence strongly preferred. Email with questions on your particular needs as we have many other parts and services available. If we don't have it we can usually get it or make it. If you need to call, try 315 478 1229 mornings 9:00 AM - 12:00 noon eastern time. Leave a message if there is no answer as we may be in the shop and cannot get to the phone, or try cell # 315 440 6560 if necessary, but if you have to leave a message, leave it at the main number. There are often periods of 3 - 5 days, especially during the summer, when we are gone due to racing and other commitments. Calls and emails are replied to when we return.

Orders - The easiest way to or is to send an email your parts order along with your address and we will reply with information on parts availability and a total price with shipping. Please include information indicating the car model & year with each email, and indicate under "subject " either the make of the vehicle or the words "parts order". This will keep it from being filtered out as spam.

Payments - Payments are normally made by check, money order, COD, or through Paypal (www.paypal .com) Credit card payments are currently only accepted through Paypal. Payments made by Paypal should be made to the account under our email address: jparker3@twcny.rr.com

go to top