Products: Engine Parts
In addition to our engines and heads we now supply most of the basic engine components needed for an engine rebuild. And where other companies are having trouble supplying basic engine rebuild parts, our inventory is expanding. For 2017 we will continue to increase our parts options for Volvo B18/B20 engines, and will try to bring back some of the custom parts that have not been available, including aluminum crank pulleys and roller rocker kits.

Unless stated otherwise, all parts listed below are for Volvo B18/B20 engines. See the engine section for our bottom end component kits and the Street Performance Tuning Kit which combine many of the parts into cost saving packages.
---
Pistons - Volvo
We have increased our stock of OEM type cast pistons in order to provide customers with a source for pistons that are becoming hard to find as many traditional sources in the US no longer offer them or have them in limited sizes. We will try to have a variety of sizes of OEM type cast and forged pistons available. If they are not instock we can usually get them. If you need a piston not listed let us know and we may be able to get it for you.
Custom built forged pistons for NA and forced induction applications from street to race. These are the pistons to use for high rpm or other high stress, high heat applications. Some sizes normally in stock. Other sizes available on custom order in 4 weeks. $650 incl. pins, rings and design time.
B20 OEM type cast pistons with pins and rings - available in several overbores - .015, .020, .030, .040, .060 - for engines with 6 bolt cranks & 22mm pins - In order to assure availability we often have had to import these directly from Sweden resulting in an increase in price to $385 a set. Several sizes currently available. As piston prices are rising rapidly, prices quoted here are only for those piston sets that we have in stock. New orders will reflect the rising costs.

B18 OEM type cast pistons with pins and rings - available in several overbores - .020, .030, .040, .060 - In order to assure availability and quality we have to import these directly from Sweden. Based on the current value of the US dollar and increases in piston prices these are currently in the $500 range per set. Several sizes currently available on a special order basis.Email for price and available based on size.

Cast 92mm pistons with pins and rings - These are B21 flat top pistons also used in B20 big bore kits with 8 bolt cranks and rods - available in several overbores - $495
All piston prices above are subject to change - email for current prices based on size needed. ( 4/12/19 )
go to top
|
how to order
---
Rods - Volvo B18/B20
We use several different rods in our Volvo B18/B20 engines. Most of our Street Performance engines use stock rods that have been reconditioned and upgraded with ARP rod bolts. For race or rally engines that will be run at over 7,000 RPM we use various brands of aftermarket forged rods depending on the application. When using custom made rods we take advantage of the opportunity to have them made to the most advantageous dimensions - longer, lighter and with smaller journals than stock. The results are more efficient engines with lighter components.
Reconditioned rods for 6 bolt crank engine ( All B18s and B20s thru '73 ), the same as we use in our stock rod engines. These rods are cleaned, glass beaded, mag tested, big ends resized if needed, small end bushings checked and replaced if needed, stock rod bolts replaced with ARP rod bolts, then balanced - $290
High performance rods - these are the rods we use in our high performance 2.3 L engines and our 2 L and 2.3 L race and rally engines. Based on and built to our own design they feature longer than stock length and smaller than stock big end bearings. Machining of the crank and custom pin height pistons required. $935
Forged rod and piston kit for 2010, including pins, rings and rod bearings - $1725.

Add an offset ground B20 crank with main bearings for a complete 2.3 liter stroker kit for - $2350.
go to top
|
how to order
---
Engine Bearings - Volvo B18 - B20
Main bearings - Volvo B18/B20 - standard and .010 under - will also fit B21/23 engines - $85 - $100 per set depending on size needed and availabily.
Rod Bearings - Volvo B18/B20 thru 1973 for engines with 6 bolt crankshaft - standard and .010 under - $ 65 per set
Rod Bearings - Volvo B20 1974/75 for engines with 8 bolt crankshaft - standard, .010, .020, .030 under - will also fit B21/B23 engines - $50 per set
Camshaft Bearings - All Volvo B18/B20 engines - $55 per set
go to top
|
how to order
---
Valves and Guides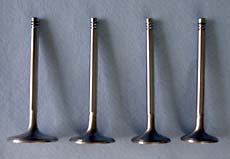 All of our Volvo B18/B20 engines, whether for street, supercharger, or race, use very high quality, severe duty, high flow, stainless steel valves. For street engines these are normally 44mm intakes and 36mm exhaust. For the typical race engine the exhaust valve size is increased to 38mm. The shape of these valves gives a significant flow improvement. Stock type replacement valves are also available, but why use them.
For B18 engines we have guides that allow B18 heads that come with 11/32 stem valves to be converted to the 5/16 stem valves and seals used in the B20 engines.
For optimum fit and performance some custom machining of all guides is usually necessary.
SS high flow street and race valves, 5/16" stem, necked down for improved flow. Available sized - 42, 44, 46, & 48 mm intakes - 36 & 38 mm exhausts, $26 each. - With custom ground seat and backcut - $32 each.

Bronze valve guides, Volvo B20 ( $56 ) - per set of 8

Bronze valve guide blanks used to convert B18 heads to use B20 5/16 stem valves ( $64) - per set of 8 - machined to proper length, shape, and to fit B20 seals - $112
Valve seals, B20 ( $18 per set of 8 )

Valve locks B20 ( $18 per set of 8 )
Email for additional prices for your specific application.
Our B20 exhaust valve compared to a stock valve.
go to top
|
how to order
---
Valve Springs and Retainers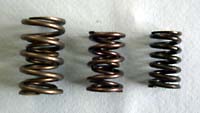 From right to left - a stock spring, a 1.25" dual street performance spring and a 1.44" diameter dual with damper race spring.
For Volvo B18/B20 street, rally and race engines we offer a selection of dual and single valve springs matched to your cam and performance needs in various diameters, heights and rates. This includes valve, valve spring and retainer combinations designed for the use of taller, larger diameter springs (up to 1.44 diameter for race applications) needed to provide higher spring pressures, accommodate higher valve lifts, and reduce spring fade and valve float under high performance and racing conditions.
Order based upon exact requirements. E-mail for recommendations. Other spring and retainer combinations are available.
Street Perfomance - Volvo B18/B20
Our street performance and supercharged engines use dual valve springs 1.25 in diameter. These springs are highly recommended for any engine with a non stock cam. Installation requires a simple procedure to enlarge the spring pockets on a stock head. Since it has to be done while the head is off, it should be done as a routine procedure when changing to a non- stock cam. Matching steel and aluminum retainers are available.
Dual 1.25" valve springs for street use - $ 125.00 - per set of 8
Dual 1.25" valve springs for high performance, rally, Targa & Carrera engines - $ 125.00 per set of 8
Retainers for dual 1.25" valve springs -- steel - B20 $ 79.50 - per set of 8 -
Retainers for dual 1.25" valve springs - steel - Modified for B18 valves - $129.50 - per set
Retainers for dual 1.25" valve springs -- aluminum $ 105 - per set of 8 - not recommended for street use
Race - Volvo B18/B20
Due to more radical cam designs and higher RPM use, our race engines are set up with 1.44 diameter dual springs with damper, chosen for long life in high RPM applications. Modifications required in order to use these springs include - enlarging the stock spring pockets in the head, using an aluminum valve cover with reliefs milled for the springs, and modifying the rockers for additional clearance. Titanium spring retainers are used with these springs.
Dual 1.44" valve springs with damper for race use $115 - per set of 8

Titanium dual spring retainers - $135 - per set of 8
go to top
|
how to order
---
Pushrods & Lifters

Problems with the stock Volvo B18/B20 pushrod and lifter combination caused us to change these components in our race engines many years ago. Since making the changes we have not had any problems, so we use these new components in all of our engines.
Pushrods
The stock pushrods flex, especially in high performance applications using cams with higher than stock valve lift rates, reducing lift and contributing to valve train vibration and instability. To solve this problem we offer high quality performance pushrods to fit various lifter and rocker arms combinations. Available in various lengths, 5/16 is the standard diameter as in the photo below.

Stock B20 Pushrod above - our standard Performance Pushrod below.
Performance Pushrods for stock B18/B20 lifters - $ 160.00 per set.
Performance Pushrods for use with our B18/B20 Performance Lifters described below - $ 160.00 per set.
Lifters
Based on over 30 years of experience in race and street engines and elimination of premature wear issues, we do not use stock Volvo type lifters. Instead we use competition style, US made solid lifters in all of our engines, street or race. Our performance pushrods are required with these lifters. Used with our cams, valve springs, spring retainers and valves, the result is a well tested, reliable combination.
New lifters have to be used when installing a new camshafts.
Performance Lifters - $ 10.50 each - $ 84 per set of
Performance LIfters and Performance Pushrods - $235 per set of 8 each
go to top
|
how to order
---
Rocker Arms
Improved Stock-type Rockers
Stock Volvo rockers are specified as having a lift ratio of 1.52 to 1, but usually have actual ratios of between 1.43 and 1.47 to 1. This results in less valve lift than expected and less than what is specified for the cam you are using. Most used rockers have considerable tip wear. To cure these problems, we re-work the stock rockers to improve and equalize the ratios.
Stock Type Rockers - While waiting for our new Roller Rockers Kits to become available - see below - time was spent improving results with the stock rockers. They are actually lighter than aluminum roller rockers, and have proven to be stronger and more reliable than most aftermarket rocker arms. The problem with the stock rockers is that the actual ratios vary widely from rocker to rocker, are usually much less than the 1.52 ratio specified, sometimes as low as 1.35 to 1, and produce widely different valve lifts in each cylinder and from engine to engine based on individual variations in rocker geometry. We have seen as much as a 12 HP difference based solely on which stock rockers were on an engine. To solve this problem we now test each and "bluprint" each rocker we use in our engines and can provide to customers both matched stock sets and sets modified for higher lift.
Equalized Stock Rockers - we no longer offer unmodified rockers as almost all rockers we receive need work to clean up tip wear. Once they are in the jig they are modified both to clean up the tips and improve lift and then are classified based on the resulting lift ratio. See below.

Modified Stock Rockers - modified to improve and eqaulize the lift ratio. Matched sets of stock rockers selected and modified to provide sets with equally improved lift ratios. From $200 - $350 per set depending on lift ratio, from "good" to "race" - on exchange or add $80 core charge.
Good - $200 - standard on our modified street engines - equalized and brought up to 1.5 ratio.
Higher lift - $275 - for maximum street performance with higher ratios - may require additional core rockers
Race - $350 - for maximum lift and duration - not always available and may require additional core rockers.
Add $56 for rockers modified for additional clearance for valve springs larger in diameter than 1.25"
Switching to higher ratio rocker arms is like installing a performance cam, higher valve lift and longer effective duration.

A tip for maximizing performance when doing dyno tuning is that we can swap ratios to see what setup produces the best performance. Very often different ratios on the intake and exhaust will produce the best results.
Roller Rocker Arms for Volvo B18/B20 engines - Not currently available for 2022 but may be back soon.
Since the decision to discontinue our old roller rocker kit we have been working on a new one. And now it is expected to be in stock soon. It uses the stock rocker shaft, shaft pedestals, adjusters and pushrods and will eventually be available in several ratios. Kits will initially be 1.54 ratio, with rockers in 1.60 and 1.65 ratios projected to be available at a later date . Installation is simple. Just unbolt the stock shaft, slide off the old rockers, remove the adusters and install them in the roller rockers, then install the roller rockers on the shaft. The only other modification necessary is to change to an aluminum valve cover to provide enough clearance for the end rockers. Price for 2014 - $385. With new polished aluminum valve cover and gasket - $595.


Advantages of our Roller Rocker Kits for Volvo B18/B20 Engines include:

Increases valve lift and effective duration.

Eliminates random variations in valve lift.

Increases horsepower and torque.

Allows higher RPM operation.

Reduces valve train wear and increases the life of valve guides and seats.

Reduces heat by reducing friction.

Easier to install than other RR kits

Improved durability


Less expensive than other kits
Similar kits also will be available for MGs and Triumphs.

Below is the description of the previously offered kit.
Increases valve lift and effective duration.
Increases horsepower and torque.
Allows higher RPM operation.
Reduces valve train wear and increases the life of valve guides and seats.
Reduces heat by reducing friction.
Change back to the original in minutes.
Most modern pushrod racing and performance engines use roller rocker arms due to their many advantages. In England they have been used on vintage racing and rally cars for many years. We have made these available in the U.S. for use on Volvo pushrod engines.
These high ratio (1.6 - 1) alloy roller rocker arms for Volvo B18 and B20 engines are available individually or as a kit. The kit is complete and ready to install. It includes 8 roller rockers, modified shaft stanchions, pushrods, shims, and miscellaneous parts. The only modification necessary to the engine before bolting it on is a slight enlargement of the pushrod holes in the head. This modification must be done with the head off the block. A cast alloy valve cover must be used in order to provide sufficient rocker clearance.
Rocker Shaft Stabilization
Flexing of the stock rocker shaft causes harmful harmonic vibrations and can reduce valve lift significantly under operating conditions. Modifications tested in our racing program have provided solutions and are offered on a custom basis. E-mail for further details.
go to top
|
how to order
---
Camshafts
The camshaft determines the engine's characteristics more than any component other than the head. For the engine to perform correctly the cam has to be matched to the other parts of the engine. Changes in displacement, compression ratio, valve size, exhaust configuration, the induction system, the flow characteristics of the head, and how the car is going to be used have to be considered in determining optimum camshaft specifications. Our cams are custom ground to match these specifications based on modern camshaft design concepts.
You can save money by purchasing an older cam design that is less expensive because it has been made in large numbers and is sold as a "one size fits all" performance solution, but it will not give the same results. Most of these older design performance cams have long durations in order to increase high end power, necessary to make up for poor head flow, and the result is a loss of low and midrange power. The most common of these are made by ISKY and have not changed since the early 70's. Incredibly, one of our competitors still advertises their street performance cam ( made by ISKY ) using a 1974 review by Road and Track magazine. Does anyone really believe that there have not been significant advances in cam design in the last 35 years? Really? Have they not done any comparative cam testing and development for these engines in the last 35 years? Really? They also offer a street torque cam ( also made by ISKY ) for customers who want low end power, thereby acknowledging that they don't have one cam that offers increases in power across the full, street use rpm range.
So before we got into the street cam business for B18/B20 engines the choice in the US market was one cam if you wanted an increase in high rpm power or another cam if you wanted an increase in low end power. Clearly there was a better way, and we have it - cams developed using modern cam design technology, designed by current cam design experts, with continuous evolutionary development based on current street, track and dyno testing. Computer designed lobe shapes with lifts and duration that are different for the exhaust and intake are just some of the features or our cams that are different from the earlier cam designs.
We prefer not to quote cam specs and instead recommend cams by application, as the normally published specs are often misleading. The cam that we normally use in our street performance engines has 264 deg of intake duration and 268 deg of exhaust at .020 lift, with .285" lift at the cam and 110 deg lobe centers. But this tells you nothing about the most important design element of the cam - the shape of the lobes. More important than the duration at .020 or .050 lift, is the duration at .100, .200, .300, etc., so just comparing duration specs at .020 or .050 does not tell you anything usefull in terms of being able to compare the performance of cams based on these specifications. Our cams, especially the street cams, are designed to have as little overall duration as possible in order to assure that power and torque increases are produced throughout the RPM range with no loss of low and midrange power. With lobe shapes that open the valves more quickly than other cams with similar low lift durations, they have more duration at mid to higher valve openings, and produce more power than cams listed as having longer durations at low lifts. As the optimum requirements for the intake and exhaust are different, our cams typically have durations and lobe shapes designed to meet the separate requirements of the intake and exhaust. Cheaper cams use one profile for both. The result is that our cams produce power increases over a broader RPM range without sacrificing low and midrange power and torque.
We normally stock several versions of our Street Performance (SP) Cam, the Targo Cam, 2 different Street Stroker Cams for large displacement B20 engine, the Supercharger Cam for high boost supercharger applications, and 2 different vintage race cams designed for both low and high compression race engines. Other cam grinds are available on a custom basis to match your engine requirements. With modern computer-controlled production technology it is a comparatively simple process to optimize the cam design to match the specs of the engine it is to be used in. Cams made in small volume, based on modern cam design concepts and tailored to the specifics of a particular engine are more expensive but well worth the price. It takes a little more than a month for a custom cam, ground on a new core.
Our cams are Custom Ground in small batches, Computer Designed and Matched to your Engine Specs.
Lobe shapes are based on the most modern computer design criteria.
We sell cams based on a recommendation for your application, not by listing cam specs for you to browse through as advertised duration specifications are virtually meaningless without knowing the differences in lobe shapes.

Due to an increase in the cost of new cam cores we have had to increase the prices for our cams by a similar amount. If the costs continue to go up the cam prices listed below are subject to change.
Street Performance
Improves power throughout the RPM range unlike other performance cams which trade off low rpm power and torque for higher rpm increases. Mild mannered at low speeds while supporting up to 50% increases in power with appropriate head porting and other modifications.- $375.00
Street Performance - Stroker
A modification of the basic Street Performance cam designed to meet the needs of our larger bore, and 2.3 L stroked engines - $395.00
Street Performance - Stroker 2.5
A new cam based on a modification of the Street Performance Stroker cam to make it more appropriate for high performance in the 2.5 L engine - $395.00
Targa - Rally Cam
Developed for use in events like the Targa Newfoundland and Carrera Pan America where an engine must meet the requirements of both normal street driving and high speed race sections. It's designed to provide more high end power than our Street Performance cam, and to be more appropriate for our large displacement engines in sporting applications. It is our standard rally cam and is also recommended for race cars that are driven to the track, track day cars, etc. - $395.00
Supercharger Cam
Designed specifically for use in our supercharged engines. Testing has shown 50 more HP at similar boost as compared to the stock C cam originally used in our supercharged engines. $335
The Vintage Race Cam
The heart of our 2 liter vintage race engines - both low ( 11 - 12 to 1 CR range ) and high ( 13 - 14 to 1 CR range ) compression ratio versions available - $415. Nitrided for extra hardness $ 515 - allow 12 weeks for nitrided cams not in stock.
Race cams
Computer designed as needed for your application - from $450.00 Nitrided for extra hardness and durability. $550 - allow 12 weeks for nitrided cams not in stock.
Other grinds
Including stock C and D grinds, available from $165 and up.
Accessories
Camshaft retainer plates - $20. Spacer rings - $ 15. Keys - $5
go to top
|
how to order
---
Timing Gears
If your Volvo B18/B20 engine has a fiber-type cam timing gear it must be replaced when doing a cam change. Pulling the fiber cam gear weakens them and leads to premature failures when reinstalled. Based on years of race and street use we recommond replacement with an aluminum cam gear steel crank gear set - much stronger that the fiber gears, lighter and quieter than the steel cam gears. Cam and crank gears must be replaced in matched sets and are only sold as sets. Aluminum and steel cam gears can normally be re-used - $155
go to top
|
how to order
---
Pulleys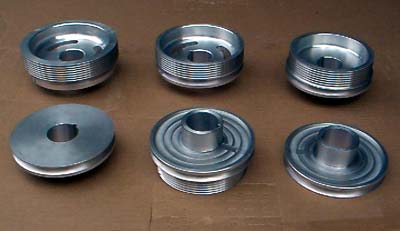 Aluminum Volvo B18/B20 Crank Pulleys
We now offer a selection of aluminum crank pulleys for both supercharged and normally aspirated applications. These are CNC machined from 6061 T6 aluminum. Changing to an aluminum pulley is highly recommended for any racing or high performance application as the stock sheet metal pulleys tend to come apart at high rpms.
4 sizes of SC crank pulleys - $150,
single groove 5.20" diameter pulleys - $105 ( $75 upgrade if purchased with an engine )
twin groove pulleys for AC or PS - $140. ($100 upgrade if purchased with an engine)
All are designed to slightly under-drive the alternator and waterpump for power savings. They can be modified for use with crank triggered ignitions. The photo shows the four sizes of pulleys for our supercharger system plus 2 single groove pulleys on the lower left and right of the photo.

go to top
|
how to order
---
ARP Bolts
ARP head stud kit
Comes with nuts and hardened washers, highly recommended for all engines as the original head bolts are showing fatigue and often do not give an accurate torque reading. Switching to these studs is the cure for most head gasket problems. Considered mandatory for street performance and race use. — $112.50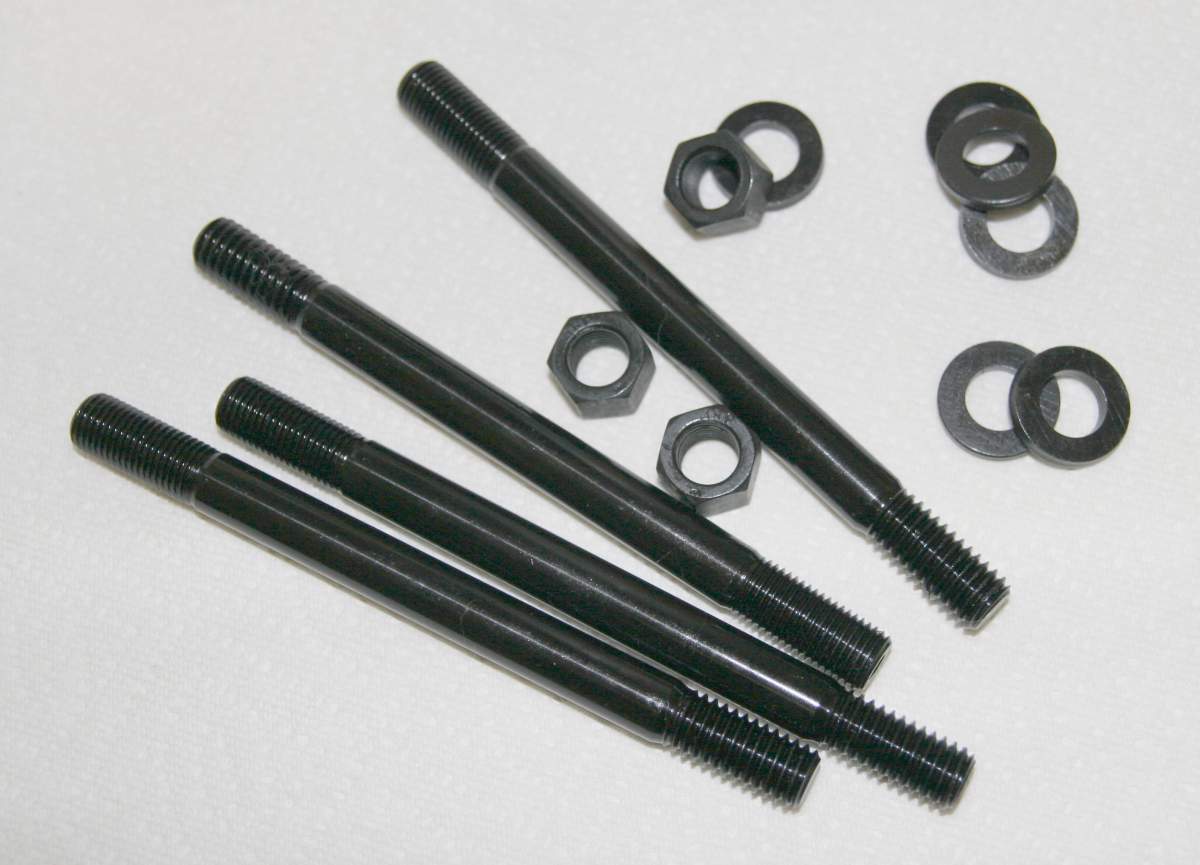 Rod bolts
Custom made by ARP. Needed to prevent rod failure in high RPM street or basic race use. All of our Street Performance Engines with stock rods use these bolts. Well worth the price when you consider the cost of replacing an entire engine if there is a failure. Will not fit engines with 8 bolt cranks. - $135 per set
go to top
|
how to order
---
Gaskets and Seals
Head Gaskets - High Performance and Racing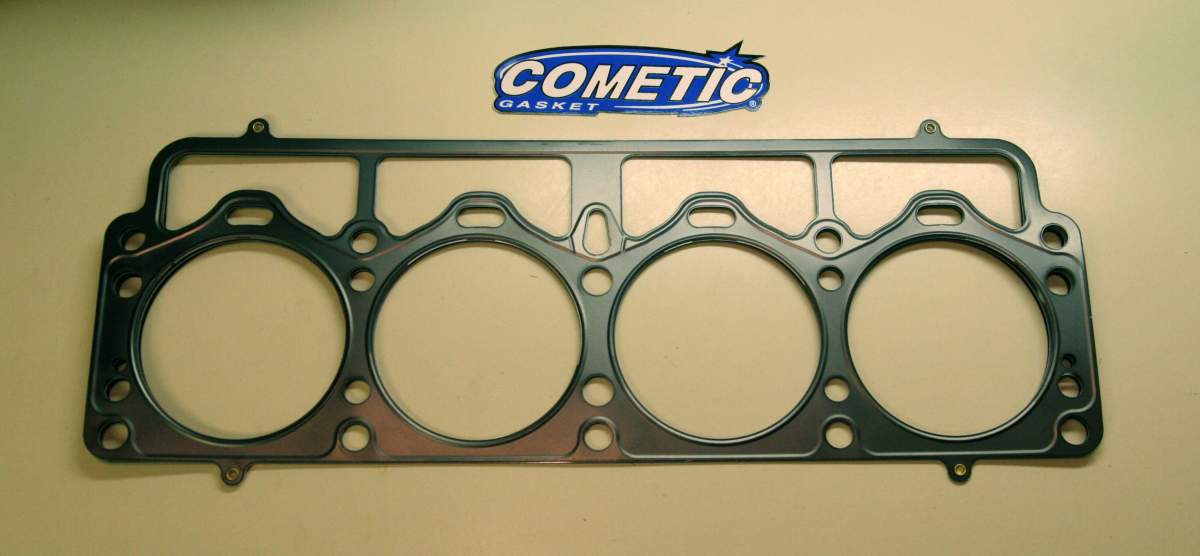 Cometic head gaskets in stock and custom bore and thickness sizes for Volvo B18/B20 high performance and racing applications . Used in all of our large bore B20 engines. Now available in .027 and .030 compressed thickness sizes. Most stock sizes - $110 - Slightly higher for custom sizes. Gaskets for other Volvo and non Volvo engines also available on a special order basis.

Volvo B20 - 90 mm and 92 mm x .027, .030, .036" or .045" - $116.50

Volvo B20 - 93 mm and 94 mm x .027, .030, .036" or .045" - $125

Volvo B20 - 92 mm, 93 mm and 94 mm x .060" - $137.50

Volvo B20 - Available in other custom sizes

Elring Head Gaskets - The standard Volvo gasket - used in all of our engines - including race engines - when a special size is not needed. Common sizes usually in stock - $44.50
Manifold gaskets - Volvo B18/B20
Intake/ Exhaust manifold gasket for Volvo B18/B20 - specify engine and whether fuel injected when ordering - $15.50
Valve Cover Gaskets - Volvo B18/B20 - $9.50
Front and Rear Crank Seal Housings with Modern Seals
Convert your B18/B20 from leaky felt seals to modern silicone rubber seals. We use these seals in all of our engines.
Machined front timing cover with seal - $60 plus refundable $45 core charge - Total $105
Machined rear seal housing with seal - $50 plus refundable $30 core charge - Total $80
Front seal - $8.50
Rear seal - $12.50
4/11/19 - The above prices are changing due to a significant increase in the cost of the seals - email for details.
Block Gaskets -
Bottom end gasket sets - $ 72.50
go to top
|
how to order
---
Oil Cooler Adapter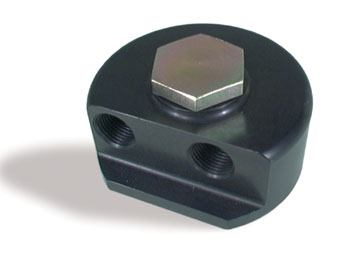 For those of you who have had problems getting the oil lines to clear the header or just want a better quality adapter than those previously offered, I now have a solution which has eliminated all problems. It is a high quality billet aluminum adapter with the threaded holes for the oil line fittings on the side, not coming straight out from the block. In addition, the adapter can be rotated 360 degrees and tightened in any position. This is a great unit compared to the cheap, cast metal units previously available and has eliminated the oil line clearance problems on my race car and street cars using headers and remotely mounted oil coolers. Comparatively expensive at $110.50, but well worth the price. Problems with the old type units cost me a race weekend and a set of engine bearings in '98, plus countless extra hours during every engine change. I will never use that type again. 3/ 4-16 in. Filter Thread, 1/ 2 in. NPT Inlet/ Outlet
Machined billet aluminum, not the cheap cast ones. These can be rotated to any angle to facilitate hose to header clearance. - $110.50
go to top
|
how to order
---
Baffled Racing Oil Pans
To provide for continuous oil flow during racing conditions it is necessary to modify the oil pan to prevent the oil from being forced away for the oil pump pickup by G forces during cornering. We have tested out a simple system of baffles, without moving parts, which has given excellent results over twelve years of racing use. A requirement to ensure a continuous oil supply on the race track or in hard cornering.
Baffled pan based on your pan or exchange $125.
Where we provide the pan there is a core charge of $75.
For a pan with an oil temp fitting the core charge is $100
go to top
|
how to order
---
B18/B20 Oil Pumps
The truth about oil pumps. Volvo has changed the source for their OEM replacement B18/B20 oil pumps. The country of origin is not specified on the pumps, though the boxes still state " made in Sweden ". They appear to be the same as pumps not made in Europe. Given current choices, we source the best pumps that we can find ( some tend to be better than others ) and do a general check of the pump before sale. However, per instructions in the box, each pump should be taken apart, cleaned and checked before use.
B18/B20 oil pumps $160
With shaft reinforcing ring $ 168
Shimmed for higher oil pressure ( more reliable than replacing the stock relief spring ) add $7.00
Heavy Duty ( heavy weight ) forged pumps - available on special order, email for pricing.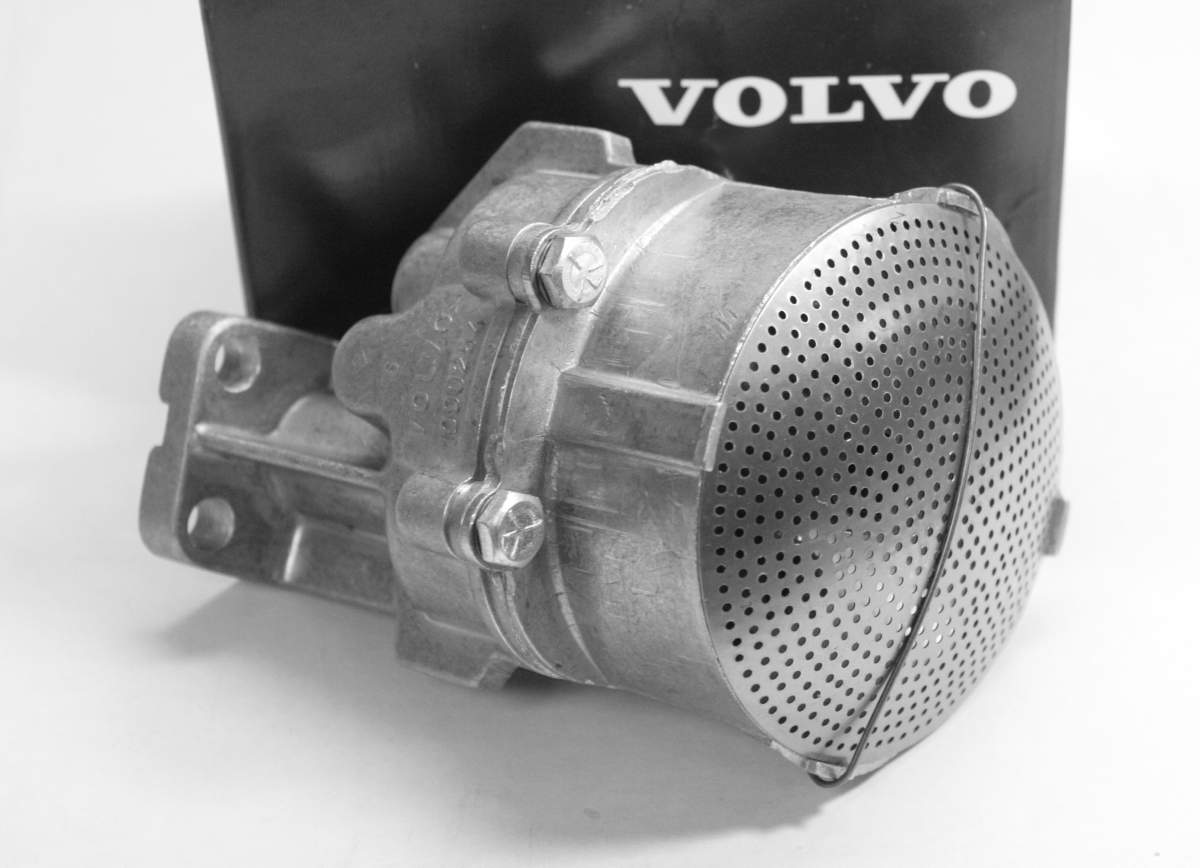 go to top
|
how to order
---
B18/B20 Water Pumps
B18/B20 Water Pumps - $45
go to top
|
how to order
---
Valve Covers - Aluminum - Volvo B18/B20
Aluminum valve covers can be both a dressup and a necessary performace addition. In most applications they are used to improve the appearance of the engine and make it look special. In certain applications they are needed to provide clearance for larger valve springs and/or roller rockers. The polished valve covers provide more room for large race springs as compared to the black covers which may require further machining for valve springs larger than 1.25 inches.
Cast black valve covers - These covers are now back in production and available - $150 ( gasket not included )
Polished aluminum valve covers, gasket included - $225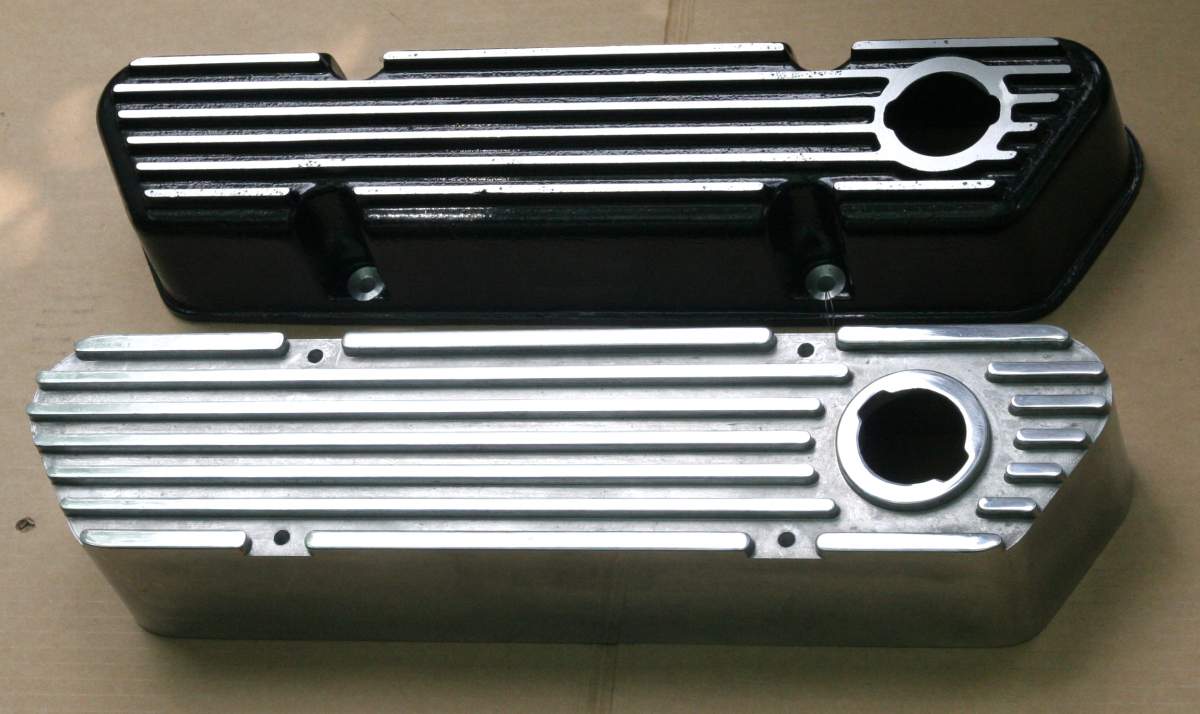 go to top
|
how to order
---
>>

Questions - Order Process - Payments

Questions -Email correspondence strongly preferred. Email with questions on your particular needs as we have many other parts and services available. If we don't have it we can usually get it or make it. If you need to call, the best time and number is usually 315 478 1229 mornings 10:00 AM - 1:00 P.M. eastern US time. Leave a message if there is no answer as we may be in the shop and cannot get to the phone. If we do not answer or call back try cell # 315 440 6560 and leave a message. There are often periods of 3 - 5 days, especially during the summer, when we are away due to other commitments and the office is closed, though shipping and engine work is continuing at other locations. Although I try to return calls and emails even when out of town, some are replied to when we return.

Orders - The easiest way to order is to send an email listing your parts order along with your address and we will reply with information on parts availability and a total price with shipping. Please include information indicating the car model & year with each email, and indicate under "subject " the make of the vehicle and type of part you would like to order. This will keep it from being filtered out as spam.

Payments - Payments are normally made by check, credit card, or through Paypal (www.paypal .com) Payments made by Paypal should be made to the account under our email address: jparker3@twcny.rr.com, or we can send you a paypal invoice. We also accept bank wires for larger amounts.

go to top