Products: Exhaust
Headers

Our unique, custom made in the US, stepped primary 4 - 2 - 1 ( Tri -Y ) improved with a dyno developed merge collector - our standard header for street and race use.
( Custom headers sold out for 2017 )
Instead --
See our new Swedish Designed 4-2-1 Headers for B18, B20, B21, B23, B230 engines in the next section below.
Header with merge collector on top in the left photo with a closeup on the bottom in the right photo.

| | |
| --- | --- |
| | |
For the Volvo B18/B20 our 4-2-1 "tri-Y" header with merge collector has become our standard header for both race and street use. This header is custom made to our specifications right here in northern New York. It is similar in general concept to the header we imported from Europe many years ago, but with better quality control and several generations of dyno developed and tested improvements. As in the photo below, the header has a stepped primary tube design, and a merge collector based on extensive dyno testing. It was designed to provide clearance for a variety of intake manifolds, alternator clearance, and upper A arm clearance on 122s & 1800s set up with less than stock camber. It is less expensive than a 4 into 1 of comparative quality, and allows more room for plumbing, such as the lines to remote oil filters and coolers. The tri-Y designs normally produce more torque and have a wider power band than 4 - 1 headers. In pure race applications they may yield less peak horsepower at high RPM than a properly designed 4-1 header and tuned length exhaust. However, due to its broader power band, the 4-2-1 is recommended for most applications from street, to autocross, to rallying and racing. In road racing applications our testing has shown that an engine with a broader power band and higher average HP over the useable rpm range, is more important than high RPM peak power. Our 4-2-1 is the clear winner here (so we no longer stock the 4-1 race header ). These headers are well worth the cost as compared to other available headers whose only attribute is their lower cost. Now available in Stainless Steel to increase their durability and useful life.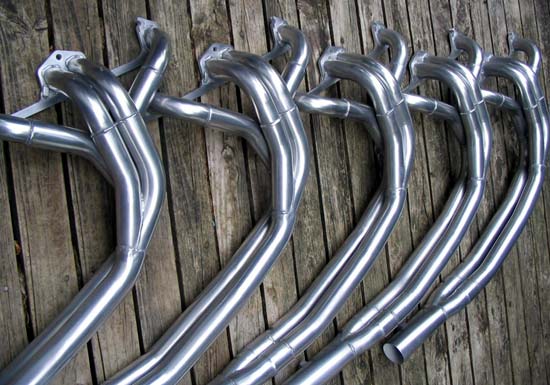 Street and race performance 4-2-1 headers - with new dyno developed merge collector. These are made in the USA to our specifications for 544s, 122s, 1800s, and 140s. Developed on the dyno to increase power and torque over a wide RPM range. Will work with a variety of intakes but may not fit on cars with generators. Normally stocked with silver ceramic coating. O2 sensor mounts are now located in the first pipe after the collector.
Coated with merge collector $ 475.
Uncoated $325 by special order.
Stainless Steel available by special order - $600.
The above custom built headers are not currently available for 2017. See below for alterntives.
---------------------------------------------------------------------------------------------------------------------------------------------------------------------------------
Swedish design 4 - 2- 1 headers for B18/B20,B23,B230 engines
4-2-1 headers for 1800s 122s and 140s.
Very similar to our custom headers shown in the above photos, with all of the advantages of a good 4 - 2- 1 header as compared to 4 - 1 headers. Imported from Sweden and available in three tube sizes. Painted as shown in the photo below. These will not fit cars with generators. Some modification may be required for use in the 544.
TYPE1 has 44mm secondary pipes and 60mm out - usually the best for street use and easiest to fit - $335
TYPE2 has 48mm secondary pipes and 2.5" out - $345
TYPE3 has 51mm secondary pipes and 2.5" out. - designed for racing applications - $ 375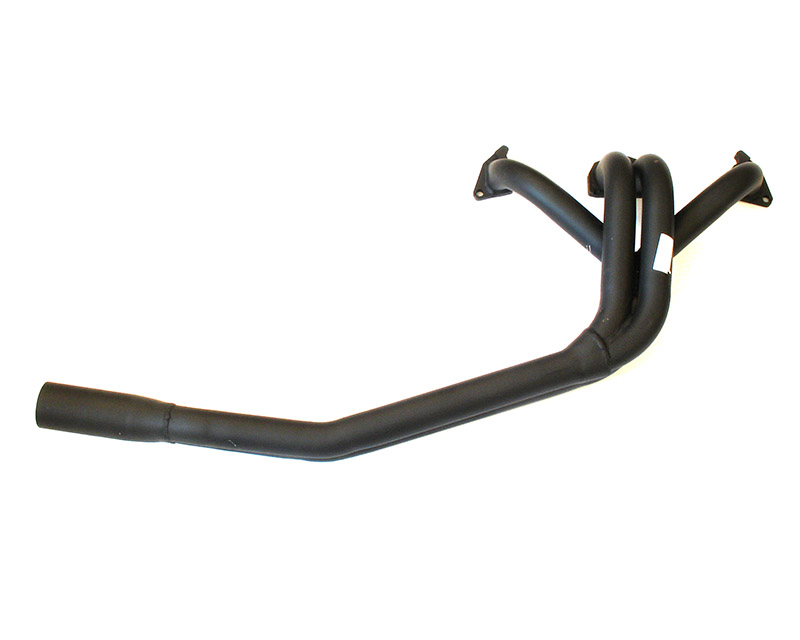 4 - 2 - 1 headers for 240s, 740s and 940s,
Imported from Sweden on special order. 4 sizes available. $345 for the smallest tube size with same increases for the larger sizes.
Tube sizes are as follows, in mm's, starting with the tubes closest to the head. Type 3 & 4 are for rally and race use.
Type1 44-44-60
Type 2 44-48-64
Type 3 44-51-64
Type 4 44-54-64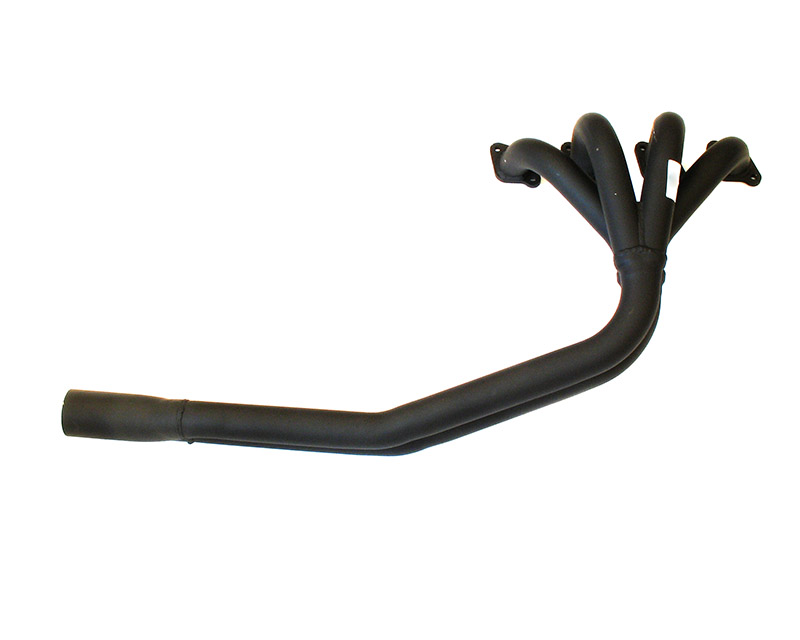 ---------------------------------------------------------------------------------------------------------------------------------------------------------------------------------
Custom Built Race headers 4 - 1 - $ 500 - $ 600 depending on type and tube size - add $160 for ceramic coating
( 4 -1 race headers not currently available in 2017. We recommend the 4 - 2 - 1 headers above for most race applications. )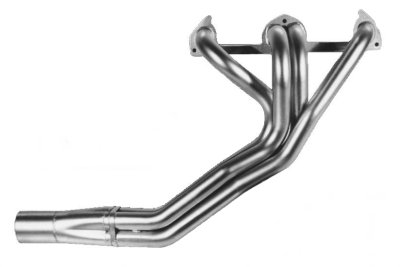 Ceramic Coating of any of the headers, black or silver - $160
Adaptors for oxygen sensors for FI or air/fuel ratio gauges added to any header - $25
-----------------------------------------------------------------------------------------------------------------------------------------------------------------------------------
Important notes on fitting headers.
Once in a while we get a call from a customer saying the header we sent does not fit. Well there's a simple explanation for this, and it is not that there is something wrong with the header. Our headers are made in a jig and its impossible for them to vary more than a small fraction of an inch or they won't fit in the jig. Old Volvos were not made that way and their measurements vary quite a bit from car to car. But most fitment differences are due to engine angle. There is some variance caused by differences in engine and transmission mount bushings, but the biggest difference from car to car is part of the design. The front engine mounts are on the front crossmember along with the front suspension. The suspension alignment is set by shimming the crossmember in relation to the rest of the chassis and this tilts the crossmember and changes the engine angle by raising or lowering the front engine mounts. Not by much, but a small change in engine anlge is enough to effect the clearance at the back of the header located almost 4 feet from the front engine mounts. So what do you do when there is a clearance issue. One way is to put washers on top of the rubber engine and/or transmission mounts - raising the front of the engine or lowering the rear. But a simpler, quicker way is what we do in the shop. I keep a long ( 8 - 10 foot ) piece of pipe handy and use it to carefully adjust the header angle. With the header installed and the car up on jack stands or a lift I use a piece of 1.5 inch pipe so it will fit in the merge collector and then put a piece of short 2.25 pipe around it to fit easily in the end of the collector and prevent deformation. With the leverage provided by 8 - 10 feet of pipe its easy to move the collector up or down several inches. Yes it springs back, but if you move it far enough it will not move all the way back to its original location. So you might have to move it 3 inches to adjust it half an inch, but that is all you usually need. Sounds complicated, but it usually takes about 5 minutes to make clearance adjustments once the car is jacked up.
Another area where there can be a problem on the 122/1800 is clearance with the inboard end of the upper A arm. This usually only an issue where the car is not using the stock camber settings and has instead been modified to reduce the positive camber or use negative camber for performance and racing applications. Using thicker camber shims to provide negative camber will bring the upper A arm in, closer to the header. The solution, used in all of our racecars and a few street cars when necessary, is not to modify the header, but to grind the inner ends of the A arm. This does not reduce strength and will provide sufficient clearance.
go to top
|
how to order
---
Exhaust System Components
Mandrel bent, stainless steel tube system components.
| | |
| --- | --- |
| | Stock 1 3/4 inch tube just won't accommodate performance increases so our components are 2.5 inch - the size we have found works best on our performance engines. To the left is a comparison of the over the axle tube secion from a 73 1800ES with one of our 2.5 " component sections. |
Selected performance exhaust system components for 122 sedans and 1800s in stainless steel. These are not complete systems but mandrel bent 2.5 inch stainless steel tubing pieces that we use to build systems in our shop and that will allow you to build a performance system for your car, or provide them to your local muffler shop and let them finish it up for you. For most applications mufflers, resonators and mandrel bent tubing are available. The tubing sections are designed based on using one muffler ( dynomax ultra flow recommened - see below ) , before the axle and a resonator at the rear next to the gas tank. Although designed to attach to our exhaust headers the tubing can be adapted to other headers and stock exhaust manifolds. Components are available separately so that you can use them to make custom systems with your choice of mufflers. When available - complete sets of stainless steel 2.5 inch mandrel bent exhaust tubes for most models without mufflers - $270. Over the axle stainless tube section as a separate piece - 122 - $165, 1800 ( welded together in 4 sections - $185.
The above exhaust components are currently not available. Email for details on future availability.
Mufflers -
Customers often ask us for muffler recommendations. After much testing ( street, track, and dyno ) and years of use, for performance applications we recommend the Dynomax Ultra Flow mufflers. http://www.dynomax.com/mufflers.php?muffler=ultraflowelded. Usually part # 17222 for a stainless steel 2.5 " offset inlet and outlet muffler, or # 17219 for offset and center inlet and outlet. These are also available in non stainless versions and in 2 " and 2.25 " inlet/outlet diameters. For a round muffler that takes up less space and can be used as a resonator we have used - http://www.dynomax.com/mufflers.php?muffler=racebullet. As it is designed as a race muffler it is not quiet enough to be used on the street by itself but makes a good resonator. With one of each on the system you will get a nice mellow sound - loud enough to be heard when the throttle is opened up, but not loud enough to be disturbing either while idling, or under cruise conditions. There may be other mufflers that will work, but these are the ones we have tested and know will do the job at a reasonable price.
| | |
| --- | --- |
| | |
go to top
|
how to order
---
>>

Questions - Order Process - Payments

Questions -Email correspondence strongly preferred. Email with questions on your particular needs as we have many other parts and services available. If we don't have it we can usually get it or make it. If you need to call, the best time and number is usually 315 478 1229 mornings 10:00 AM - 1:00 P.M. eastern US time. Leave a message if there is no answer as we may be in the shop and cannot get to the phone. If we do not answer or call back try cell # 315 440 6560 and leave a message. There are often periods of 3 - 5 days, especially during the summer, when we are gone due to racing and other commitments. Although I try to return calls and emails even when out of town, some are replied to when we return.

Orders - The easiest way to order is to send an email listing your parts order along with your address and we will reply with information on parts availability and a total price with shipping. Please include information indicating the car model & year with each email, and indicate under "subject " either the make of the vehicle or the words "parts order". This will keep it from being filtered out as spam.

Payments - Payments are normally made by check, credit card, or through Paypal (www.paypal .com) Payments made by Paypal should be made to the account under our email address: jparker3@twcny.rr.com, or we can send you a paypal invoice. We also accept bank wires for larger amounts.

go to top